Originally published Wednesday, 04 November 2015.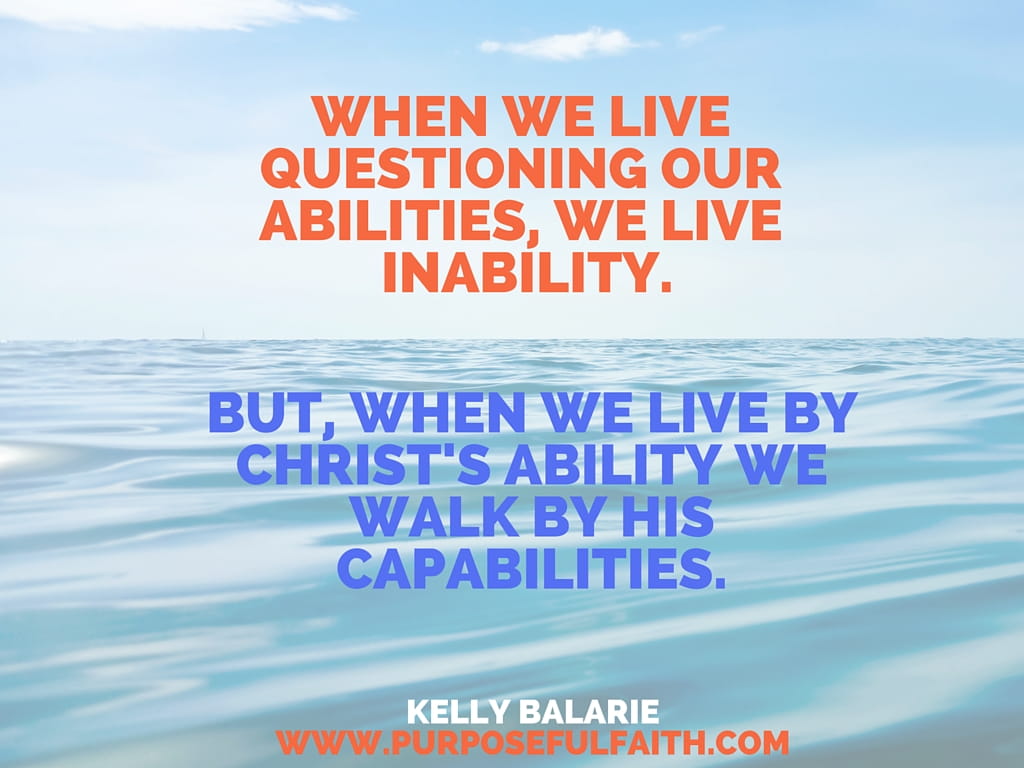 Do you trust yourself? I mean, really, trust yourself?
I have noticed a little trend in my house. My son asks me for something, I clearly say no and then he asks me again and again until I say yes. Feeling frustrated that I gave in, I ask myself, "Why can't I hold firm?"
Underneath it all, I know it is because I doubt my decision. I fear that my direction is all wrong, that he will suffer as a result and that things will not work out in my favor.
This kind of thinking is not isolated to parenting. In many arenas of life, I ask myself:
Will people want to move with me if I am honest?
Will they get angry if I tell the truth?
What will they think of me if I am real to me?
How will things play out if I take a hard stand?
This gets me to wondering, what would happen if I happened to stand in the shoes of John the baptist, or rather, in the water with him? As I stood there, face-to-face with Jesus, looking into his eyes, him standing before me, would I repeat the same words as John?
"I am the one who needs to be baptized by you," he said, "so why are you coming to me?" Mt. 3:14
Absolutely, I would!
But, the real question is-how would I respond when Jesus replied, "Let it be...? Mt. 3:15
Would I argue with him? "But Jesus,
I really am just this sinner who has no right to honor you in this way?"
Would I laugh and hand the baton to someone else saying,
"I don't want to be responsible if things don't go well"?
Would I baptize but be filled with grief
that I am not performing up to the standards of - ahem - God?!
Would I put his body under, yet miss the moment,
because I was filled with anxiety?
When we live unsure of our calling, we miss the chance to live it.
I praise God that John was obedient, submissive and honoring to the will of God, despite his flaws.
When we live questioning our abilities, we live by inability.
Yet, because John listened, Jesus was able to display incredible humility, submissive honor to God and a relatable human-nature that is touching to see.
When we letting our minds pull us around on a leash, we live chained like a dog.
John received an honor that no one in the whole world would ever have, only because he accepted.
Do you act decisively and accept the gifts of God
or do you run, skip and hike over them, landing on safer ground?
One who answers the call of God, has an opportunity to hear the incredible and sees the unthinkable. Taking a step towards his will, means taking a step towards his heart.
The result is sometimes unexplainable:
At that moment heaven was opened, and (Jesus) saw the Spirit of God descending like a dove and alighting on him. And a voice from heaven said, "This is my Son, whom I love; with him I am well pleased." Mt. 3:16-17
Could you imagine the honor John must have felt to be a part of this extravaganza? Can you imagine the heart-pumping honor it would be to watch the literal presence of God, the Spirit, descend like a dove? Can you imagine the million little light bulbs that would be flashing in your mind as you heard the approval that God grants over his beloved children?
I praise God that John basically said, "This is me. I am unsaintly, perhaps unsightly, unable and unworthy to have this honor, but if God is entrusting it to me, I will do it anyway."
How often should we speak the same to our self? "This is me. I am unsaintly, perhaps unsightly, unable and unworthy to have this honor, but if God is entrusting it to me, I will do it anyway."
What glorious unveiling may we be walking into-and not even know?
Get all Purposeful Faith blog posts by email - click here.
Join Kelly on her blog, Purposeful Faith, on Twitter and on Facebook.