Originally published Saturday, 08 March 2014.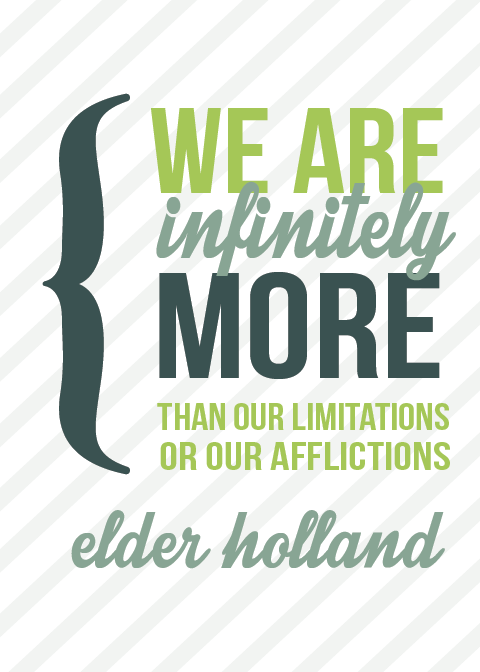 I heard a sermon the other day and I can't stop thinking about a particular line that was said:
"Lies create limitations."
As I listened, I didn't even realize that I was so fixated on this phrase until a few days afterwards.
Because it was continually replaying in my mind, I couldn't help but pay attention to it.
Lies create limitations…what's that mean for me? What lies do I allow myself to believe?
So, I did a little experiment.
I decided I would document every single time I started thinking something negative in my head or believing a lie whispered in my ear.
Y'ALL, I had to scroll down on the notepad on my phone by hour THREE.
So, there's that. Feel good about yourself.
Anywho, I thought, "Maybe I'll just stop here. Obviously I am pretty good at believing these lies and this was a fun experiment and I'm done! Whoop Whoop!"
Yeah, I wish.
This little no-nothing experiment straight slapped me in the face.
As I laid down to go to sleep, I looked through the different lies I had written down throughout my day and I had one intense feeling wash over me:
Regret.
Why?
Because I had allowed things that were not true or healthy or loving to guide my day and how I felt about myself!
When I took the TIME to compare the lies that I believed with the TRUTH of God's word, I was overwhelmed with reassurance.
The limitations I foresaw were illusions based on my inability to see the fact that I was already victorious!
We have all heard "Satan is the father of lies."
But do we really know and realize what that means for us?
While I do not want to ever fixate on Satan's power in our lives, we do have to be wise, aware and alert of what he is capable of doing when we are not on guard.
It tends to happen when we are tired or stressed our or exhausted or emotionally taxed.
The filter becomes weaker and the gage becomes skewed as you decipher between "truth" and "lie".
But that's exactly why God wrote us 66 love letters!
THAT is why He instructed us through His word, which is full of complete wisdom, solid instruction and absolute TRUTH!
Not so we can quote scriptures on Sundays, post them on our Instagrams and have memory verses as decorations.
They are ammo; they are our source of strength to combat those lies we hear and remind us of who we are.
You see, that's something I think we continually miss: What we believe about WHO we are determines everything about what we DO!
Your limitations and insecurities do not stem from your Maker.
He knows you are capable and worthy and determined and talented and intelligent and significant and so many other things.
However, He can not force you to seek His word and believe His truth.
He provides the food that satisfies but you decide what you fill your soul with.
Truth that PROPELS you or lies that PREVENT you?
I pray that we stop accepting limitations as though they belong and start exercising our abilities and talents and hearts in a way that reflects our identity.
REJECT the "I'm not good enough", "I have failed too many times", "I will never make it", "I can't compete with them" blah blah BLAH nonsense!!!
What are your dreams?
Your wildest, craziest hopes?
Those things that your soul chooses to day dream about?
Now, tell me this: What limits you?
Why aren't you running after them?
What is preventing you from living the abundant life you know you were created to live?
Move the stakes and forget the "perimeters" you believe you must stay within.
Don't you think that Jesus would want you to be bold and go after it?
I think He would.
I think He would say to pursue truth.
And truth is filled with adventure.
And boldness.
And color.
And life.
And reassurance of why you're here.
And who you are.
And Jesus.
So, choose to drink of His truth, truth that propels you forward and ingrains you deeper in His love story for you.
It is when you are most immersed in His story that your story really shines.
Recklessly chase truth and let the limitations of lies be in your rear-view.
Love y'all!
"Put on the full armor of God, so that you will be able to stand firm against the schemes of the devil." -Ephesians 6:11