Originally published Sunday, 13 April 2014.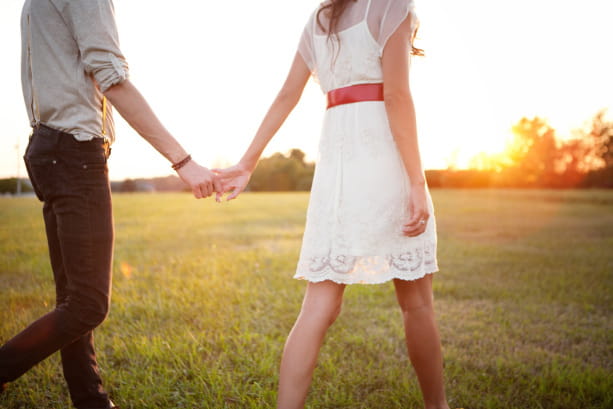 Okay, okay…one of the hottest things. But you don't get to hear about the others : -)
I didn't expect it to mean what it did to him. I definitely didn't expect it to be attractive.
There are people who feel the need to be heard on just about everything (that would be me) and then there are people who aren't worried about being heard. They are humble and patient. They don't complain and they rarely demand things be done their way. This is my husband. He makes me better.
In our toughest moments, he has never shied away from admitting fault. He is quick to apologize with sincere kindness. I'm quite sure this quality has been what's kept us afloat on many occasions.
It's taken more than seven years for me to realize that while he is swift to say "I'm sorry," I am not. There's a pattern to the way my apologies tend to function – we have a difficult conversation…in my mind, I realize I'm wrong…I back out and try to wrap things up so we can "move on" without me fully admitting that quite yet…I come back later with a lame apology after my pride has had some time to deflate….he graciously accepts.
The more I thought about it, the more I saw it repeatedly play out in our relationship.
Personal growth is rarely, if ever, easy. It usually requires sacrifice and that can often be difficult to push through. But let's be honest, some change is easier than others. Sometimes, opportunities for growth make us feel like "the bigger person". Other times, those opportunities remind us that we originate from dirt. At times, growth can be immediately empowering. And then other times, put simply, it sucks. Sorry. That's a crude, non-poetic way of describing it. But that's the best word I have right now. Sometimes, personal growth sucks.
Growing in this area was going to be that second type of change. It was not going to leave me feeling like the wiser, more generous partner in the relationship. Because you know what? It may not be easy to forgive, but at least we feel as though we are in a position of power when someone else wrongs us and we let it go. There's no feeling of power when we look someone in the eye, in the heat of strong emotions and raging pride, and we vulnerably say, "I'm so sorry. I was wrong. Please forgive me."
Nope. That's not what I call "easy growth".
Walking away to shake some pride and then return with repentance when I "felt better" was not loving to my husband. It was foolish, child-like, and self-centered.
Taking the observation to my small group, I confessed that it was sinful and damaging to my marriage, and I recognized the need for change.
God didn't wait very long to afford me the opportunity to prove it wasn't all lip-service. Later that evening, looking across from this man I love, knowing I was wrong, and sensing my desire to call it quits and return later with a weak, "I'm sorry for earlier," I chose the road less traveled (less traveled for me that is). I looked him in the eye and apologized…not just for the way I was making that night more difficult for both of us, but for my pride throughout our marriage. I told him that I knew it was unfair to refuse to speak the words he deserved to hear when he deserved to hear them on many occasions, and I promised to start doing it differently.
He smiled and exhaled. It was as if I could literally see a weight lift off his chest. "Thank you," he said. "I really appreciate that."
Then he said something I didn't expect. "I hope this isn't offensive for me to say…but that was really attractive."
We laughed and smiled together. And he explained that it was one of the most vulnerable moments of our marriage – which is really saying something considering a few specific parts of our story and then those two times he held one of my legs in the air while I pushed out a baby.
Remember what I was saying about power earlier? When we submit ourselves to another person in a moment like this, we are laying down that power for the sake of love. In a sense, we are giving that power to another person by asking them to forgive us. That is vulnerable. And beautiful. And in the context of marriage, it's hot.
I'm amazed at my reluctance to lay down pride…to let go of feeling like the one with the power…especially when I am the one who did something to hurt him. If you can relate in anyway to this tension, let me share the part that really blows my mind…
"In your relationships with one another, have the same mindset as Christ Jesus: Who, being in very nature God, did not consider equality with God something to be used to His own advantage; rather, He made Himself nothing by taking the very nature of a servant, being made in human likeness. And being found in appearance as a man, He humbled Himself by becoming obedient to death – even death on a cross!" (Philippians 2:5-8).
Who am I to refuse laying down my false sense of power and control, when Christ – "being in very nature God" – willingly set His power aside and laid down His life on a cross?
I'm also amazed that the very act I have avoided turns out to be one of the most intimate and attractive things I've done in our marriage.
I can almost hear all the beautiful women who are much wiser than me nodding their heads and saying, "Ah, yes. Been there." Like everything I talk about on here, it's a process. I'm learning, making mistakes, relearning and sorting through the mess.
I'm deeply grateful for a God who lets us in on the big picture of what we actually need, what creates real intimacy, and the truth that the hottest things in our marriages don't come in little pink bags. They come from gentle vulnerability and self-sacrificing love.