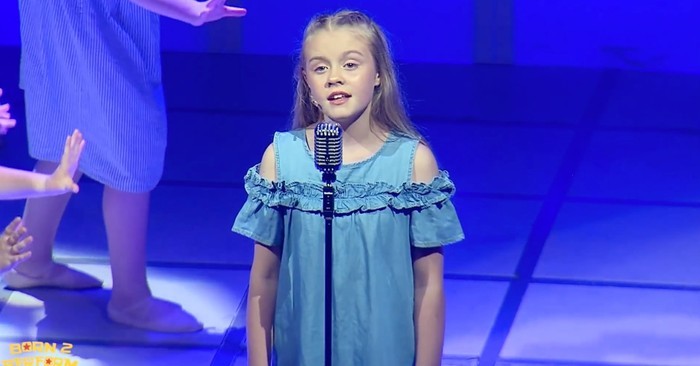 In this impressive video, one 12-year-old named Mia Black sings a cover of 'Rise Up' by Andra Day with a school dance group performing with her on stage.
"You're broken down and tired of living life on a merry go round
And you can't find the fighter, but I see it in you so we gonna walk it out
And move mountains, we gonna walk it out, and move mountains
And I'll rise up, I'll rise like the day, I'll rise up, I'll rise unafraid
I'll rise up and I'll do it a thousand times again
And I'll rise up, high like the waves, I'll rise up in spite of the ache
I'll rise up and I'll do it a thousand times again"
Mia is from Galway, Ireland and the dancers are from the Born 2 Perform Stage School. What a wonderful voice Mia has, and it is so powerful and mature for her age! And the dancers did a beautiful job with performing the contemporary dance on stage during the song. All of the kids involved in this performance are incredibly talented!
"Wow, that little girl can sing," comments one person on YouTube after watching the video. "Can't wait to see where she goes in a few years!"
"I can't believe I've never heard of you before young Mia," writes another YouTube user online. "You have an angelic voice that will melt anyone's heart who hears you sing!"
It is great to see these children finding their passion in the arts and using their talents to uplift others and bring a smile to people's faces. When days can feel long and tiring, music and dance are a few things that can help lift a weary soul. We hope that this beautiful video brought some positivity and smiles into your life today!
Originally published Wednesday, 16 February 2022.