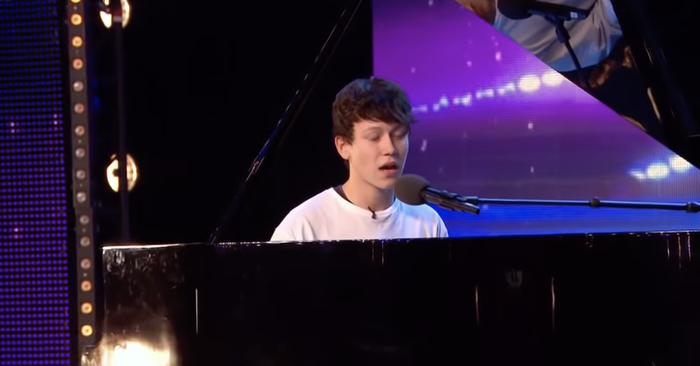 15-year-old Isaac Waddington left the crowd in tears after his performance of 'She's Always a Woman' on Britain's Got Talent.
Isaac has been singing for his entire life. He is even a member of the Scottish Chamber Orchestra. In fact, in 2012, he won the BBC Young Chorister of the Year. Now, this young talent is taking his vocals all the way to the big stage on the popular entertainment competition. Isaac has his whole family there to support him, including his younger brother, Jack. These two are the best of friends and they connect over their love of music. Before his audition, Jack was backstage with his big brother giving him words of encouragement. Then, Isaac stepped onto the stage and belted out the lyrics to Billy Joel's 'She's Always a Woman.'
"Yeah she steals like a thief but she's always a woman to me
Oh, she takes care of herself, she can wait if she wants, she's ahead of her time
Oh, she never gives out and she never gives in, she just changes her mind"
As he sat down at the piano, the young performer moved the judges and crowd. He even brought his younger brother to tears with the power ballad. After the song was finished, Isaac earned a standing ovation from the entire theater. Judge Alesha Dixon remarked on the performance saying, "I got completely lost in that song with you. That was flawless." But it was Simon Cowell who was truly in awe of the teen. "I think we've found somebody really truly special." Isaac earned 4 'yes' votes from the judges and moved on to the next round of the competition. What an incredible performance from this talented young man.
This content originally appeared at https://www.godtube.com/watch/?v=0C1JEMNU; used with permission.
Related Music Videos:
Boy Turns All The Judges In Seconds With 'Don't Stop Believin' Audition
16-Year-Old Blows Everyone Away With 'I Will Always Love You' Performance
Photo credit: ©GodTube
Originally published Wednesday, 08 June 2022.