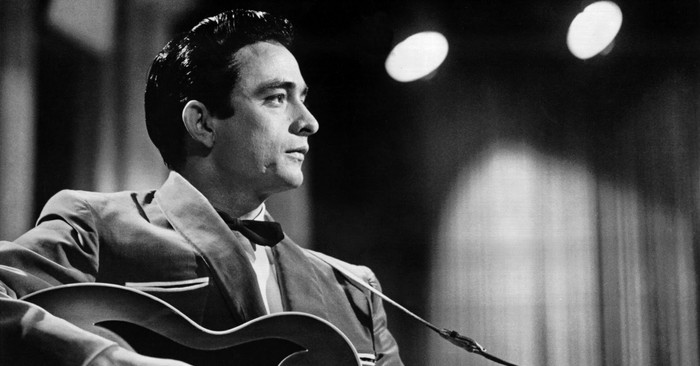 Check out this video of Johnny Cash and June Carter Cash singing the classic hymn 'The Old Rugged Cross.'
"On a hill far away stood an old rugged cross, the emblem of suffering and shame.
And I love that old cross where the dearest and best, for a world of lost sinners was slain.
So I'll cherish the old rugged cross (rugged cross), till my trophies at last I lay down.
I will cling to the old rugged cross and exchange it someday for a crown"
What a great performance by Johnny Cash and June Carter Cash of this beloved hymn! After Johnny and June sing the first part of the song together, the whole stadium joins them in song later in the video, and it is a wonderful sight to see and hear.
'The Old Rugged Cross' is a famous hymn written in 1912 by evangelist and song-leader George Bennard, and it speaks of the writer's adoration of Christ and His sacrifice at Calvary. George Bennard wrote the first verse of the hymn in Albion, Michigan, as a reply to ridicule that he had received at a revival meeting. He turned to scripture to reflect the work of Christ on the cross and later recalled, "I seemed to have a vision…I saw the Christ and the cross inseparable."
Several months later, George finished the remaining verses of the hymn while he was leading meetings at a local church in Michigan. He performed the song to a full house on the last night of the meetings. We hope that you enjoyed listening to this rendition of 'The Old Rugged Cross' by Johnny Cash and June Carter Cash today!
John 19:17-18 And he, bearing his cross went forth into a place called the place of the skull, which is called in the Hebrew Galgotha: Where they crucified him.
For the hymn lyrics, story, and meaning, click here.
This content originally appeared at https://www.godtube.com/watch/?v=0FE9ECNU; used with permission.
Photo credit: ©Getty Images/Michael Ochs/Archives/Stringer
Originally published Monday, 17 October 2022.