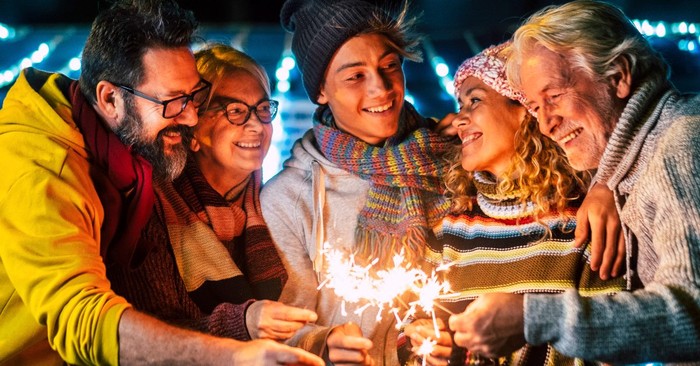 When you find yourself doubting your abilities to achieve your new year's resolutions, know that God, in the person of the Holy Spirit, is inside of you. You have your very own Helper and Guide to encourage and uplift you when you lack confidence and courage.
This time of year, we often hear people say, "New year, new me." It's a catchy phrase that reflects our inner desire to break bad habits and to make resolutions to become new—or at least better—people.
But, for many of us, becoming a "new me" is hard. Adopting a new way of life is— as one might expect—incredibly challenging and, at times, downright disheartening.
So, what can we do when we find ourselves tempted to break our new year's resolutions? What can we do when we feel like giving up on a goal that we've set for ourselves?
Simple.
It's not about what we can do as much as it's about Whom we can turn to for help: Jesus, the "pioneer and perfecter of faith" (Hebrews 12:2).
Jesus, Our Role Model
In Hebrews 12:1-3, we are advised to model ourselves after Jesus, whose determination to complete His mission on earth encourages us to do the same:
"And let us run with perseverance the race marked out for us," the writer of Hebrews declares, "fixing our eyes on Jesus, the pioneer and perfecter of faith. For the joy set before him he endured the cross, scorning its shame, and sat down at the right hand of the throne of God. Consider him who endured such opposition from sinners, so that you will not grow weary and lose heart."
According to this passage, though His mission was extremely difficult, Jesus completed it because He knew that the end goal was of utmost importance. Following Jesus' example, when we commit ourselves to make a resolution, we should recognize the importance of our goal and do our best to see it through.
Maybe you have resolved to lose weight but are afraid you might waver in your resolution. (We all know how hard it is to stay away from sugar and carbs!) But, once you reflect on the long-term benefits of losing weight—1) becoming healthier, 2) being able to be more present and active within the lives of your children and/or grandchildren, and 3) finding yourself more secure in the body that God gave you—you will feel a wave of newfound confidence in your ability to achieve your resolution.
As the writer of Hebrews explains, Jesus completed His race of faith so that "you will not grow weary and lose heart" while running your own. His admirable example serves to bolster your resolve and reinforce your commitment to reaching your goals.
May you always remember that Jesus understands what you're going through because He was a human too. He knows what it's like to feel discouraged, disheartened, and tempted to give up. Rest assured knowing that Jesus—the King of kings and Lord of lords—is running the race beside you, cheering you on as you endeavor to become a new you.
The "Old Self" Versus the "New Self"
Throughout his letters, Paul explains that we must strive to leave our "old self" behind and become a new person.
"You were taught, with regard to your former way of life," he wrote, "to put off your old self" and "and to put on the new self, created to be like God in true righteousness and holiness" (Ephesians 4:22-24).
The "old self" that Paul refers to here is the way we were before we encountered Jesus—broken, sinful, fleshly. The "new self," on the other hand, is the divine nature—a reflection of God, who Paul explains is "righteous" and "holy."
But how exactly do we "put on" this "new self"? It sounds easy, like throwing on a sweater…but is it? Maybe you're struggling to maintain that commitment to eat healthier and to exercise every day. Or maybe, if you're anything like me, you've set a career goal, like writing that book you promised you'd start years ago, but feel like giving up.
Whenever the temptation to quit rears its ugly head, take heart! With the guidance and help of the Holy Spirit, we are able to overcome our doubts and old ways and set our minds to achieving our personal and professional goals.
The Holy Spirit: Our Helper and Guide
The Holy Spirit gives us the strength and resolve to "crucify" the traits of the old self—hopelessness, lack of self-control/self-confidence, anger, etc.—and take on the characteristics of the new self—joyfulness, temperance, confidence, peacefulness, etc. As Paul writes, "Our old self was crucified with [Jesus] so that the body ruled by sin might be done away with" (Romans 6:6).
When you find yourself doubting your abilities to achieve your new year's resolutions, know that God, in the person of the Holy Spirit, is inside of you. You have your very own Helper and Guide to encourage and uplift you when you lack confidence and courage. No matter what, the Holy Spirit is a trusted companion and friend who will never leave or forsake you and will always support you on your journey to become a new person.
While corresponding with the Church at Galatia, Paul rejoices in the "crucifixion" of his former self, suggesting that it is through the death of our old selves that we can have new life:
"I have been crucified with Christ," he movingly proclaims, "and I no longer live, but Christ lives in me. The life I live in the body, I live by faith in the Son of God, who loved me and gave Himself for me" (Galatians 2:20).
So, if we can participate in Jesus' crucifixion, it follows that we can take part in His resurrection too. Through the Holy Spirit, we have the power within us to overcome our old selves and become new people. As Paul joyously declares in Romans 6:4: "Just as Christ was raised from the dead through the glory of the Father, we too may live a new life."
Paul the Apostle: an Example to Follow
When Paul wrote that "if anyone is in Christ, the new creation has come: The old has gone, the new is here!" (2 Corinthians 5:17), he was speaking from personal experience.
Before he was the devout Christian evangelist who passionately spread the gospel throughout ancient Rome, Paul was a staunch Jewish Pharisee who was determined to squash the burgeoning Christian movement.
"For you have heard of my previous way of life in Judaism," reflected Paul in his Letter to the Galatians, "how intensely I persecuted the church of God and tried to destroy it. I was…extremely zealous for the traditions of my fathers" (Galatians 1:13-14).
Paul was not exaggerating when he wrote that he "tried to destroy" the early Christian church. In fact, he approved of the stoning of Stephen, the first Christian martyr (Acts 8:1), and, after "going from house to house…dragged off both men and women and put them in prison" (Acts 8:3).
But, one fateful day, as Paul was heading to Damascus to arrest Christians living there, his life changed forever when a flash of light blinded him, and he heard a voice call his name.
"Saul, Saul," the voice cried, "why do you persecute me?" To Paul's shock and awe, the voice then revealed itself as belonging to the very One whose followers he'd set out to destroy.
"I am Jesus," it mightily declared, "whom you are persecuting" (Acts 9:1-5).
Following this pivotal religious experience, Paul began to boldly preach the gospel of Jesus Christ and later became a martyr himself. His amazing transformation into "a new creation" is ultimately at the heart of his letters and a powerful testament to the new life that even the worst of sinners can find in Jesus.
So, whenever you feel you are beyond becoming a new person or ridding yourself of your negative traits or bad habits, remember the story of Paul. Once Christianity's greatest opponent, Paul ended up becoming the greatest champion of Christ this world has ever seen.
All in all, this new year, don't just resolve to become a "new me." Dare—like the Apostle Paul and countless saints before you—to become a "new me in Christ"!
Photo Credit: ©iStock/Getty Images Plus/simonapilolla
Roma Maitlall fancies herself a bit of a logophile (from the Greek, meaning "lover of words"). Her lifelong passion for writing—combined with her love of Jesus—inspired her to study English and theology at St. John's—a university located in Queens, New York, her hometown, where she always dreamed of becoming a writer. Now a full-time writer, Roma enjoys spending time with her wonderful sisters and family, learning everything there is to know about history, literature, art, and Christianity, and using her words to give glory to Jesus.
---
---