10 Signs You're Ready to Get Married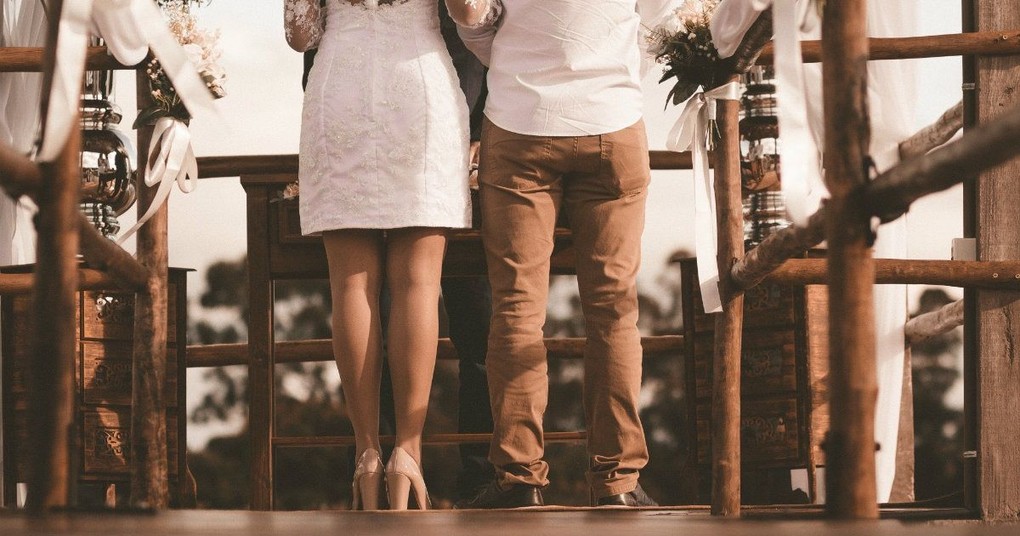 My husband proposed 6 months after we started dating. Everything was moving like clockwork, until it wasn't. We hit an unanticipated mammoth sized bump on our road towards marital bliss that halted our journey towards happily-ever-after indefinitely.
Our church told us, in so many words, that we were not ready to get married. We both had some more introspective to be done before we could say "I do." Although we could have packed our bags and headed to the county courthouse, we opted to submit to the leadership of our church. It was difficult, embarrassing, slow, and absolutely one of the greatest decisions I've ever made.
That "no" forced me to work on the marriage rather than the wedding day. There were no dress fittings or cake tastings. It was just me working on myself.
This is a practice often left out of the marriage preparation equation. Our culture is obsessed with Bachlorette romances and fairy tale weddings that more so characterize a soap opera than a bona fide union. Marriages, however, are not made amid the Hollywood glitz and glam, but in the imperfect and often challenging behind the scenes work of becoming one.
Intuitively, we know this, but when a woman is blinded by bliss often her desire to experience a day she's dreamt about overrides common sense. She may be reluctant to listen to the voice of wisdom, tempted to override internal checks and determined to ignore massive red flags indicating she is not ready to get married. Although it was tough to yield to that still small voice, I did, and as a result I have a few indicators for women who want to know if they are ready to get married.
Image Credit: Unsplash.com
1. She has a healthy growing relationship with God.

Slide 1 of 10

Before a woman gives her heart to a man she should give it to God. He controls the outcome of all things and will direct her path, even romantically, if she allows Him. A willingness to put God first keeps a woman from making an idol out of a man, a wedding, or the state of being married. Yes, they are gifts from God but they are not gods themselves and should not be worshipped. We are instructed in Psalms 37:4 (NIV) to "Take delight in the LORD, and he will give you the desires of your heart." A willingness to develop a relationship with God and submit to His way, timing, and choice is an indication that a woman is ready for marriage.

Image Credit: Unsplash.com

2. She knows herself.

Slide 2 of 10

By establishing a relationship with God, He then teaches us about ourselves. In Psalms 139:13-14 (NIV) it says," For you created my inmost being; you knit me together in my mother's womb. I praise you because I am fearfully and wonderfully made; your works are wonderful," A woman should know everything she can about herself prior to getting married: her temperament, quirks, pet peeves, talents, passions and abilities to name a few. The more a woman knows herself the better she is able to make a discriminatory decision regarding the man she will spend the rest of her life with. 

Image Credit: Thinkstock.com

3. She has processed any childhood hurts.

Slide 3 of 10

Jeremiah 29:17 (ESV) says, "The heart is deceitful above all things, and desperately sick; who can understand it?" Often we are not aware of the contents of our hearts until we are in an unfavorable circumstance. What's in us seeps out, spilling onto anyone and everything in our path. This could look like a heated argument or a financial crisis. Moments like these trigger our unhealed wounds and cause us to respond in ways that are unhealthy. A woman who is prepared for marriage has taken the time to explore the pain of her past in order to enter a marital relationship whole instead of fractured. 

Image Credit: Thinkstock.com

4. She is content in her singleness.

Slide 4 of 10

A woman looking to marriage as a ticket to lifelong happiness may be disappointed. Marriage is filled with seasons: in-love seasons and times of loneliness. Although marriage is a beautiful gift from God, a woman should not hinge her contentment on being united to a man. Her security should come from God. Philippians 4:7 (NIV) says, "I am not saying this because I am in need, for I have learned to be content whatever the circumstances."  A woman who learns how to be content when she is single can learn how to be content during the various seasons of marriage.

Image Credit: Unsplash.com

5. She has her finances in order.

Slide 5 of 10

Money has never been my strong suit. While I was single I did however, attempt to work on my financial footprint. A woman preparing for marriage should know her net worth, live below her means, get out of debt, invest, save, and pay her bills on time. If her finances are in disarray prior to marriage getting hitched won't solve the problem; it will only make things worse. 

Image Credit: Thinkstock.com

6. She is emotionally healthy.

Slide 6 of 10

Emotions are tricky. They are a part of us but sometimes relying on them can be problematic. A woman who is emotionally healthy is able to not only process her pain but articulate and communicate her feelings in a responsible way. This is absolutely vital in order to build strong communication in the union between a man and a woman. If a woman does not prioritize this area in her life it will eventually show up in her behavior. Philippians 7-8 (NIV says, "Do not be anxious about anything, but in every situation, by prayer and petition, with thanksgiving, present your requests to God. And the peace of God,which transcends all understanding, will guard your hearts and your minds in Christ Jesus."

Image Credit: Thinkstock.com

7. She has eliminated questionable males in her life.

Slide 7 of 10

No husband wants to take a back seat to another man. Great marriages are birthed with exclusivity. A woman who is serious about laying a stong foundation for her marriage will eliminate all undefined relationships with the opposite sex. 

Image Credit: Thinkstock.com

8. She has an established list of Non-negotiables in a mate.

Slide 8 of 10

You should be intentional when choosing a mate. The only way to do this is to establish a criteria you are unwilling to compromise on. Salvation, purpose, and work ethic are a few that should top the list. A woman who chooses to establish what she wants, prioritizes herself and the marriage relationship. 

Image Credit: Thinkstock.com

9. She has a good support system.

Slide 9 of 10

Everyone needs at least one other woman who is intimately involved in her life. She needs someone who can look her in the eyes and tell her the truth. A woman who has not established these types of relationships should consider doing so prior to getting married because she will need them. A husband can be a best friend but I wouldn't recommend he be the only friend. Proverbs 17:17 NIV) says, A friend loves at all times, and a brother is born for a time of adversity."

Image Credit: Thinkstock.com

10. She has counted the cost.

Slide 10 of 10

Marriage is a commitment that should not be taken lightly. In God's eyes marriage is forever (excluding the reasons outlined in the Bible). For this reason a wise woman evaluates possible outcomes she may face: financial loss, painful arguments, sickness, and even addictions. Before she says, "I do" she needs to know if she can commit in good times and bad.

Luke 14:28 (NIV) says, "Suppose one of you wants to build a tower. Won't you first sit down and estimate the cost to see if you have enough money to complete it?"

Considering these 10 indicators would bring a sense of sobriety to wedding planning. It could potentially take the focus off of the day and place it on the lifetime. This is most important and what a woman should think about if she is ready to be married.

---

Kia Stephens is a wife and homeschooling mama of two who is passionate about helping women know God as Father.  For this reason, she created The Father Swap Blog to be a source of encouragement, healing, and practical wisdom for women dealing with the effects of a physically or emotionally absent father.  Each week through practical and biblically sound teaching she encourages women to exchange father wounds for the love of God the Father. You can connect with Kia on Facebook, Instagram, Twitter, and Pinterest.

Image Credit: Thinkstock.com