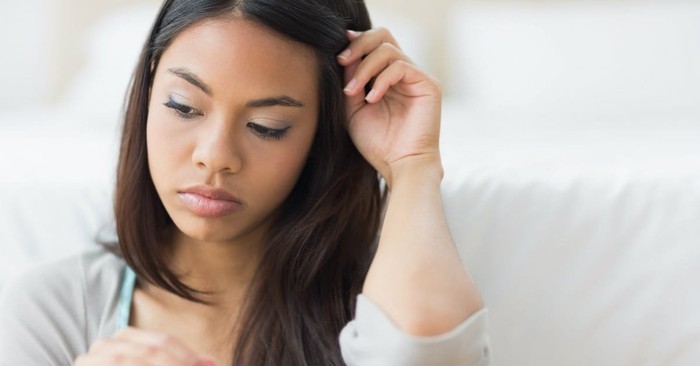 Here's what Divorced Christians say they want you to know… but may not have the words or courage to tell you.
I couldn't contain my excitement when a friend at church told me that Anne Ortlund, author of
Disciplines of a Beautiful Woman
, lived in our area and was still discipling groups of women every year. Even though I had founded the Woman to Woman Mentoring Ministry at Saddleback Church, and had just taken my ministry team through Anne's book, I longed for a mentor myself. Participating in one of Anne's discipling groups seemed like an amazing opportunity. I contacted Anne's office and arranged for an interview with Anne, where she asked my testimony and life story. At the end of our time together, Anne said she only took a specific number of women and had more interviews to conduct and would get back to me. I had been warned that Anne was very particular of who she accepted, so I waited in anticipation and prayer for the letter she said I would receive. I couldn't image that she wouldn't choose me since mentoring was my passion and ministry.  When the letter finally arrived, I ripped open the envelope and pulled out a handwritten note. As I read Anne's words, I couldn't believe her reason for not choosing me: I had been divorced. She said the Bible was adamant against divorce and she needed to reserve space for women who were better qualified to continue on her discipling ministry. After I got over the shock, I was mad. God was using the Woman to Woman Mentoring Ministry in a mighty way to minister to women around the world, but Anne's letter made me feel unworthy and tarnished. As I prayed about Anne's dismissal of me because of my divorce, I remembered sitting with my then fiancé in the office of the pastor we had chosen to marry us. I expected to discuss details of our vows and ceremony, but instead he asked us about our testimony and the circumstances of each of our divorces. As we each explained our respective failed marriages, the thought crossed my mind that maybe he wasn't going to marry us because we were divorced. Neither of us had had cheating spouses, what some consider the only biblical justification for ending a marriage. It was in the solemnness of a discussion I had expected to be festive and joyful that I truly realized the sanctity of marriage in the church. I knew many divorced Christians who had remarried, so I wasn't prepared for this pastor's reaction. I sighed with relief as I heard him say that God hates divorce, but God is a God of mercy and grace. As believing Christians, we needed to ask God for forgiveness for our previous divorces and ask for His mercy in allowing us to marry again, with the understanding that divorce would never be an option in our marriage. After the three of us prayed that prayer, and Dave and I made our commitment to God and the pastor, we planned the ceremony and Pastor Pete became an integral part of our marriage and family. Later, he said that he saw many couples like us come through his office and often had doubts whether they were truly remorseful for their previous divorces and were serious about not repeating history in their new marriage. But he said he felt that Dave and I were different. Recalling this experience as I reread Anne's letter, I wrote a response sharing the conversation with Pastor Pete and reassuring Anne that I had asked Jesus for forgiveness for my divorce and He had forgiven me, just like He had forgiven all my past sins. I was a sinner saved by God's grace and I was asking her to extend to me that same grace. Anne agreed. I was the first divorced woman she allowed in her discipling group, and we never discussed the subject again.  Before remarrying, I was a divorced single working mom for seventeen years and often felt out of place in the church, especially in women's ministry. I didn't have the courage then to address the isolation and discrimination I felt, so I avoided getting involved in church activities. I went to church and went home. But as I think back, there are things I wish I had said and issues I should have addressed. Maybe the following list will help other divorced Christian men and women speak up; or if you know a divorced Christian, you will be more compassionate and understanding of his or her situation. 
Here's what Divorced Christians say they want you to know… but may not have the words or courage to tell you—
Divorce is an event, a part of my story, but it's not my identity. 
Stepfamilies are truly an untapped mission field for the church.
Ministering to them could prevent another divorce! 
Divorce doesn't make me a bad person.
I may have just made a bad decision.
I'm not after your spouse.
Please don't move closer to him or her whenever I'm around.
I'd appreciate an invitation to your Bible study.
We're all forgiven sinners.
Mentor me.
If you've been through divorce, please share with me how you survived. I need to know there is still hope for me.
I'm grieving the loss of my marriage and may feel like a failure.
Please don't add more guilt and pain by using Scriptures to condemn me. Show me God's love instead.
I value your prayers.
But don't offer to pray for me unless you mean it.
Don't try to fix me up with someone.
I'll let you know when I'm ready for another relationship.
I may not be comfortable giving the details of my divorce.
Don't ask probing personal questions. 
If I share my story with you, keep it to yourself.
I'm counting on your confidence not to gossip about me, or talk behind my back.
Divorce is not contagious.
You can be friends with me; it's okay. 
It's hard to sit alone in a church service full of couples.
Please don't leave empty chairs between us; ask if you can sit by me. 
Don't make assumptions.
Not every divorce is unbiblical. There's often more to the story.
I didn't file for divorce for frivolous reasons.
I feel like I need to tell people how bad the marriage was to show them I didn't just "give up."
It's a misnomer that it "takes two."
It only takes one to break the marriage vow or abandon the marriage and file for divorce. 
Please don't schedule kids' activities, camps, and mission trips on 1st and 3rd weeks of the month.
It's likely that 50% of families in your youth group have to send their kids to the other parent on those weeks. 
Don't always have marriage-themed retreats or conferences.
Choose speakers for events that address the whole audience, wherever we are in life.
Single people (divorced or not) need hugs. 
Single parents need encouragement and support. 
Holidays are the hardest.
Especially if I'm a parent who has to share holidays with the other parent. Remember I might be alone and would love an invitation to your house, but don't be surprised if I leave early. Sometimes it's painful to be around intact families.
The best gift you can give a divorced person is community. We feel alone, broken, devastated, and struggle to make all our life decisions alone.
We need you to treat us with grace and, even more, to invite us into your homes and to come into our homes. Welcome us into the family of God. Remind us often with your words and actions that we are
not
broken, but whole in the body of Christ.  Like my initial experience with the late Anne Ortlund, the Christian community often perceives divorce as a stigma, a blemish on a Christian. But the Bible tells us that all have sinned and come short of the glory of God. That's why we need a Savior who offers us redemption, forgiveness, and grace. He wipes the slate clean of all confessed and forgiven sins. We need you to show us that same Christ-like mercy and grace.
If you're a divorced Christian, is there anything else you would like others to know? We welcome your comments.
This article is part of our larger resource: The Christian Woman's Guide to Starting Over after Divorce: 7 In-Depth Steps to Take Starting Today. If you're going through a divorce or are already divorced and looking for more resources, be sure to visit our guide!
Janet Thompson is an international speaker and an award-winning author of 18 books including Forsaken God?: Remembering the Goodness of God Our Culture Has Forgotten (release 2/9/16) and Praying for Your Prodigal Daughter. She is also the founder of Woman to Woman Mentoring and About His Work Ministries. Visit Janet at:
womantowomanmentoring.com
.
www.facebook.com/Janetthompson.authorspeaker
http://www.linkedin.com/in/womantowomanmentoring/
www.pinterest.com/thompsonjanet
https://twitter.com/AHWministries
Publication date:
November 20, 2015
---
---