How Do I Know If I'm Ready to Marry?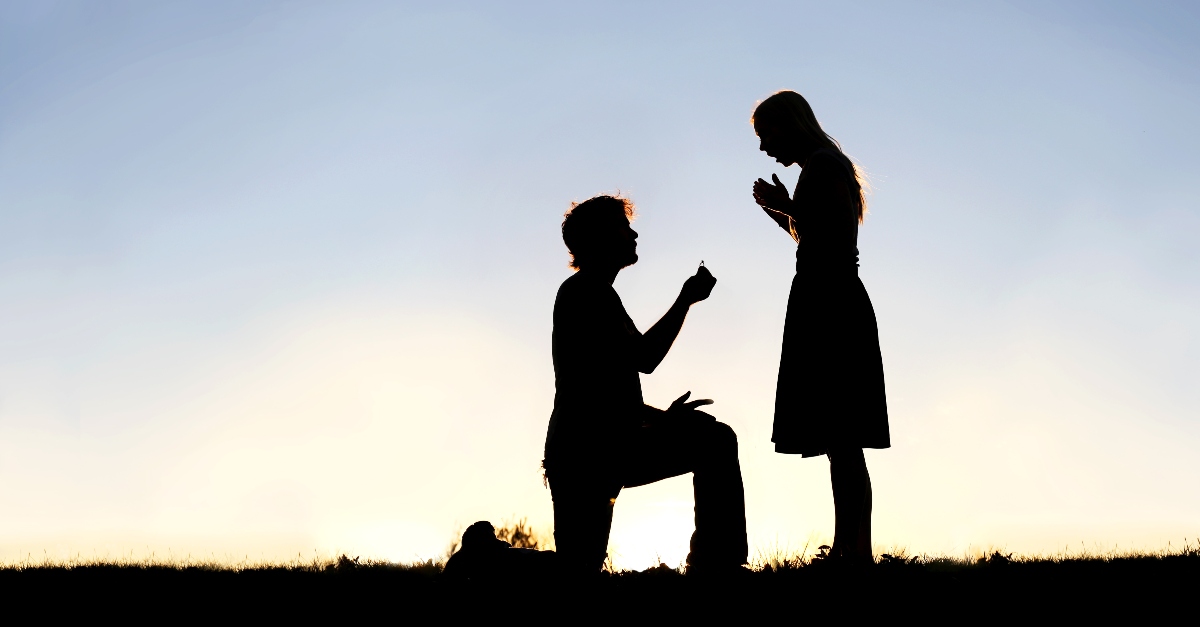 How many bridesmaids will you have? What color-scheme do you want for your wedding? What will your wedding dress look like?
These are questions that many young women are ready to answer at any given moment—even if they're not currently in a dating relationship. Little girls frequently dress up in their mother's off-white veil and heels and perform weddings for their beloved Barbie and Ken dolls. Teenagers eye the cute guy across the pew and wonder if he might be the one they waltz down an aisle to. Young women mull over which song they'll have their first dance to and what their wedding cake might taste like.
The thought of a future wedding brings anticipation and joy to the heart of most women, no matter their age. After all, it's fun to plan an important event that you hope comes to pass. And when you're in a committed relationship, the realization that you might get to experience that Big Day soon can be even more exciting.
It's relatively easy to plan a wedding—but not quite as simple to know if you're truly ready for marriage. Having the dress purchased and the honeymoon planned does not a marriage make. Whether you're in a serious relationship or just hoping to get hitched in the future, here are some questions to ask yourself to help determine if you're honestly ready for marriage.
Photo Credit: © Getty Images/Christin Lola
1. Are you content being single?

Slide 1 of 6

"Not that I am speaking of being in need, for I have learned in whatever situation I am to be content. I know how to be brought low, and I know how to abound. In any and every circumstance, I have learned the secret of facing plenty and hunger, abundance and need. I can do all things through him who strengthens me." (Philippians 4:11-13)

It might seem a little backward to gauge your readiness for marriage on whether or not you are content to be single, but it's a helpful analysis. Those rushing to the altar are often doing so with a suitcase full of lofty expectations, and the panicked thought that they'll never be happy if they're alone. Learning to be content in your singleness first is a benefit in many ways. One, it'll protect your heart from diving into desperate "serial dating." Two, it'll give you a healthy confidence that attracts healthy men, and three, it'll make you less likely to lower your standards and 'settle' when you do date and marry. Learn to be content now, and spare yourself—and your future spouse—a lot of heartache later.

Photo Credit: © Unsplash/Eye for Ebony

2. Do you lean toward co-dependency?

Slide 2 of 6

Needing someone else in order to be happy or fulfilled is a dangerous place to live. God wired us to be full and complete in Him and in Him alone. Of course, we all have moments of neediness, and of course we appreciate the companionship and affection of a dating partner or a spouse. But if we're unable to function without it, or if our relationship becomes our top priority in an unhealthy way over our walk with Christ, then we're leaning more toward idol-worship than we are marriage-prep. Yikes!

"And he said to him, 'You shall love the Lord your God with all your heart and with all your soul and with all your mind. This is the great and first commandment. And a second is like it: You shall love your neighbor as yourself. On these two commandments depend all the Law and the Prophets." (Matthew 22:37-40) This isn't to say we can't deeply love our boyfriend, fiancé or spouse, but rather, when we love them over the Lord, trouble and misery abound.

Photo Credit: © Unsplash/David Nunez

3. Is your identity in Christ?

Slide 3 of 6

While none of us get it right one-hundred-percent of the time, and we often have seasons of doubt and stumbling, we should be able to go back and find a sturdy root of identity in Christ. If we're finding our identity in our career, our relationship, our appearance, or anything else that renders unstable and fleeting, that's a sign that we might not be ready to commit to marriage. That creates a foundation of sinking sand that will make for a marriage riddled with failed expectations—which always leads to arguments and disappointment.

If you feel you would be rendered completely useless and and hopeless if you broke up with your boyfriend right now, that's a sign that your relationship might be landing closer to the "unhealthy" end of the spectrum than "healthy." If your relationship status is your identity—if you can't see yourself as happy and fulfilled without a Mrs. in front of your name—your identity is in the wrong place. Turn to Christ and find your all-in-all in Him first!

Photo Credit: © Getty Images/Predrag Images

4. Are you financially stable?

Slide 4 of 6

There are many financial benefits to combining incomes and expenses with a spouse, but before you can reap that benefit, you need to be able to bring some security to the table. Most couples have inevitable forms of debt going into marriage, such as car loans or student loans, but excessive credit card debt and irresponsible spending habits can be a sign that you're not ready to take the leap to marriage.

Before getting married, make it a goal and a priority to pay off as much as you can out of respect for yourself and for your partner—not to mention, it'll make your marriage start off that much more soundly.

"Pay to all what is owed to them: taxes to whom taxes are owed, revenue to whom revenue is owed, respect to whom respect is owed, honor to whom honor is owed." (Romans 13:7)

"The rich rules over the poor, and the borrower is the slave of the lender." (Proverbs 22:7)

Photo Credit: © Getty Images/Andrey Popov

5. Are you dating a Christian?

Slide 5 of 6

If the answer is no, then you're not ready to marry this person and you never will be. A believer marrying an unbeliever is spoken against in Scripture, and for good reason. 2 Corinthians 6:14-15 says, "Do not be unequally yoked with unbelievers. For what partnership has righteousness with lawlessness? Or what fellowship has light with darkness? What accord has Christ with Belial? Or what portion does a believer share with an unbeliever?" God isn't putting this boundary line in place for His children in order to be controlling or to stop us from having fun—it's to protect us and to protect the glory of His name.

If you're dating an unbeliever, you need to break up with them immediately. You're on a dead-end path that will only lead to heartache and a future full of constant conflict.

Photo Credit: © Getty Images/Prostock-Studio

6. Is marriage in your life a need or a want?

Slide 6 of 6

There's nothing wrong with desiring a godly marriage. After all, God put that dream in many women's hearts."Delight yourself in the Lord, and he will give you the desires of your heart. Commit your way to the Lord; trust in him, and he will act" (Psalm 37:4-5). He also said Himself in Genesis that it wasn't good for man to be alone (Genesis 2:18).

But the truth is, He hasn't called everyone to marriage. If your path doesn't include marriage but rather other avenues of serving Christ, would that be enough for you? Is marriage a healthy "want" that you're trusting the Lord for, or an unhealthy "need" or obsession in your heart? Before getting married, do a heart check and see where you fall on this spectrum. Ask God to make any adjustments inside you that He needs to.

Remember, our Father gives good gifts to His children (James 1:17). It might very well be that He does have marriage for you. But wasting years of your life pining after something that might or might not happen isn't the best way to wait. Focus on the Lord and on your service to Him, and who knows—you might just look up one day to see your future spouse serving right beside you! As difficult as it can be, trust the Lord and His timing. You'll never regret it.

Photo Credit: © Unsplash/Isaiah Rustad