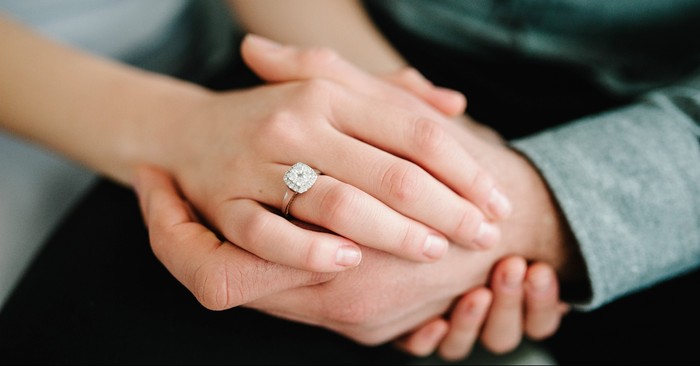 How many marriages might be saved and reconciled if we take the effort to step out and interfere with the enemy's plan to destroy marriages and families?
Over the past few years, a popular reality show followed the sad story of the husband and father leaving his wife and children. Viewers watched this real-life distressing scenario play out, seeing his heartbroken wife and family suffering through his decision.
On camera, he blamed his wife for being difficult and unloving, pointing his finger at her to justify the reason he left, while behind the scenes and unknown to his family, he had begun an inappropriate relationship with another woman.
This ex-husband now tries to convince viewers through his on-camera dialogue how his new family dynamics are working out wonderfully for everyone involved, making no apologies or taking responsibility for the break-up of his long-term marriage and family.
He presents it as, "One Big Happy Family With More People to Love," celebrated as being a better and improved version of God's original design of one man and one woman for life.
Husbands Have A Responsibility
Of course, no one wants families to be at war with each other, but unfortunately, this one big happy family with more people to love most often leaves the original family feeling left behind.
Still, it seems a growing number of husbands nowadays don't ever acknowledge the devastation they leave behind, putting their own interests ahead of their wives and families.
However, Scripture makes it pretty clear that God holds husbands responsible for divorcing their wives. Some may think He only holds Christian men accountable for their marriage vows, but whether believers or unbelievers, the responsibility lies with the husband. Yet some men are ignoring acknowledging this responsibility.
God Holds Husbands Accountable
God holds husbands accountable for the keeping of their marriage covenants, explaining in Malachi 2:14 how He is a witness between a husband and wife. "You ask, 'Why?' It is because the Lord is the witness between you and the wife of your youth. You have been unfaithful to her, though she is your partner, the wife of your marriage covenant."
Sadly, there are men devaluing the sanctity of the covenant of marriage instead of being accountable for leaving their wives. Some men believe they are the victim of an unhappy marriage and feel justified in finding a new wife, believing God will understand and support their decisions.
Malachi 2:16 explains how God hates divorce, how He sees the man who does this as hating his wife and doing an act of violence against her.
God has called a husband to protect his wife, even to the point of giving his life for her if necessary, just like Christ gave up His life for His Bride. As Ephesians 5:25 describes, "Husbands, love your wives, just as Christ loved the Church and gave Himself up for her."
Likewise, how a husband treats his wife also affects his relationship with God. Mistreatment of his wife hinders his prayers and brings a loss of favor over his life (Malachi 2:13).
As 1 Peter 3:7 reminds men, "Husband, in the same way be considerate as you live with your wives, and treat them with respect as the weaker partner and as heirs with you of the gracious gift of lie, so that nothing will hinder your prayers."
Encourage Christian Men to Fight for Their Marriages
Regrettably, even some Christian men aren't following God's biblical design for marriage, of one man and one woman for life, but instead modifying it according to their situation. Even some men of the faith feel justified in abandoning their marriages to seek a new and improved version of marriage.
But what if giving up, finding someone new, and starting over isn't God's plan?
Whatever happened to a husband travailing in prayer and fasting for his wife, who has wandered away, held captive in a sinful lifestyle? Why aren't Christian men taking the time and making the effort to fight for them, especially those in leadership? Where is the longsuffering in marriages? What has happened to the love that never fails? (1 Corinthians 13:8) Why are they letting a spouse slip away?
Church Leadership Reexamined
If even pastors are giving up on their marriages rather than praying, waiting, and believing God to lead their wives to repentance and back home again, how will others in their churches react if faced with a similar situation?
It's vital for churches to examine how divorced leaders may lead their congregations when it comes to marital struggles. Attendees need to prayerfully and biblically consider how their church leadership will counsel a couple struggling in marriage.
If Christians lead by example, what impact will a divorced pastor's example, one who has remarried another person, have on church members' marriages and in the community?
What Can We Do to Help?
Sadly, nowadays, divorce and remarriage in Christian circles seem to be growing. Yet, when a couple's marriage starts to fall apart, where are the people who witnessed their marriages, were called to help support and encourage couples and keep them accountable?
Attending a wedding is more than just enjoying the ceremony and reception. It's agreeing to be a witness to their vows to each other and to God, reminding them, and holding them accountable in the years ahead of their commitment to each other and to Him.
However when trouble strikes, many friends and family seem to look the other way, figuring it's none of their business.
But what would happen if, like on the 1975 "Family Quarrel" episode of "Little House on the Prairie," where friends interfered with the Olesons' plan to divorce, we reach out to help couples stay together?
How many marriages might be saved and reconciled if we take the effort to step out and interfere with the enemy's plan to destroy marriages and families?
Exposing the Enemy's Lie
God's enemy has ways of coming against the covenant of marriage and destroying His design for holy matrimony. One way is by convincing husbands that divorce and remarriage are the best way to go.
Instead of turning to God to heal their marriages, the enemy is telling men the answer to an unhappy marital situation is to leave their wives, find someone else, and start over.
But as Mark 10:7-9 explains, "For this reason a man will leave his father and mother and be untied to his wife, and the two will become one flesh. So they are no longer two, but one flesh. Therefore what God has joined together, let no one separate."
God created the marriage covenant to create oneness and unity in the relationship, an inseparable bond between a man and a woman. As Christians, we need to reinforce the sacredness of marriage, to hold husbands accountable for leaving their wives, and encourage the restoration and reconciliation God provides through His word and Holy Spirit to make marriages anew.
For a husband who is struggling in his marriage, including worst-case scenarios, or even already divorced his wife, visit Marriagehelper.com for free online resources.
Photo Credit: ©iStock/Getty Images Plus/Serhii Sobolevskyi
Lynette Kittle is married with four daughters. She enjoys writing about faith, marriage, parenting, relationships, and life. Her writing has been published by Focus on the Family, Decision, Today's Christian Woman, kirkcameron.com, Ungrind.org, StartMarriageRight.com, and more. She has a M.A. in Communication from Regent University and serves as associate producer for Soul Check TV.
Related podcast:
The views and opinions expressed in this podcast are those of the speakers and do not necessarily reflect the views or positions of Salem Web Network and Salem Media Group.
Related video:
Video credit: ©RhondaStoppe/SWN
---
---