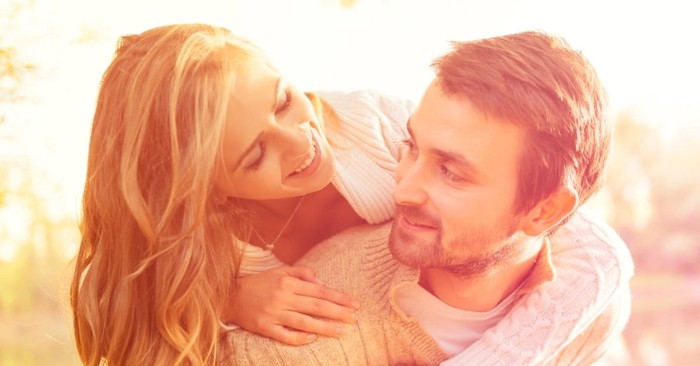 Regardless of if your man's Myers-Briggs results, there are a few things that top the list of things you might not be doing for your husband—and should be.
"What's his personality make-up?" asks a friend.
"You know he's the baby of the family," chimes your mother-in-law.
"Do you know his love language?" questions your therapist.
All of the personality acronyms, quizzes, and lists of love languages can seem overwhelming when it comes to loving your husband. Especially if you've been married for longer than two years; at that point the romance has officially worn off and you've probably endured some sort of crisis; you figure you really "know" each other.
But then you have an argument, or life throws you a curveball and you are left wondering if you've been missing something all along. Have you been loving your husband the way he needs it most?
Regardless of if your man's Myers-Briggs results, or whether he prefers gifts or quality time, there are a few things that top the list of things you might not be doing for your husband—and should be.
1. Sex
The list begins here because every husband reading this article is scanning to find this three letter word. If you're shocked to find it at the top, then chances are you should read it as "more sex." You can Google all the studies you want about the average number of times couples are getting busy, but we aren't digging into that data. There are plenty of books and articles about how God created men and wired them as sexual creatures, but again, we aren't going there. The bottom line is that God created sex, and it's your gift to enjoy with your spouse.
However, if you need another reason why sex can never be left on the back burner of your relationship: it is one of the leading reasons that couples end up in therapy. One of the greatest things you can do for your husband (and your marriage) is to have regular, fulfilling sex with him. Get honest about what's working and what's not if you need to. Set some rules so that you're both satisfied; get creative and have fun.
2. Respect Him
There are few things as embarrassing as watching a woman speak down to her man. Verbally cutting him makes you look insecure, immature and foolish. Many men receive love through words of affirmation, so, using words to hurt him, especially after prolonged periods of time, can do irreparable damage.
He is the leader and head of your home so treat him as such; use your words to respect him. There is almost always something that you can affirm him about: work ethic, humor, love for his family, leadership qualities, dashing good looks. Make a list. Find ways to share these qualities with him. Remind him of why you love him. No man is perfect, but you don't need to remind him of what he lacks. The same way you want him to talk you up, not remind you of your imperfections.
3. Pray for Him
If you aren't praying for your husband, you are not only missing out on an opportunity to grow in your love for him, but to also bless and serve him. This is something that can be done without any cost or time requirement; you can literally be doing this all throughout your day.
Here are some ideas to get you started if you aren't sure where to start:
Pray for the man that he is: his career, physical health, friendships and spiritual growth. Lift up his relationships with his children and colleagues, as well as your marriage. Pray for his continued purity and ability to be the husband and father he wants to be. Believe for the man you know God wants him to be; the hardworking, family-oriented, healthy, courageous, kind, generous, joyful guy who understands his purpose and is fulfilling his calling.
4. Encourage His Friendships
You can't be his one and only friend; it isn't fair to you, and it isn't healthy for him. This needs to be more than just work relationships, but authentic friendships with men he enjoys leisure time with. He needs confidants who he can share hurts and fears with, and he needs mentors who are like fathers (especially if his father is gone) who can guide and direct him spiritually, relationally and vocationally.
This is something you cannot do for him, but you certainly can create space for these friendships to grow. And, you can hold off on the guilt trip when he wants to join friends after work for dinner, attend a sporting event, or join a club with guys from the neighborhood. If these men have wives and you can get in on the social time, great. But if not, don't begrudgingly offer a Saturday afternoon to him so that he can play golf with his friends. Give him time and space to grow these relationships— you may just find yourself grateful for them in the future.
5. Be His Playmate
Find activities that you doing enjoy together. Whether active, interesting, or creative, find hobbies that you are both excited about. This is more than just "going along" with him on a fishing trip, or having him sit on the bench in the mall while you shop your heart out. Spending time together doing activities you both enjoy is something that will fill him up.
This is especially important to make time for once you have started having children. If you cannot maintain a playful friendship as you also learn to parent, you may find it a struggle to remember what you had in common 20 years later after the kids have all moved out. You don't want to find yourself sitting across from each other at the dinner table one day wondering why you ever got married to begin with. Create time and space to be friends who have fun together. Play music, cook dinner, read books, go running, take up a new sport, vacation, whatever it is; the investment of the time and effort is worth it.
And finally, here is a bonus tip:
Have Your Own Friends and Hobbies
Just as he needs time to recharge, so do you. He can be your best friend and favorite activity partner, but he can't be your sounding board for every subject in your life. You need to make time for your own creative pursuits, your health needs, spiritual disciplines and girlfriends. You will be stronger (and therefore, your marriage will be healthier) when you've had a chance to be alone, to connect with other women, to refuel yourself doing something you love, and then come back together.
There are many needs that men have. Some are unique based on their personality, experiences and love needs while others are universal. Give him sex and respect; pray for him and encourage his friendships. Create space for hobbies you both enjoy, and then get away and make time for your own friends and pursuits. None of these ideas are new, or brilliant, but they will require your intentional effort. If you're wondering if he is worth it, the answer is yes— every time. Try a few, and see what happens.
Malinda Fuller and her husband Alex have served at several churches and para-church organizations in the U.S. and Canada for over a decade. Malinda wields truth and grace through the words on her blog and has also contributed content for Relevant, Thrive Moms and The Influence Network. Malinda and Alex currently reside in Southern California, where they are homeschooling their daughters, working in ministry and trying to not complain about the continuous sunshine.
Publication date: May 16, 2016
---
---