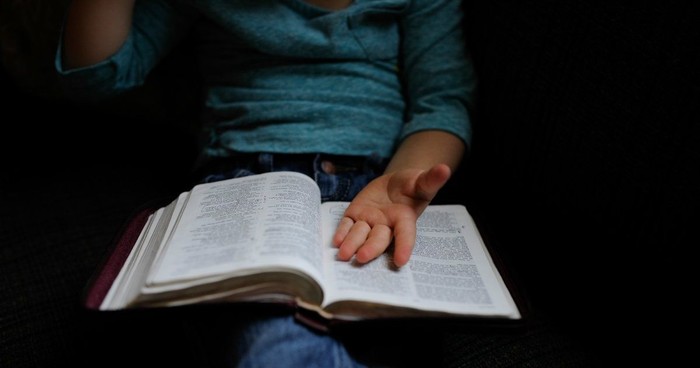 Sharing the good news of the gospel with our children isn't forcing religion on them, it's guiding them to make the best and most important choice they will ever make on this side of eternity.
When Cally* and Brandon* came to faith in Christ, their daughter was eleven and their son, seven. Before their conversion, the family spent most Sundays sleeping in or running errands. Now, they rise early to get to church on time. Their children do not appreciate the new routine and take every opportunity to make it known. Sunday protests of "I don't want to go to church!" and "It's so boring." are the norm and Cally and Brandon are battle-weary. Last Sunday the kids stayed home and when I asked where they were, Cally responded "At home with Grandma. They didn't want to come and I don't want to force religion on my children."
In that moment, everything inside me wanted to beg her to reconsider, to insist they come along. But as a mother of five, I'm familiar with the struggle. It's hard to know which hills to die on when all the while we're worrying which various parenting efforts gone awry will land them in therapy as adults.
Letting children come to their own conclusions, experience natural consequences, and shape their own belief structures may seem like a noble route. Faith is a personal matter and can be polarizing in today's culture, so I can appreciate my friends' relaxed approach. It's certainly less fuss for everyone involved if her kids stay home with grandma rather than grumbling all the way to and through church. Won't pushing our kids to pray or memorize scripture just cause them to resent us?    
But what if we applied the same reasoning to other areas of parenting? If I allowed my children to go their own way, they would survive on Pop Tarts and orange Fanta, never sleeping or brushing their teeth. (We'd never have to pay for orthodontia because all their teeth would rot and fall out.) Instead, we make decisions for our children all the time, steering them away from harm and toward the wiser, better choices. Making the choice to evangelize our children isn't "forcing religion," it's guiding them to make the best and most important choice they will ever make on this side of eternity.
Leading Them is Loving Them
Perhaps the most compelling reason to speak of Jesus to your children, is the Lord's specific exhortation to do so. Deuteronomy 6:7-8 instructs "You shall teach [my commands] diligently to your children, and shall talk of them when you sit in your house, and when you walk by the way, and when you lie down, and when you rise." This does not sound like the Bible is behind the "let them figure it out for themselves" method of parenting. Instead, it takes a much more pro-active approach.
In 2 Corinthians 5:11, Paul writes to Christians of their obligation to speak of God's coming judgment to those who have yet to believe. He writes, "knowing the fear of the Lord, we persuade others." This persuasion isn't out of selfish ambition or the desire to win an argument, but out of love. "For the love of Christ controls us" he writes, "that those who live might no longer live for themselves but for him who for their sake died and was raised." Leading our children to Jesus is the most loving thing we can do for them.
Conversion is Not the Same as Coercion
Before my husband carried my first grader into school kicking and screaming, he attempted to coerce him to stay by dangling incentives and later, consequences. To our dismay, nothing we offered changed his mind. He would not get out of the car. So, we carried him inside, placed him in the arms of the school counselor, and then did the walk-of-shame back to our car before driving home. We may have brought him to school, but we couldn't force him to learn. Ultimately, it was his decision to walk to class, listen to the teacher, and work. Thankfully, he did.
I could have chosen to allow my son's tears to change the course of our parenting decisions; thrown truancy laws to the wind and let my son stay home indefinitely without official schooling. However, my husband and I knew that we had carefully selected this specific school environment with his needs in mind. This was the best place for him to receive the education he would need to be successful.
We can't force our children into repentance or the kingdom of Heaven; we are utterly dependent on the Holy Spirit to bring them to the point of conversion. But we can insist they follow us to church. This weekly gathering of God's people is one of His gifts of grace, a chosen means to bring people to repentance. Here, among the body of Christ and under the preaching of God's Word, children will observe others expressing sorrow over sin and faith in Christ's redeeming work. As a parent, I know only the Father can "deliver His children from the domain of darkness and transfer them to the kingdom of his beloved Son (Col. 1:13)." So until He does, I continue to create every opportunity for my children to observe believers whose lives are being transformed by the teaching of His Word and the power of His Spirit.
We Want Reconciliation, Not Religion.
As we pursue the conversion of our little ones, our goal as Christ-following parents is not to manufacture morally-perfect, ego-inflating, religious trophy children. While pretty and compliant on the outside, these outwardly-religious children may have little understanding of or personal experience with the gospel. Just as living in a garage doesn't make them a car, raising them in church doesn't make them Christ followers. Christianity is more than going to church and keeping up with a check-list of accomplishments. This is mere religion. Our goal is a reconciled relationship with God.
In 2 Corinthians 5:20-21, Paul pleads with the Corinthians "We implore you on behalf of Christ, be reconciled with God. For our sake he made him to be sin who knew no sin, that in him we might become the righteousness of God." Paul was unconcerned with looking religious, he sought genuine heart change and submission to the Lordship of Christ. We take our children to church and involve them in the life of other believers so they will develop a realistic picture of their sin, their need to be reconciled with their creator, and the reconciler they have in Christ Jesus. We pray that over time, through teaching, exposure, and the work of the Holy Spirit, they will heed the call to reconciliation.
Go Into Every Room
In the Great Commission, Jesus calls every disciple to "go into all the world and make disciples." If this is Christ's imperative to His people, shouldn't the children down the hall from our bedroom be first in line to receive the good news from our lips?
When Cally wearily told me she didn't want to force religion on her children, I wish I'd gently protested, "No, evangelizing your child isn't "forcing religion." I wish I'd urged her to continue to faithfully go into all the bedrooms of her house making disciples until Paige* and Alex* are converted from darkness to light and reconciled to Christ. I wish I'd assured her the battle to get their kids to church on Sunday was a worthy one.
*Names have been changed.
Image Credit: Unsplash.com
Lindsey Carlson is the wife of a church planter, a mother of five, and a Texas transplant adjusting to life in Baltimore, Maryland. You can find more of her writing on The Gospel Coalition, Desiring God, True Woman, and her blog, Worship Rejoices.
---
---