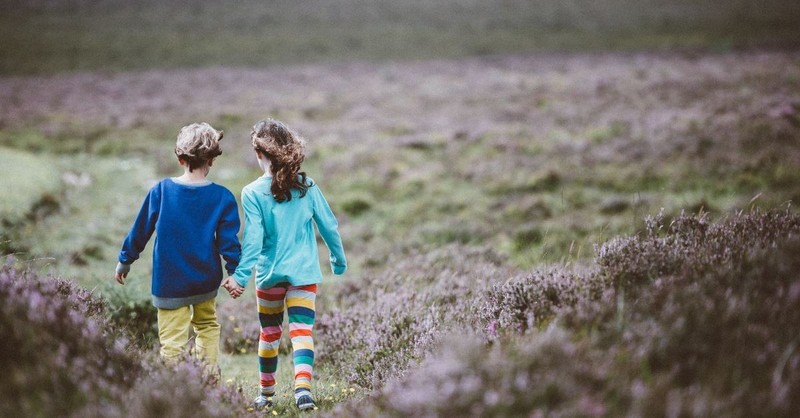 What Does the Bible Have to Say about Growing Up?
Kristi Woods

KristiWoods.net
What does the Bible have to say about growing up? Some nuggets of wisdom glow brightly on its pages. Others, however, remain subtle. Have you uncovered them? Here you can uncover, discover, or simply revisit these 3 important things the Bible says about growing up.
What does the Bible have to say about growing up? Some nuggets of wisdom glow brightly on its pages. Others, however, remain subtle. Have you uncovered them? Here you can uncover, discover, or simply revisit these 3 important things the Bible says about growing up...
1. Sin Remains Real
Do you ever wonder what would have happened had Eve not taken the bite of that dreaded apple? What if Adam wouldn't have followed? Sin bombarded our lives with their decisions in the Garden. Their choices impacted all of mankind—even children (Gen. 3).
As sweet and innocent as youngsters appear, sin mingles within the stories of those growing up, too. (See Psalm 51:5, Romans 5:12, and Romans 3:23 for more.) I think about my own childhood. I lied—not often, but I slipped tales into conversation to save my tail from time to time. I'd not been taught how to lie. My parents exemplified honesty, but somehow unrighteousness rolled right off my tongue.
The battle of good and evil remains real—even in youngsters. Sin is the reason Jesus roamed the earth, and it's why we have need of a Savior and His forgiveness. Thank You, Jesus! How wise our children are when they understand this need.
Call sin real, but love overcomes; it never fails. We hold hope because of Jesus' love and sacrifice. He overcame sin for us so that we might live in the love and safety of heaven and presence of the Almighty forever.
John 3:16 assures that God so loved the world that he gave Jesus—a gift to all, whether young or old, spiritually mature or immature. I memorized this Scripture—my first memory verse ever—as a young elementary student. I continue to recite it decades later. Maybe you recall it too?
God's love flows with power. It overcomes the grip of sin and death, assuring hope for eternity in heaven. It remains free, and our Father longs to bathe us—even the spiritually and physically young among us—in His overcoming love.   
3. Life's not all about us.
Sometimes our world circles around "me, myself, and I." Perhaps you fight this, too?
Selfishness and pride sneak into the hearts of children and adults who are growing in their faith. Life, however, offers much more when we focus on Christ versus self.
Our decisions, even those made as we mature, impact others. Study the childhood and adult stories ofSamuel orDavid to see the impact. Read Psalm 105:8 to encounter the magnitude and hope of righteous decisions and how they thread hope into our lineage.
As a parent, I've already started praying for my grandchildren, great-grandchildren, and future generations. Even when kids are growing up, their decisions impact much.
10 Bible Verses about Children
Scripture contains many verses and passages about children. Promises and power are intertwined through many of them. Take a look at these 10:
1. "These words, which I command you today, shall be on your heart; and you shall teach them diligently to your children, and shall talk of them when you sit in your house, and when you walk by the way, and when you lie down, and when you rise up."(Deut. 6:6-7 WEB)
2. "From the lips of babes and infants you have established strength,because of your adversaries, that you might silence the enemy and the avenger."(Psalm 8:2 WEB)
3. "Behold, children are a heritage of Yahweh. The fruit of the womb is his reward.As arrows in the hand of a mighty man, so are the children of youth. Happy is the man who has his quiver full of them…" (Psalm 127:3-5a WEB)
4. "And all thy children shall be taught of the Lord; and great shall be the peace of thy children. (Isaiah 54:13 KJV)
5. "And Jesus called a little child unto him, and set him in the midst of them, And said, Verily I say unto you, Except ye be converted, and become as little children, ye shall not enter into the kingdom of heaven. Whosoever therefore shall humble himself as this little child, the same is greatest in the kingdom of heaven.'"(Matthew 18:2-4 KJV)
6. "And they brought young children to him, that he should touch them: and his disciples rebuked those that brought them. But when Jesus saw it, he was much displeased, and said unto them, Suffer the little children to come unto me, and forbid them not: for of such is the kingdom of God." (Mark 10:13-14 KJV)
7. "'Honor your father and mother,' which is the first commandment with a promise:" (Eph. 6:2 WEB)
8. "Fathers, don't provoke your children, so that they won't be discouraged."(Col. 3:21 WEB)
9. "Let no man despise your youth; but be an example to those who believe, in word, in your way of life, in love, in spirit, in faith, and in purity." (1 Tim. 4:12 WEB)
10. "From infancy, you have known the holy Scriptures which are able to make you wise for salvation through faith, which is in Christ Jesus."(2 Timothy 3:15 WEB)
What Does Proverbs Say about Growing Up?
Proverbs provides sound guidance for any stage of life. And how wonderful that it contains 31 chapters—one for each day of the month. Aside from easily correlating to the calendar, this one offers a few solid things to say about growing up as well.
12 Unforgettable Children of the Bible
We find stories of children threaded throughout God's Word. Often, those youngsters left powerful imprints on the lives of others. Their accounts display the glory of God—something all of us, whether growing up or grown, can cherish. Study the twelve listed below. Each contains spiritual nuggets making them unforgettable.
1. Jesus (Luke 2)
2. David (1 Samuel 16-17)
3. Moses (Exodus 2)
4. John (Luke 1)
5. Samuel (1 Samuel 1-3)
6. Jarius' Daughter (Luke 8:40-56)
7. The Captive Young Girl (2 Kings 5)
8. Josiah (2 Kings 22-23)
9. The Shunammite's Son (2 Kings 4:8-37)
10. The Canaanite Woman's Daughter (Matt. 15:21-28)
11. The Boy with the Loaves and Fishes (John 6:8-9, continue reading in John 6:1-15 to see how the story unfolds)
12. The Boy with the Evil Spirit (Luke 9:37-45)
3 Bible Verses about Growing Up Spiritually
The Bible also lends itself to spiritual growth which transcends age. We continue working out our salvation while here on earth with Jesus as the author and finisher of our faith. (See Philippians 2:12 and Hebrews 12:2.) That goes for children and adults. Below are three helpful Bible verses for studying spiritual growth.
1. The Word
"Putting away therefore all wickedness, all deceit, hypocrisies, envies, and all evil speaking, as newborn babes, long for the pure milk of the Word, that you may grow thereby, if indeed you have tasted that the Lord is gracious:" (1 Peter 2:1-3 WEB)
2. Discern
"For when by reason of the time you ought to be teachers, you again need to have someone teach you the rudiments of the first principles of the oracles of God. You have come to need milk, and not solid food. For everyone who lives on milk is not experienced in the word of righteousness, for he is a baby. But solid food is for full grown men, those who by reason of use have their senses exercised to discern good and evil. (Heb. 5:12-14 WEB)
3. Endure
"Count it all joy, my brothers, when you fall into various temptations, knowing that the testing of your faith produces endurance. Let endurance have its perfect work, that you may be perfect and complete, lacking in nothing." (James 1:2-4 WEB)
The Bible offers much to say about growing up. The above information stands as a solid beginning. Dig into God's wonderful Word to gather more.

Kristi Woods is a writer and speaker but mostly a Jesus girl. She writes weekly and offers faith-building tools for a deeper walk with God at www.KristiWoods.net. She contributes regularly at iBelieve.com and Crosswalk.com and is published in various print and online publications. Kristi, her handsome, retired-from-the-Navy husband, and their three children survived a nomadic, military lifestyle and have set roots in Oklahoma--where she keeps close watch for tornadoes and good chocolate. Connect with Kristi at KristiWoods.net.

Photo Credit: Unsplash/Annie Spratt
---