4 Ways You're Teaching Your Child to Worry (and How to Change That)
Sarah Nichols

2019

Sep 12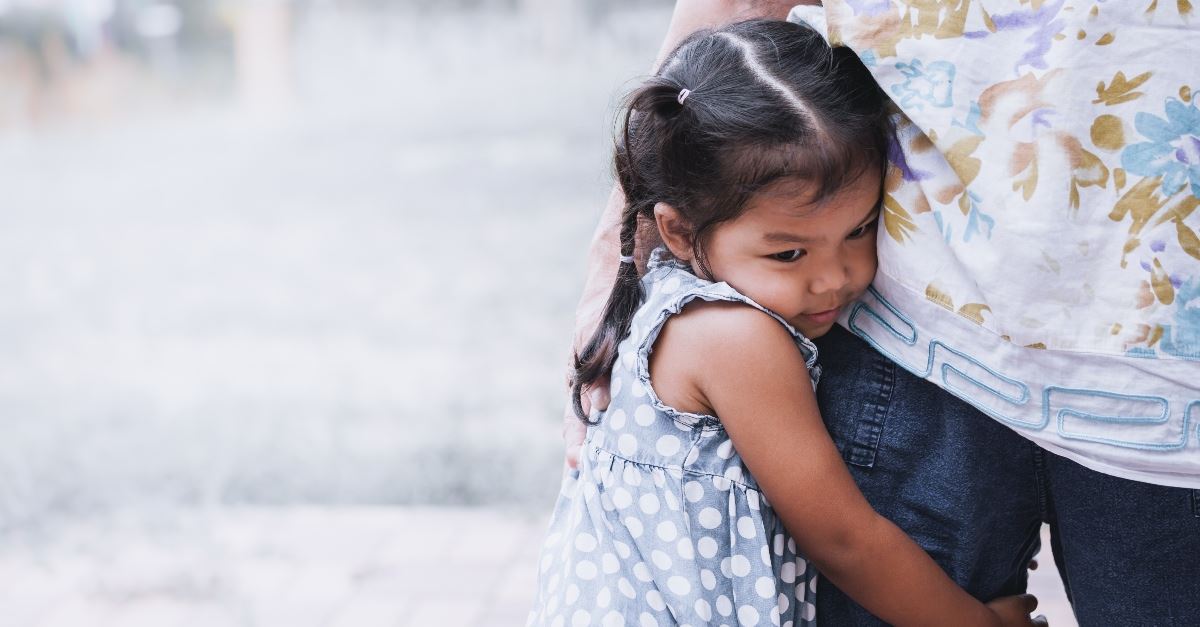 As adults battling our own discomforts, we forget our children are watching. They take in our reactions, piecing together a blueprint for how they think they should move through life.
As a child, I remember my mom telling me that I was a "worry-wart." Aside from it sounding like a term only "old people" use, I could sense there was a lot of truth behind this term of endearment. Even at a young age, I remember being frustrated by how much I worried. I was consumed by it, and even if I couldn't put words to it at the time, I hated the feeling.
What's worse, my irrational fears were validated when my family went camping with some friends. I was eight years old, and we decided to jump in the boat for one last ride before packing up and heading home. As we passed the "No Wake" buoys, the driver hit the gas and boom! The engine burst into flames.
Praying the boat wouldn't explode, we all jumped off and swam for our lives. We were able to make it back to shore safely, but not before my mom sustained third-degree burns. Crying and confused, I watched the boat sink to the bottom of the lake along with my stomach.
This type of event can be traumatizing for anyone, but for a "worry-wart," it only validated my irrational fears and anxiety. As a result, I added fire, boats, and anything with an engine to the list of worries I carried in my back pocket.
As I have gotten older, and now have my own little "worry-warts," I also realize so much of my worry comes from what was modeled before me. My anxious tendencies result in many ways from how I watched the adults in my life handle their own bouts with worry.
Reflecting on my own parenting experience, here are four ways we often teach our children to worry, and how we can change that.
1. We teach them what to worry about. 
We live in a fallen world, and on this side of Heaven, things are bound to happen! The dishwasher is going to break. The kids are going to miss the bus for school. Your favorite sweater is going to shrink when it accidentally gets thrown into the dryer, but when we choose to worry about these things that are so utterly meaningless in light of the Kingdom, we are teaching our kids to do the same. 
How to change that…
Each time we worry, we make a practice of putting on this unhealthy habit. The truth is, no amount of worry is going to be able to prevent life from happening. When daily life happens, try not to make a bigger deal of it than it is. Even if it means handwashing dishes for a week, running behind because you now have to drop the kids off at school, or not being able to wear your sweater because it's now so tight you can hardly breathe in it. When the ebb and flow of life doesn't knock us down, it is an opportunity to model healthy concern and resilience. We show our kids that life is going to come at us a little different than we planned.
2. We don't practice what we preach. 
Worry is inevitable. Yet we can choose to control our actions when worry comes, and that is what our kids will see and follow. Live by example, bringing your worries to God. Stop and pray when met with your own fears. Our kids take notice.
I remember a particularly treacherous spring not that long ago. We arrived at the baseball field for my son's practice with the sun shining and not a cloud in the sky. Within minutes of unloading my sports wagon of chairs, water bottles, equipment, and snacks, the sky turned black and all around the field phones simultaneously alerted notifications of a tornado warning in our area. I immediately panicked and loaded everything as fast as I could and headed home with my heart practically beating outside my chest. Stopped at a red light, frantically trying to assess the situation, I heard my daughter crying from the backseat, I realized my kids were as frightened as me, and they were watching my every move to see how I would deal with it.
How to change that...
Sometimes we discount our kid's ability to sense our emotions. In moments of worry or panic, stop, be honest about your own feelings. It's okay to say sorry to your kids and let them know the way you handled something wasn't ideal. In the middle of the storm, as we tried to make our way home with the rest of the DC traffic, I apologized and we prayed for safety on the way home in the van. 
Praying doesn't automatically take our worries away, but when we do this, we are inviting our kids to do the same, and showing them that there is One who is greater than the fears or worries we face. We practice what we preach in the hopes that when they have struggles and fears of their own, their knee-jerk reaction will be prayer over panic.
3. We make an idol of control. 
For those of us prone to worry, we become overwhelmed trying to control the things we believe we can. Routines, bedtimes, diets, etc. When we give these things more attention than we were created to, they become idols. We inadvertently create more worries for ourselves in times they aren't controllable, teaching our kids to do the same.
How to change that…
Philippians 4:6-7 says, "Do not be anxious about anything, but in everything by prayer and supplication with thanksgiving let your requests be made known to God." We should bring everything to him, the big stuff, the small stuff, even the mundane—especially the mundane. Remembering daily all we have to be grateful for.
An attitude of thanksgiving can give us peace through the times of worry. Start a gratitude journal with your kids. One thing we started at the beginning of the year was a blessings jar. Every month—or as we think of something we are grateful for—we scribble it on a piece of paper and add it. At the end of the year it allows us to unfold the blessings and remember the good stuff, not focus on the bad.
4. We speak doubt instead of truth. 
If you're like me, you often find yourself speaking out loud, especially in times of worry. We might talk through our doubts in hopes that this will lighten the weight of fear and anxiety. Our kids watch us, but even more so, they listen to us tell ourselves the lie that God is not in control. Our negativity fills the room and our children feel the effects.
How to change that…
The Bible says we are to be a light to the world. To do this the flame must first be visible in our own homes. Positivity can go a long way. Teach your kids to have a glass-half-full-mentality. Try to practice self-control in your attitude and responses. We often don't feel equipped and able to do so. Remember 2 Timothy 1:7, "For God gave us a spirit not of fear but of power and love and self-control." We have the Holy Spirit on our side. 
---
Sarah Nichols is a writer who loves to encourage women by sharing hope-filled stories that point others to Jesus. She lives in Kansas City, MO with her high school sweetheart and their three kids. You can find more from Sarah at her blog sarahnicholswrites.com and on Instagram @sarahnicholswrites.
Photo Credit: Getty Images