6 Ways to Be a Happier Mom
I know, mama - it's hard to feel happy when the demands of the day, the endless to-do lists, diapers, and dinners never seem to end. But if there's one thing I want you to know, it's that God does want you to feel joyful in this beautiful, messy life of motherhood he has called you to. Here are 6 ways I've learned to find happiness right in the middle of the mess, and none of them require perfectly obedient children or a spotless home.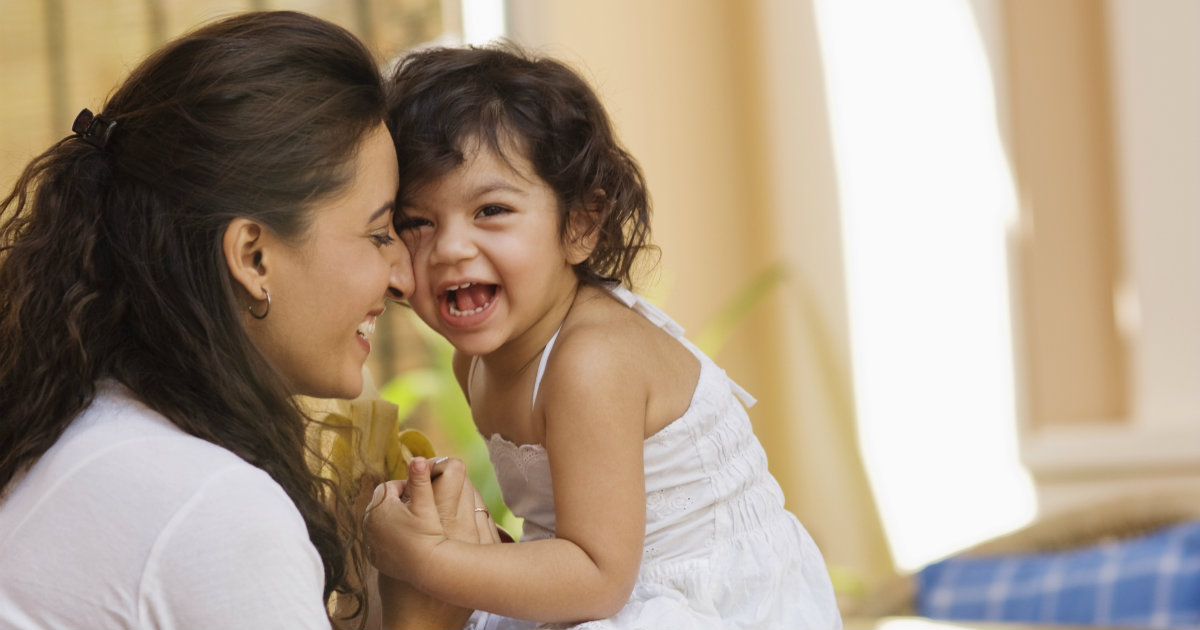 Moms on Facebook always have their arms around their kids and everyone is smiling and having fun. Why don't I?
My neighbors laugh and play with their kids in the afternoons. Why can't I get it together?

When did I lose my smile and how can I get it back?
Have you ever wondered those same things? Most of us have. It often feels like life should be easier, happier, and joyful. If you are like me, I tend to think other moms are more together. I let comparison steal my joy and assume our family has less fun. I hold unreasonable expectations for outings and ignore blessings before me. I keep letting the same mom-triggers with my kids make me unhappy. And, I rarely give myself grace for all my perceived failures. For me, all those tendencies can stomp out my joy and turn me into grumpy mom before I realize what I've allowed to happen.
The demands of daily, ordinary life for a mother consume most of our time and a big chunk of our energy. The to-do lists are long, the kids always hungry, the mailbox stuffed with bills, the sink filled with dishes, the calendar full, the inbox packed with work emails, and the dryer always turning. With all those expectations, figuring out how to hold on to joy deserves an Olympic medal and some dark chocolate.
Busy, Tired Mama – You Can Find More Joy
Life is full, busy, and often hard, but more happiness can be found. Moms are typically the thermostat of a family's mood, and her joy or frustration can impact the feelings of the whole family. So, if we can increase our happiness by just a bit, the happiness level of our homes overall will increase. This then cycles back to us, making it easier to do some giggling as a family.
Pause and let yourself consider ways to leveling up your happiness. It takes intention to turn the grumpy ship around, but let's go for it. Smiles await.
Here are 6 ways for moms to find more happiness in their days:
1. Know Your Blessings
Gratitude changes everything. Allow yourself to begin to consider the abundance that God has given your family. Set up systems for counting blessings.
Involve your family in building habits of gratitude. Tell them that you'd like to start dinners with thanking God for the day's gifts. To keep it fun, decide every night how many should be shared. While tucking your kids in, tell them two ways they blessed you that day.
Begin your days with a gratitude journal or make each entry something unique by never writing the same things.
Let gratitude renew your sense of appreciation for the wonder existing in the mundane. Allow yourself to find the cycles of everyday life to be sacred rhythms and opportunities to live out your love for your family. While you clean, listen to worship music. While cooking, turn on some fun beats to listen to. Learning to reduce the ongoing tendency to begrudge chores will make more space for you to hear your family laugh and plan for big and small, fun celebrations.
Lead your heart and mind toward joy.
2. Know Your Triggers and Tendencies
Take a moment to see yourself and your days. Think through what things bring you joy and what stamps it out. Consider what parts of your day make your shoulders tense. Ask your kids what times of day they notice you being grumpy and maybe even to act it out with you as the audience. Let the truth reset your intentions and then laugh with your kids at yourself.
Is it mornings when you are trying to get the kids out the door with backpacks, permission slips and lunches that make you the craziest? After school and work when there is homework to be done and cooking to do? Or is it at bedtime when everyone is exhausted?
Plan for how you could lead your heart and mind to be less irritable and sulky in those parts of the day. Ask God to show you some new ways through those moments that trigger you. Trust that joy is something He wants to give you.
When your grouchiness is triggered, stop yourself. Walk outside, say a prayer, blast some music for an on-the-spot kitchen dance party, or let your to-do-list slide and sit down with your kids and ask them if anything funny happened at school. When they laugh, laugh too.
Lead your heart and mind toward joy.
3. Know How to Have Fun
When was the last time you giggled? Had a good belly laugh? Let yourself be silly? Be intentional with letting yourself be lighter. Remind yourself of your forgotten fun side. Actively look for ways to laugh by yourself, your husband, or your kids.
Read a funny book. Play some family games that will make everybody laugh, such as Kids Against Maturity or Word on the Street Junior. Go ice skating or roller skating and laugh as everybody sways and falls. Go to a funny movie with a friend. Watch a comedian on Netflix with your husband.
Lead your heart and mind toward joy.
4. Know Your Unreasonable Expectations
Assuming that your life should look a certain way can steal all the happiness from big and little moments. Comparison leads us to have expectations that usually cause us grief when we can't meet them. Here are just a few expectations you might unknowingly be walking about with:
Have you seen so many families go to Disney World, that you think all families are expected to take a trip to Orlando in order to be happy?
Do you see other kids with huge amounts of toys and think your kids need that too?
Have you seen so many Facebook posts with moms happily baking Christmas cookies in a mess-free kitchen that you assume your baking experiences need to be perfect?
Do you notice other moms posting about eating at restaurants and going to concerts that you believe that those things would bring you happiness?

Or is it your own standards building things up in your mind so that nothing could live up to reality? I once purchased a new kid-friendly family devotional and built up an image of meaningful dinnertime devotions. When we actually tried our first one though, two kids poked each other under the table and another spilled water. My expectations were over the top, I slammed the book closed and assumed we couldn't handle that precious time I'd envisioned. If my expectations had been a little more realistic, perhaps we could have gotten through the devotional, even if it didn't go perfectly.
Unreasonable expectations can sabotage holidays, outings, celebrations, and ordinary days.
Lead your heart and mind toward joy.
5. Know the Grace That is Available for You.
You are a mom. Don't be too hard on yourself or expect too much of yourself. Keep a bucket of grace on hand to dip into. It's a spiritual discipline worth exploring.
If you want your kids to see and experience grace, it starts with you and offering yourself that mercy. When you shoulder too much guilt, it's impossible to be happy. Next time you get grumpy, stop yourself and imagine throwing grace into the air, letting it fall on you like confetti. Smile as you watch it come down.
Each evening, as your mind starts to rehash your failures, actively work on giving yourself grace. Pray and ask God to help you feel His mercy more when morning comes.
Lead your heart and mind toward joy.
6. Pick and Choose Your Battles
While you are learning to "know" more about happiness, know what battles you can skip. Could you intentionally overlook a few things each day that you'd like to fuss about, that you DESERVE to fuss about? Maybe your kids overshoot the laundry basket? Pick your battles. Try overlooking it this time. Then find a couple more things to overlook that would normally siphon some joy out of you.
It is undeniable that there are seasons in our motherhood when we realize that we haven't laughed as much and just don't feel as happy as we'd like. If we are in that season and what to step up and out of it, being intentional is essential.
Starting right now, check your expectations, dish yourself up some grace, think through your tendencies, be intentional about finding some fun, and choose some annoying things to overlook.
Lead your heart and mind toward joy.
Rebecca Radicchi, her husband and crew of kids, live outside Atlanta, where the summers are hot and the tea is sweet. She's ridden the waves of adoption, breast cancer, and being the mom of kids with complex medical needs. And, through it all, she's seen that abundance can be found in the uncomfortable hard and in the easy beautiful. She's also discovered that whether she's passing bread at the kitchen table, clock-watching in a hospital waiting room, or listening to a neighbor on a porch swing, God always has something to say. It's a wonder really. She encourages others to listen for it too on her website and Instagram, and also connects with adoptive families at No Hands But Ours.
Comments