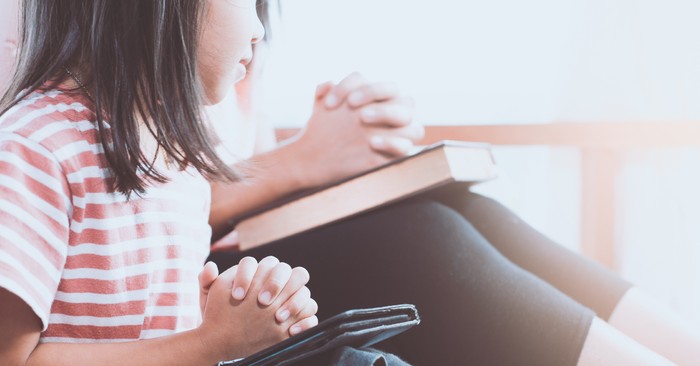 Here we have gathered scripture quotes to inspire your daughters and guide them in the truth of God's Word.
What can we learn from the Bible about raising our daughters? Discover some of the best Bible verses for daughters in this collection of scripture quotes!
Here we have gathered scripture quotes to inspire your daughters and guide them in the truth of God's Word. Read Bible verses about guidance and protection that will encourage parents to "train up their daughters in the way they should go." May these scriptures be a light unto your path for daughters and their parents!
A Prayer for Your Daughter
Father, thank you for my family. You have blessed me so much, entrusting me to care for my children. Help me to be the parent you have called me to be. Give me the strength to teach my daughter how to be the woman you have called her to be. Give me the courage to say the things she needs to hear, even if they are not the things she wants to hear. Give me the wisdom to know what to say, and give her a tender heart to be receptive to her parents' guidance. In Jesus' name, Amen.
(By Brett Rinehart)
Bible Verses about Daughters and Children
Train up a child in the way he should go; even when he is old he will not depart from it.
"See that you do not despise one of these little ones. For I tell you that in heaven their angels always see the face of my Father who is in heaven. What do you think? If a man has a hundred sheep, and one of them has gone astray, does he not leave the ninety-nine on the mountains and go in search of the one that went astray? And if he finds it, truly, I say to you, he rejoices over it more than over the ninety-nine that never went astray. So it is not the will of my Father who is in heaven that one of these little ones should perish."
Grandchildren are the crown of the aged, and the glory of children is their fathers.
All your children shall be taught by the Lord, and great shall be the peace of your children.
And they were bringing children to him that he might touch them, and the disciples rebuked them. But when Jesus saw it, he was indignant and said to them, "Let the children come to me; do not hinder them, for to such belongs the kingdom of God. Truly, I say to you, whoever does not receive the kingdom of God like a child shall not enter it." And he took them in his arms and blessed them, laying his hands on them.
Fathers, do not provoke your children to anger, but bring them up in the discipline and instruction of the Lord.
Behold, children are a heritage from the Lord, the fruit of the womb a reward. Like arrows in the hand of a warrior are the children of one's youth. Blessed is the man who fills his quiver with them! He shall not be put to shame when he speaks with his enemies in the gate.
Children, obey your parents in the Lord, for this is right. "Honor your father and mother" (this is the first commandment with a promise), "that it may go well with you and that you may live long in the land." Fathers, do not provoke your children to anger, but bring them up in the discipline and instruction of the Lord.
Children, obey your parents in everything, for this pleases the Lord.
Hear, my son, your father's instruction, and forsake not your mother's teaching, for they are a graceful garland for your head and pendants for your neck.
Bible Verses about Guidance for Daughters
Trust in the Lord with all your heart, and do not lean on your own understanding. In all your ways acknowledge him, and he will make straight your paths.
I will instruct you and teach you in the way you should go; I will counsel you with my eye upon you.
When the Spirit of truth comes, he will guide you into all the truth, for he will not speak on his own authority, but whatever he hears he will speak, and he will declare to you the things that are to come.
And your ears shall hear a word behind you, saying, "This is the way, walk in it," when you turn to the right or when you turn to the left.
Your word is a lamp to my feet and a light to my path.
Make me to know your ways, O Lord; teach me your paths. Lead me in your truth and teach me, for you are the God of my salvation; for you I wait all the day long.
If any of you lacks wisdom, let him ask God, who gives generously to all without reproach, and it will be given him. But let him ask in faith, with no doubting, for the one who doubts is like a wave of the sea that is driven and tossed by the wind.
The heart of man plans his way, but the Lord establishes his steps.
But the Helper, the Holy Spirit, whom the Father will send in my name, he will teach you all things and bring to your remembrance all that I have said to you.
Where there is no guidance, a people falls, but in an abundance of counselors there is safety.
Bible Verses about Protection for Daughters
He who dwells in the shelter of the Most High will abide in the shadow of the Almighty. I will say to the LORD, "My refuge and my fortress, my God, in whom I trust."
No weapon that is fashioned against you shall succeed, and you shall confute every tongue that rises against you in judgment. This is the heritage of the servants of the Lord and their vindication from me, declares the Lord."
But the Lord is faithful. He will establish you and guard you against the evil one.
God is our refuge and strength, a very present help in trouble.
Be strong and courageous. Do not fear or be in dread of them, for it is the Lord your God who goes with you. He will not leave you or forsake you."
Fear not, for I am with you; be not dismayed, for I am your God; I will strengthen you, I will help you, I will uphold you with my righteous right hand.
The angel of the Lord encamps around those who fear him, and delivers them.
You are a hiding place for me; you preserve me from trouble; you surround me with shouts of deliverance. Selah
The name of the Lord is a strong tower; the righteous man runs into it and is safe.
Though I walk in the midst of trouble, you preserve my life; you stretch out your hand against the wrath of my enemies, and your right hand delivers me.
Photo credit: GettyImages/Sasiistock
---
---