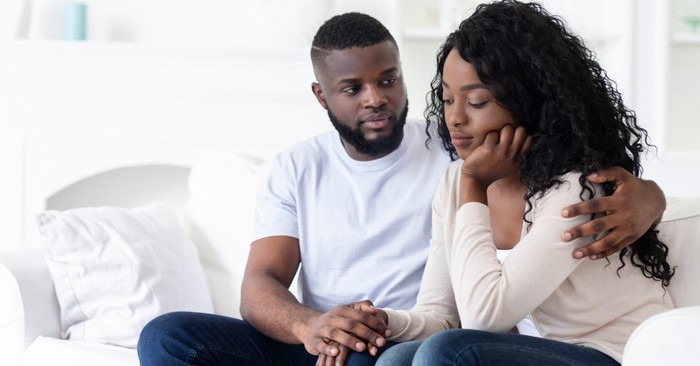 Suffering does not seem good to us, yet in our suffering, the communion we have with our Savior is like none other.
"God, I will serve you faithfully. Just please don't ever allow me to go through a miscarriage."
Those words were spoken in a prayer I said before I was even a momma. There is a stigma and a sorrow associated with miscarriage that invokes fear in those who have not yet experienced the wonder of pregnancy.
Many years after that prayer, I had my first child and then was expecting again. I was staying in a hotel for 40 days and 40 nights (literally) during a company move when I stood up and felt a sharp pain, followed by hemorrhaging. I knew something was wrong, but I didn't think this could happen to me. I think this is how we all think of traumatic events we experience in this life. We think they always happen to other people. But when they happen to us, we are not prepared to know how to handle them.
In a blur, I was rushed to the hospital for an ultrasound. As I gazed at the screen, I was willing my little one to live with fervent prayers. Then the sonographer announced that the baby's heartbeat was 40 beats per minute. In moments like this, time tends to stand still. We don't know how to handle our reality and just want to shut down.
The hospital was packed and did not have space for me so they shoved me into a random office to wait. As I lie there, I prayed that God would have mercy on this baby and that everything would be alright. It was then that a doctor came in and tried to offer me hope. He said that the heartbeat was low, but they were optimistic as there had not been any bleeding yet. I lifted my sheet to show the doctor that I had been bleeding—a lot. The look on his face told me what I knew. I needed to prepare my heart for what was happening.
They quickly whisked me in for another ultrasound and this time, there was no heartbeat. There are no words for moments like these that can adequately describe the suffering of the soul. Once again, I was put into an office as they had no extra rooms. And I waited. All alone. Yet I was never alone. God sent a nurse who was a Christian to encourage me while I waited for surgery.
And even though I struggled to accept that God could be with me while I suffered, I knew God was with me. "The LORD is close to the brokenhearted and saves those who are crushed in spirit" (Psalm 34:18).
When the dreams we have for our children are shattered, God is near us. There is no preparation for the physical, emotional, and spiritual struggle one encounters after such loss and the constant reminders of our loss can also keep us from moving on.
Two days after the miscarriage, I sang at a wedding that had lyrics about a baby's heart beating. Then every day for months there were reminders of the fact that I was almost a mom again. Samples of infant formula came in the mail. Several of my friends who were expecting shared pictures of their progress. The shame swallowed me whole.
But God. Traumatic losses can have a tendency to cause us to accuse God or mourn our loss to the point that we forget the blessings of the present. I found healing for my loss that has served as a reminder to me of how to handle such devastation.
Cry Out to Jesus
"I cry out to God Most High, to God who fulfills his purpose for me" (Psalm 57:2, ESV).
The token advice of people could not heal my wounded heart. But my heavenly Father could. There in the aftermath of the miscarriage, I dropped to my knees and cried out to God for understanding. I opened my Bible to Psalm 119, and these verses healed my heart:
"Do good to your servant according to your word, Lord. Teach me knowledge and good judgment, for I trust your commands. Before I was afflicted I went astray, but now I obey your word. You are good, and what you do is good; teach me your decrees" (Psalm 119:65-68, NIV).
I can't explain it, but I never felt more loved by God than in that moment. God is good. All the time. His goodness reached down into my bad situation and helped me to see that even this suffering that I had encountered could be healed by my good, good God.
Come to Jesus for Compassion
"Let your compassion come to me that I may live, for your law is my delight" (Psalm 119:77, NIV).
When I was hurt that other people did not understand my sorrow, I knew that my Savior did. Christ demonstrated compassion for our souls by suffering on our behalf. In our struggle with our own suffering, people might not be so patient with us. They might tell us to get over it. But not our God. "You keep track of all my sorrows. You have collected all my tears in your bottle. You have recorded each one in your book" (Psalm 56:8, NLT).
God tracks our sorrows, friend. Knowing that He is not just dismissive of my suffering, I began to encounter healing as I came to Christ for compassion rather than people. Suffering does not seem good to us, yet in our suffering, the communion we have with our Savior is like none other. "But you, Lord, are a compassionate and gracious God, slow to anger, abounding in love and faithfulness" (Psalm 86:15)
Come to Jesus for Comfort
"Blessed are those who mourn, for they will be comforted" (Matthew 5:4).
We can mistakenly think God does not care when we face afflictions in this life because He allowed them in. But God wants to be our comfort. He endured suffering on our behalf, and He is there for us in our suffering. Our suffering is never in vain and when we give our suffering to God, we pick up His healing.
"Cast your burden on the Lord, and he will sustain you; he will never permit the righteous to be moved" (Psalm 55:22, ESV).
Sometimes, if we are honest, we don't want to be comforted. We might feel like being comforted causes us to forget our loss and subsequently, our child. But when we accept the comfort that Christ offers, the world is able to see the grace of God in the midst of our pain.
When I think now of my prayer as a new believer that I would never go through a miscarriage, I realize now that I was imagining the future apart from God's grace. Here is the challenge of each and every loss we suffer in this life. Do we believe that God's grace is enough to carry us? In our weakness, God fills us with His power and enables us to rise above our circumstances rather than being trapped in them.
"But he said to me, 'My grace is sufficient for you, for my power is made perfect in weakness.' Therefore I will boast all the more gladly about my weaknesses, so that Christ's power may rest on me" (2 Corinthians 12:9, NIV).
One day, friends, you will see your precious one in heaven. This is a certainty for those who are in Christ. Every tear and every sorrow will be wiped away (Revelation 21:4). It's okay to trust your grief in the hands of Your Savior. Your child is never forgotten and is now completely healed in the presence of God.
Photo Credit: ©Getty Images/Prostock-Studio
---
---