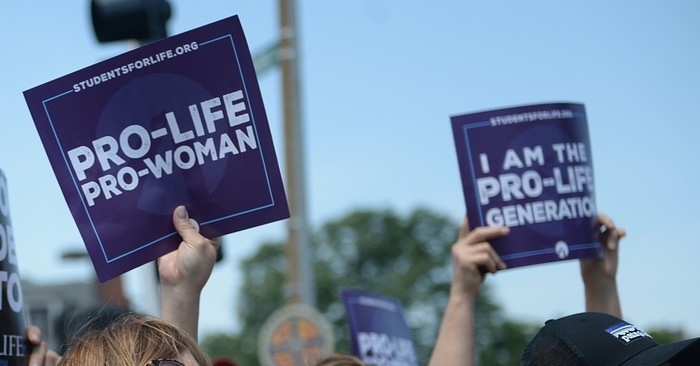 June 24, 2022, has now become a day when our nation has chosen life over death, just like God calls us to do.
One of the darkest days in American history occurred on January 22, 1973, when the Supreme Court ruling on Roe v. Wade legally protected abortion on demand.
While our justice system determined children as disposable, Psalm 127:3 explains, "Children are a heritage from the Lord, offspring a reward from Him."
However, as a nation, we now have reason to celebrate the historical overturning of this grievous decision that led our country, since its ruling, to sanctify the estimated horrific sacrifice of over 63-million unborn babies.
Six Supreme Court Justices amid life and career-threatening opposition rightly and courageously interpreted the United States Constitution to end a national genocide carried out against the lives of the unborn in the United States.
Below are four reasons to rejoice and celebrate this historic event, to set time aside to praise and thank God for answering our prayers to overturn Roe v Wade:
1. Our Nation Chooses Life Over Death
June 24, 2022, has now become a day when our nation has chosen life over death, just like God calls us to do.
"This day I call the heavens and the earth as witnesses against you that I have set before you life and death, blessings and curses. Now choose life, so that you and your children may live" (Deuteronomy 30:19).
By choosing life, our nation is literally giving life back to our children and to those whose lives will be spared from the heartbreaking aftermath of an abortion.
2. Defiling of Our Land Ends
Every abortion is a coldhearted, ruthless act of violence against the most innocent and defenseless humans on earth, a procedure that rips and tears apart pre-born children from the safety of a mother's womb. Even sadder is the fact that their own mothers have been the ones handing their babies over to be destroyed.
There is no question that God opposes abortion. He hates the shedding of innocent blood which has brought defilement to our land. As Psalm 106:38 explains, "They shed innocent blood, the blood of their sons and daughters, whom they sacrificed to the idols of Canaan, and the land was desecration by their blood."
As Deuteronomy 19:10 describes, the shedding of innocent blood in our land has made our nation guilty of bloodshed in the eyes of God.
3. The Lie Is Overturned
With this ruling comes the overturning of a lie. Back in 1973, Americans were misled to believe Roe a.k.a. Norma McCorvey "needed" an abortion as a victim of gang rape. This was later revealed as untrue.
Rather, she just wanted an abortion and her lawyer told her he could help her get one.
U.S. citizens were fed the lie that countless women were dying because of seeking illegal abortions. Abortionist Bernard Nathanson lied to the media, stating 10,000 women a year were dying from illegal procedures. However, CDC records reported only 39 women in 1972, one year before the ruling, had died from illegal abortions in our nation.
4. No Longer Alleged Constitutional Support for Abortion
As well, despite what abortion supporters assert, there hasn't ever been a real constitutional basis for abortion because it was falsely based on the Due Process Clause of the 14th Amendment.
Actually, quite the opposite is true. The United States Declaration of Independence assigns every citizen, whether born or unborn, certain unalienable rights including the right to life, liberty, and the pursuit of happiness. However, all rights are denied to the unborn through the legalized protected right of others to abort them without their consent.
After years of being denied their right to be born, the unborn have had their right to life restored on a constitutional level.
As Scott Klusendorf, president of Life Training Institute who teaches pro-life supporters how to persuasively defend their views, explains, "The issue here on abortion is not who's pro-choice and who's anti-choice. The issue is, what is the unborn? The unborn is human."
Courthousenews.com reports, "Key to the court's ruling Friday was its determination that the Constitution does not reference abortion, and that the right to abortion is also not protected in either the Due Process Clause or the 14th Amendment. Alito said overruling Roe follows the Constitution by returning the issue to the states."
Within the ruling, Alito wrote, "Roe was egregiously wrong from the start. Its reasoning was exceptionally weak, and the decision has had damaging consequences."
Photo Credit: ©Getty Images/Michael B. Thomas/Stringer
Lynette Kittle is married with four daughters. She enjoys writing about faith, marriage, parenting, relationships, and life. Her writing has been published by Focus on the Family, Decision, Today's Christian Woman, kirkcameron.com, Ungrind.org, StartMarriageRight.com, and more. She has a M.A. in Communication from Regent University and serves as associate producer for Soul Check TV.
---
---