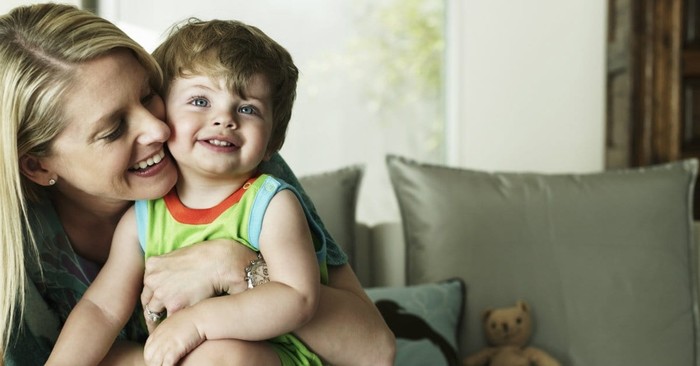 There is good news. If you can tap into the joy that comes from obeying Christ and being in his presence, you can be a happier mom no matter what is happening.
When your baby is catapulted into the world, you can't help but feel joy. You echo the words of Leah in
Genesis 30:13
, "How happy I am! The women will call me happy." But those first moments of bliss are quickly tried by crying infants, sleep deprivation, and all sorts of challenges. According to a Barna study, eight in ten moms feel overwhelmed by stress. Only nineteen percent of moms report being extremely satisfied as a mom. You know if you hang your happiness on your children's behavior, you may have to wait a while before you can break into a wide grin. But there is good news. If you can tap into the joy that comes from obeying Christ and being in his presence, you can be a happier mom no matter what is happening. Happiness (pleasure, contentment, satisfaction, cheerfulness) is actually something you can increase in your life by your thoughts and actions. Here are ten ways to help you be a happier mom:
1. Discipline with Action, Not Tone
You've probably yelled this before: "How many times do I have to tell you…" Most likely, you were the one at your wits end while your child was unmoved. Instead of using long explanations or threatening tones, use actions and consequences that will stop your child in his/her tracks. For instance, when my daughter dawdled at breakfast (again), we simply took the food away and served it for lunch. No fanfare or emotion necessary.
2. Drop the Guilt
Don't fall prey to the victim mentality that makes you feel like a loser all the time. Notice your negative self-talk and seek to turn your bad guilt into good guilt. Bad guilt says "I'm no good" but good guilt says "I did something wrong and I need to fix it." Focus on the things you can fix and stop expecting perfection from yourself. Failure is an event; not a person.
3. Do Less for Your Kids
Are you still packing lunches for your sixth grader? It's time to stop. Don't do for your children the things they can do for themselves. Whether it's tying shoelaces, homework, or washing dishes, we need to give our kids increased responsibilities as they get older. It will not only make you saner as a mom, it will prepare your children well for independence and adulthood.
4. Pray with Other Moms
The Lord God Almighty stands ready to hear and answer your requests for your children. Make prayer a regular part of your mom life. To add accountability and power, invite another mom to pray with you weekly for your children. You can visit
www.MomsinPrayer.org
to see if there is a group of moms praying for your child's school.
5. Focus on the Yes
Motherhood can feel like a big NO. "No, don't touch that." "No, I can't go. I have to watch my kids." Instead of putting the emphasis on
no
, find places to emphasize the yes in motherhood like, "Yes, let's have some fun." "Yes, let's do that service project as a family." "Yes, let's save up for a family vacation."
6. Listen to Your Body
Remember what you hear over and over on flights? In case of emergency, place your own oxygen mask on first, and then help your children. We often sacrifice our health because we're busy with our mom duties. Make sure you listen and respond to your body. Get a good night's sleep, exercise regularly, and eat healthy foods that will act as fuel.
7. Streamline Your Family Activities
Is your schedule running you ragged? Do you regret saying yes to soccer, baseball, piano, and gymnastics? At your next opportunity, choose less. Perhaps have your children do the same activity to lessen your drive time.
8. Have a Game Plan for Screen Time
The average child age 8-18 spends more than seven hours per day looking at screens. If you don't have a game plan, it's just too easy for free time to get gobbled up by mindless screen time. Use technology to bring you together as a family with activities like Friday night movie night and Skyping family members.
9. Seek a Mentor
If you want to learn how to cook, you learn from a cook. In the same way, if you want to learn to be a happier mom, you find a happy mom. Take this mom out to coffee and ask her to share her secrets. It's extremely helpful to have a trusted advisor who can pray with you and answer questions about what's happening with your kids.
10. Remember Your Blessing
In the day to day race of motherhood, we can forget how fortunate we are to have kids in the first place.
Psalm 113:9
says, "He settles the childless woman in her home as a happy mother of children." Imagine what your life would be like if your kids were taken away. Be grateful for your children each day. Which of these ten ideas resonates with you the most?
---
Arlene Pellicane is a speaker and author of
Growing Up Social: Raising Relational Kids in a Screen-Driven World
and
31 Days to Becoming a Happy Wife
. She has been a guest on the
Today Show, Family Life Today, The 700 Club
and
Turning Point with David Jeremiah
. Arlene and her husband James live in San Diego with their three children. Visit Arlene's website at www.ArlenePellicane.com.
---
---