5 Unexpected Blessings of COVID Christmas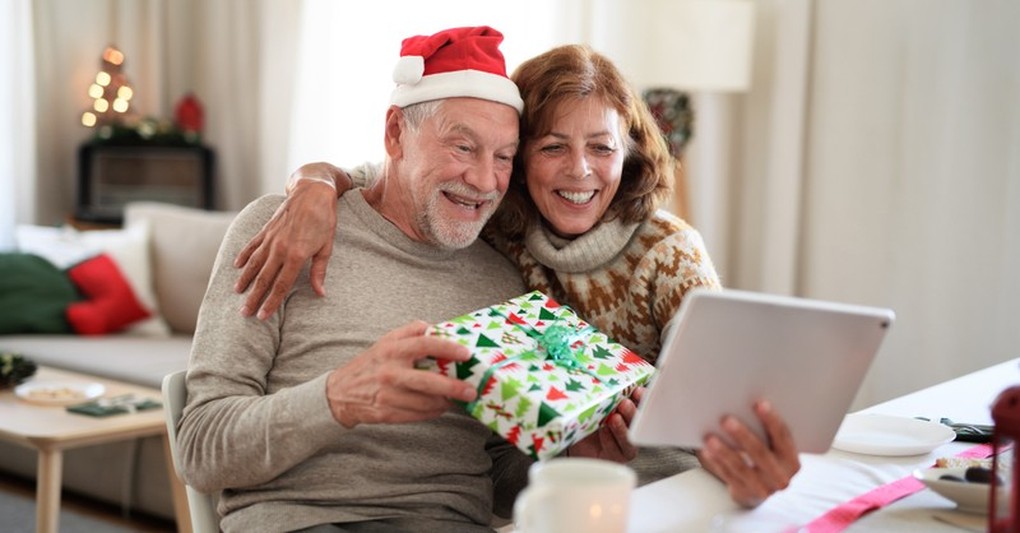 While this holiday season might look different than previous ones, there will still be many blessings, especially if you are looking for them.
You can choose to find new blessings amongst the restrictions, rather than focusing on the negative. Some blessings will be expected, and others unanticipated. Come January, take a moment to reflect and take note of the blessings God provided for your family.
I am one to move pretty fast through life, however; sometimes when we are so focused on the next thing, we lose the ability to be present in the moment. Through all the craziness going on in the world, it's been a good time to pause and evaluate our habits and rhythms, especially during the Holidays.
We serve a wonderful Father in Heaven. He is with during all of this and will help us see the blessings in our life.
Here are just a few things to look out for this COVID Holiday season.
Photo Credit: ©GettyImages/Halfpoint
1. Contagious Creativity

Slide 1 of 5

People are learning to be more creative and flexible than ever. Kids are exhibiting innovative ideas. Their normal rhythms have been disrupted so they are unknowingly pivoting and bending in ways they didn't know they could.

Families are showing creativity in how they connect with others. Schools are being pushed to think outside their typical ways to satisfy the tight restrictions they have been given.

The Holiday season will be yet another chance to stretch this creative muscle. Some of your traditions will be canceled, or they will look different. Naturally, there will be disappointments and grieving for the loss of our typical Holiday fun.

This is a perfect opportunity to evaluate the way your family spends its time. Discuss what are the favorite things each person enjoys doing.

This year you have a chance to explore new activities. My family loves driving around and looking at the houses lit up with Christmas lights. I have a suspicion this will be an epic year for that. People will probably go to great lengths to celebrate and make the Holiday feel festive. Folks are showing the ability to persevere and a desire to spread joy to others regardless of the added work on them.

Theatre and dance performances are being done virtually allowing for more people to attend and making it budget-friendly. The number of activities you participate in might decrease making each one a little sweeter.

Kids can make more homemade cards or videos for grandparents they otherwise would not have taken the time to do. Being limited in what we can do forces us to expand the options and look outside the box for new ideas. Brainstorm as a family and see what new ideas you can come up with.

Photo Credit: ©GettyImages/evgenyatamanenko

2. The Significance of Small

Slide 2 of 5

We are being encouraged to gather in smaller numbers. This might be an adjustment to your usual large Thanksgiving, Christmas, and New Year's celebrations. Everyone is being forced to rethink what their Holidays look like.

I know when I first met my husband his family had three celebrations on Christmas Day. That's a lot of food, a lot of driving, and a lot of people for one day. While it is wonderful to connect with family members we don't see often, there is also beauty in smaller groups.

For an introvert like myself, I relish intimate groups where the conversation can be deeper. When there is twenty plus people in a home, noise echo's making it difficult to hear the person next to you.

With smaller groups, the atmosphere is more conducive to connect more in-depth with folks. The conversations can be longer and more impactful with fewer people. In large groups, you rarely get the chance to speak with everyone, and the conversation tends to remain on the surface.

Hosting a smaller group might mean you can switch to a sit-down dinner instead of everyone standing. Or go all in and embrace the change and mix up the menu as well. Make the most with the people you do see.

And enjoy the chance to be present and not stressed! These small changes might have a big impact.

While adapting to new ways is hard, it doesn't mean it's all bad. Relish the good that comes from the change.

Photo Credit: ©GettyImages/Kerkez

3. Hard Conversations… or Not

Slide 3 of 5

Times of change can promote hard conversations. Most of us don't like difficult conversations, especially with loved ones, myself included. I like it when everything is peaceful, and everyone is getting along.

Of course, we don't live in the Brady Bunch show, nor are we in heaven. Here on earth, boundless peace is not reality. As I've embraced uncomfortable conversations through the years, I see the rich fruit they can produce in healthy relationships.

However, these days, people are not on the same page about anything. Everyone has different feelings and opinions about politics, the Corona Virus, what you are wearing, and pretty much everything. While this can cause disagreements within families, don't let it ruin your time together.

We have an opportunity to show love regardless of our differences. We can choose to dwell on the differences or instead enjoy each other, the conversation, and good food. Celebrate the good in each other's life. Focus on memories you have from the past that make everyone chuckle.

My dad is one of seven kids, a big Italian family. All of his brothers and sisters don't align politically but when they get together, they laugh and joke around at each other. They appreciate each other despite their differences.

Even Jesus' disciples argued over which one would be the greatest. (Luke 9:46) They were in the same room as Jesus and still found something to argue about.

Don't let the chaos of the world divide your loved ones. Rise above the division and appreciate the time together. Tomorrow is not promised, make the most of today (Proverbs 27:1).

Photo Credit: ©GettyImages/pondsaksit

4. Slow Down and Smell the Roses

Slide 4 of 5

... or the Fireplace.

Our society is productivity-driven. The more we do, the better we feel. The more we are needed, the more valuable we feel. As a result, we tend to pack our days to the fullest.

On the other spectrum, there is much beauty in slowing down. I have had multiple conversations where families have declared never to let their lives get back to the intense pace it was before COVID hit.

December is often the busiest time of the year for moms. We rush around preparing snacks and napkins to send to the school party. Then we hurry to the Christmas performance. In between, we buy, wrap, and distribute gifts to all the important people in our lives while magically making appetizers for the social engagement we have that evening.

While each one of these acts is enjoyable when you add them together, condense them into a few weeks, multiple them by the number of kids you have, this equals some stressed-out mommas.

I have noticed in December; I am the least connected to my family. I spend most of my time doing things for my family, but not with them. Or if I am with them physically, my mind is thinking about the next event and what I need to prepare. This is a sad but ugly truth.

I have talked with numerous moms, and none have cracked the code. How do we enjoy this month chock full of responsibility?

I am hoping this year will be different. No performances at school and no class parties. I'm not trying to be the grinch but the month of December overwhelms me. By the time we reach Christmas, I am exhausted and easily irritated with the ones I love most.

I know for our family, a few of the regular Christmas traditions are canceled. My husband has taken our girls to the Nutcracker for years. It's a daddy-daughter date that is a come of age privilege. This year we are buying the DVD and sitting at home to watch it together.

Embrace the opportunity to slow down. Don't rush to fill in every gap with a new activity. When you leave margin in your family's life, you give God space to show up. Adopt simple activities like sitting around a fire.

Slow down and appreciate each other. If you are not always preparing for the next activity, you can enjoy the one you are in.

Photo Credit: ©Getty Images/Ekaterina Morozova

5. Focus on the True Meaning

Slide 5 of 5

These days our lives feel like a saltshaker as if someone has thrown all the pieces up in the air and we are waiting to see where they fall. As the mineral suspends itself in the air, we have time to ponder and remember what the real meaning of Thanksgiving and Christmas is about.

Just the other day on a gorgeous mid-November morning, I was on a bike ride with two of my daughters. We passed a few homes that had Christmas decorations in their yard. My six-year-old asked why they were up so early. I explained there could be lots of reasons. Then she proceeded to make the following statement, "Christmas is when we get presents and more candy."

The first thought through my mind is, we are failing as parents, especially as Christian parents. I quickly eradicated that thought and decided what a great opportunity to explain the real meaning of Christmas.

It's so easy to get caught up in the entertainment and forget why we celebrate. Let's get back to the basics.

Ignore all the commercials telling us about the wonderful gifts we deserve. Let's take the proverbial arrow and make sure it lands on the One who deserves the remembrance. Here's the hard truth….are you ready? It's not about you. It's not about me. It's not even about our kids.

It's about celebrating the birth of our Savior. The retail industry has grabbed onto Christmas and blown it up. The stores are filled with glitter and glamor. Meanwhile, our Savior was born in a manger among animals. He was a King birthed by simple folks.

Let's put the focus back on the true meaning of Christmas and everything else should fall into place.

We all know that Christmas will be different this year because of COVID. But who's to say it can't be better?

Photo Credit: ©GettyImages/FamVeld