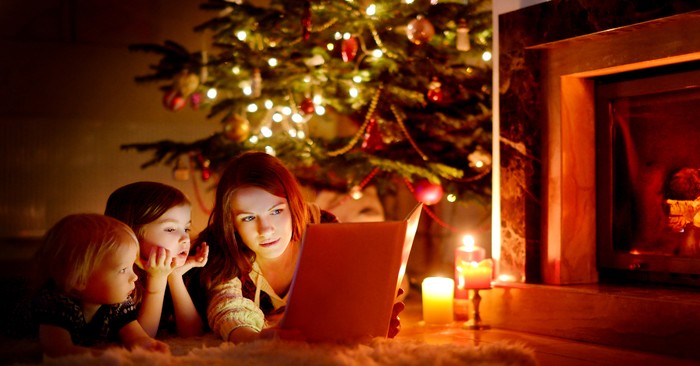 So, every Christmas, when we put up an evergreen tree in our homes, we are acknowledging the eternal life we have because of Jesus. After all, when the King of Kings and Lord of Lords took on the form of a baby, He began the work of salvation—a divine work that would ultimately reconcile us to God and give us eternal life in the kingdom of heaven.
As my family and I were decorating our Christmas tree a couple of weeks ago, my older sister shared with me a lovely memory from our childhood.
"Roma," she said, hanging an ornament on a branch, "do you remember when we'd drag our tiny chairs in front of the tree when we were little? We were so in awe by its beauty that we'd just sit around it in silence and stare."
I furrowed my brow, deep in thought, then smiled. "Yeah, I do," I replied, the memory resurfacing in my mind. "We were so mesmerized, weren't we?"
My sister nodded, and I glanced up at our new tree, full of shiny baubles and twinkling lights, and felt the same wonder I'd felt as a little girl.
I am sure countless families have similar heartwarming memories of their Christmas tree. After all, it's a lovely, age-old tradition, one that dates back centuries and continues to delight people of all ages across the world.
But what exactly is the significance of the Christmas tree? How is it connected to the celebration of the Savior's birth? Is it connected at all? Come along with me as I discover the true meaning behind the Christmas tree and how it can strengthen and enrich your faith in Jesus:
The German Origins of the Christmas Tree
Germany is credited with starting the modern Christmas tree tradition when devout sixteenth-century German Christians began bringing trees into their homes and decorating them. In fact, it is believed that German monk Martin Luther, who was a leading figure of the Protestant Reformation, was one of the first people to have started the tradition.
According to the legend, while on his way home one snowy winter evening, Luther looked up at the starlit sky and felt awestruck by the beauty of evergreen trees positioned against it. Desperately wanting to describe the wonder he'd seen to his family, but not finding the right words, Luther ventured back outside and chopped down one of the trees, hauling it inside of his home.
In an effort to recreate the starry scene, Luther then fastened the tree's branches with dozens of lit candles. It ended up becoming a glorious sight—and one that helped the doting father remind his children of the starlit heavens from whence their Savior had come.
"I wouldn't have believed," declared Luther once in a Christmas sermon. "If I'd been God and wanted to save the world, I wouldn't have done it that way. I would have just called in the devil and twisted his nose and said, 'Let my people go!'"
But God is amazing. He sends a little baby, as weak as an earthworm, lying in the feedbox of a donkey, and that little baby crunches the devil's back and overcomes all the power of hell, and sin, and death."
The Victorian Christmas Tree
The Christmas tree was later popularized in England in the mid-nineteenth century when German-born Prince Albert, the husband and consort of Queen Victoria, introduced the tradition to Windsor Castle. The Victorian tree was bedecked with plenty of treats, including toys, small gifts, candles, candies, strings of popcorn, dolls, and even cakes. A decorative star was also placed on the top of the tree, representing the Star of Bethlehem.
Because Victoria was popular with her subjects, what was done at her court quickly became fashionable—not only in Britain but also in East Coast American Society. By the 1890s, the Christmas tree tradition caught on in America, where people decorated their trees with homemade ornaments. Later, when the usage of electricity became widespread, Americans began adding strings of light to their trees, establishing the tradition as we know it.
The Significance of the Evergreen
This year, my family and I had a bit of a hard time finding the right tree and ended up making a later-than-usual purchase. One day, as I was taking a walk back home with my younger sister, I noticed the tall evergreen in our front lawn and chuckled. "That would've made a great Christmas tree!" I exclaimed. "We should've just chopped it down and dragged it inside. It would've saved us the trouble!"
Ever suffering my ridiculous sense of humor, my sister shook her head and laughed with me. But, as I took one last look at that tree, so green and full of life, and then glanced at the withered flowers and grass around it, I suddenly realized the significance of the Christmas tree and felt shocked that it hadn't occurred to me before.
Evergreens are immortal.
And, because of Jesus, so are we.
The evergreen, as the name suggests, stays green all throughout the year, even during the winter. When every other tree and plant dies, it remains alive, defying the dreary, chilly weather and bringing color to an otherwise dark world.
So, every Christmas, when we put up an evergreen tree in our homes, we are acknowledging the eternal life we have because of Jesus. After all, when the King of Kings and Lord of Lords took on the form of a baby, He began the work of salvation—a divine work that would ultimately reconcile us to God and give us eternal life in the kingdom of heaven.
The Christmas tree thus represents the promise of heaven. It serves to remind us of the everlasting hope we have because of Jesus, who willingly died so that we can live for eternity.
Now, whenever I feel discouraged by the cold, dreary weather, I feel immediately rejuvenated when I step inside of my home, smell the warm scent of pine, and behold the lively green tree in my living room. When everything seems dead outside, the Christmas tree is a poignant reminder that the hope of Jesus is always alive—both inside our homes and hearts.
From a Tree to a Cross
The Christmas tree is a befitting symbol of Jesus's birth. Full of life and promise, trees signify the hope and new beginnings that we often associate with the Nativity. Interestingly, trees can also serve as a symbol of Jesus' death. After all, wood was used to fashion the cross—the very instrument of Jesus' atoning sacrifice.
The Christmas tree, therefore, symbolizes Jesus' birth as much as it foreshadows His crucifixion. In fact, it can represent God's whole divine plan of salvation—a plan that was inaugurated when Jesus was born and culminated when He died on the cross.
I hope that your Christmas tree will serve as a long-lasting reminder of God's great love for you, as well as the eternal hope we have because of His Son, Jesus.
"Our task is to stand tall in God's love, secure in our place, sparkling in kindness, surrounded by his goodness, freely giving to all who come our way," wrote Max Lucado, Christian author and minister. "You, me, and the Christmas tree. Picked, purchased, and pruned."
Photo Credit: Getty/maximkabb
Roma Maitlall fancies herself a bit of a logophile (from the Greek, meaning "lover of words"). Her lifelong passion for writing—combined with her love of Jesus—inspired her to study English and theology at St. John's—a university located in Queens, New York, her hometown, where she always dreamed of becoming a writer. Now a full-time writer, Roma enjoys spending time with her wonderful sisters and family, learning everything there is to know about history, literature, art, and Christianity, and using her words to give glory to Jesus.
---
---