10 Songs of Hope to Prepare Your Heart for Advent
Advent reminds us of how we should be living each moment of our lives—with more of Jesus, and less of ourselves (John 3:30). It is a time to remember our anticipation of Christ's return while recognizing we are not the main characters featured in God's story but are assigned supporting roles in His much greater story.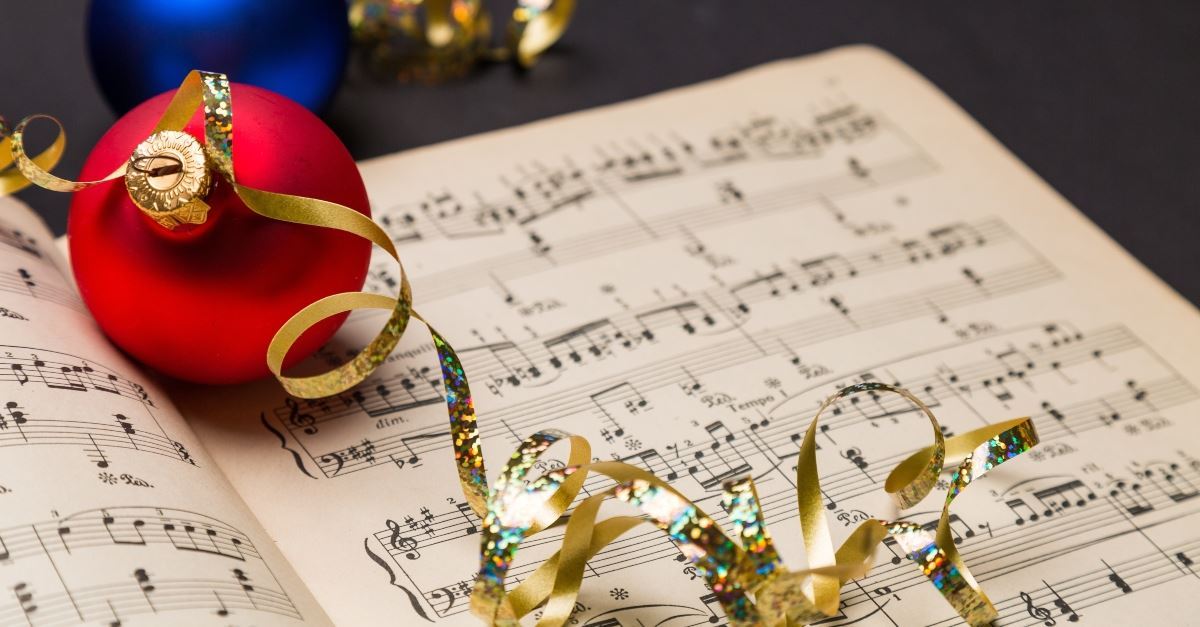 The world is a scary place, just turn on your phone, radio or television and you'll be blasted with a hard dose of negativity. It seems nearly every day that the world is somehow worse than it was yesterday, and life as we know it is approaching its fateful end. Oh come, Lord Jesus, come! 
Our world is not only divided but also broken into a million little pieces. Hope for a better, brighter, more promising future is one of the few things people have in common. For Christians, we can rest assured that our hope is found and secured in Jesus Christ (1 Corinthians 15:19-24, Colossians 1:27, Romans 8:24-25).
Our Living Hope, Jesus Christ, should be on the forefront of our minds each day we live, but as imperfect humans, we know this is not always the case. For me, the approaching season of Advent is the beautiful reminder I need to realign my hope in Christ with a heart that waits expectantly for his return.
What is Advent and why do we need to prepare?
The word "advent" means "the arrival of a notable person, thing, or event." Some synonyms for "advent" include "emergence," "origin," "birth," "coming," "occurrence," and "rise," according to the Oxford English Dictionary. In Christian theology, Advent refers to the coming of Christ both two thousand years ago and in his future return when he will judge the living and the dead. The season of Advent lasts for four consecutive Sundays leading up to Christmas. In 2019, Advent will begin on December 1st and will run until December 22.
Advent is observed as a time of expectant waiting and preparation for both the celebration of the Nativity of Jesus at Christmas and the return of Jesus at the Second Coming. Even though the Christmas season tends to be a time of busyness, the season of Advent should be a time for Christians to slow their pace and reflect on the faithfulness of God. God fulfilled His promise with the first coming of Christ (Galatians 4:4) and He is loyal to complete His promise of Christ's return (Revelation 22:12). God never rushes any part of His divine plan and has orchestrated everything to occur within His perfect timing. When we acknowledge God's mercy, deliberateness, and faithfulness through Christ Jesus, we can patiently await the promise that Jesus will come again.
A time to reflect and a time to worship.
Advent reminds us of how we should be living each moment of our lives—with more of Jesus, and less of ourselves (John 3:30). It is a time to remember our anticipation of Christ's return while recognizing we are not the main characters featured in God's story but are assigned supporting roles in His much greater story.
Years ago, Israel played their part in waiting expectantly for the birth of the promised Savior. Today, the church can commemorate Advent through reflection and preparation of our hearts through worship. In particular, listening to music that worships and reflects on the coming of Jesus helps us slow our pace, close our eyes, and bask in stillness, peace and presence. As we tune out the world we can tune into God's Spirit and be filled with His patience, hope, and love. In the way we prepare our hearts for a Sunday sermon at church by praising the Lord through worship music, these songs of hope can prepare us for the upcoming Advent season.
If you want to go beyond the traditional hymns of the season, check out these 10 songs of hope to help prepare your heart for the Advent season:
1. "Love came down"
by Kim Walker-Smith
Love came down is about God not wanting anything to separate us from Him (Romans 8:38). God chose to send His Son into the world as a gift of love to ultimately redeem and save the world. Love literally came down to earth in human form in order to demonstrate the fullness of God's eternal and unconditional love.
2. "His name is Jesus (Heaven's Hope)"
by Travis Cottrell
His name is Jesus is a beautiful song that links the worship of ancient Israel to the continued worship of believers today. Likewise, we are reminded of the stars that shone brightly on the night Jesus was born being the same stars that shine in the sky over two thousand years later. The world Jesus entered into all of those ago is still very much the same today and it was back then. As the people hoped for his first arrival, we wait in hopeful anticipation of his return.
3. "Help from Heaven"
by Matt Redman
Help from Heaven is a song that will bring comfort during any season of life or trial you may face. There is a verse that says, "Hope is closer than we know, Heaven will not let us go," and to me, it is like a big hug of reassurance reminding me that life on earth is temporary but Heaven is eternal. Pain, sorrow, misfortune, and the like are side effects of this broken world, but God will protect His people and will guide us back home to where we belong (Psalm 121).
4. "Higher"
by Hillsong Worship
This song will certainly elevate the name of Jesus Christ to places Higher than earth could ever reach. Jesus' name brings hope, honor and glory into the world (Isaiah 9:6-7). Higher is a wonderful reflection on the name above all names (Philippians 2:9-11).
5. "Born that we may have life"
by Chris Tomlin
Born that we may have life is like audio artistry serenading one's soul. This song paints a picture of the sacrificial love of God to gift His one and only Son to the world in order to save the world from death's destruction (John 3:16). It reminds us of the hope worth living for.
6. "Sing"
by Josh Wilson
Sing is a modern-day, get on your feet, stand up and praise Jesus rendition of the traditional Christmas favorite, Oh Come, Oh Come, Emmanuel. It is a song that speaks of God's incredible mercy to give His people new life and a hope that lives on (1 Peter 1:3-6).
7. "King of Heaven"
by Hillsong United
King of Heaven is a song about the arrival of eternal hope entering the world. It speaks of redemption, faithfulness and intentionality. As the lyrics say, the King of Heaven "holds the ends of time" yet God placed Himself "into mine." Immanuel!
8. "He made a way in a manger"
by Candi Pearson-Shelton
This song calls us to reflect on the greatest gift of love also being the greatest sacrifice this world has ever known (Ephesians 1:18). Through a birth in a manger to seemingly ordinary individuals, Mary and Joseph, God made a way to the cross to fulfill His promise of a Savior.
9. "He Shall Reign Forevermore"
by Chris Tomlin
Inspired by Exodus 15:18 and Psalm 146:10, He Shall Reign Forevermore sings of hope and fulfillment of God's sovereignty while confirming His promises of a Savior who provides eternal life for all who believe in him.
10. "Hope for Everyone"
by Matt Maher
Hope for Everyone is a musical bow tying together the wonderful gift of hope available to everyone. It is a perfect song to listen to and reflect on during the Advent season because it connects the first coming of Christ to the hope we have as we wait for the promise of his return.
The essence of Advent is that Christ has come and he will come again. Our hope lies in God's promise of absolute faithfulness. Wherever you find yourself this Advent, take more than a moment to pause, reflect and worship as you prepare your heart to receive the Living Hope.
---
Christen Fox is a blogger for https://seekinggraceandgratitude.com, an online ministry that encourages Christian women to live purposeful, unfiltered lives that embrace human imperfection within God's perfect design. Christen resides in Grand Rapids, MI with her husband and four (soon-to-be 5) children. When not "momming," you can find Christen at a local fitness class, curled up with a book, hosting small groups and other events, cooking in her kitchen or wandering around her happy place – the farmers market.
Photo Credit: Getty Images/artisteer
Comments