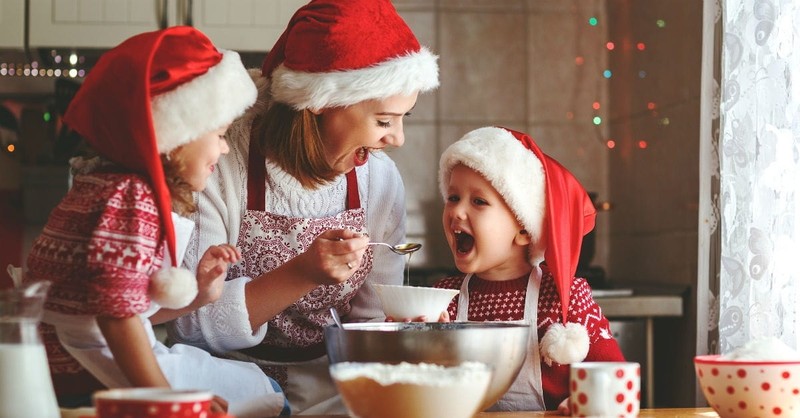 How to Celebrate Jesus on Christmas Morning

A stable, some shepherds, and a newborn baby in a manger. It is easy to make it ordinary, to relegate it to that familiar story we assume we already fully understand. The story of our King's birth can simply get lost in the hustle, buried beneath wrapping paper and Christmas cookies.
None of want that though, do we? I think we all long for meaning. Our hearts thirst to worship the arrival of our Savior. We yearn for more than a calendar packed full. To remember the grand significance of why we wrap the garland around fir trees and light up our porches with lights.   
To return back to that true posture of exaltation that we sing about at Christmas takes great intention. It takes a resolution to focus our hearts on Jesus. And coming to a place of resolution is the first and most important step.
Let's begin by sharing that declaration with the whole family. We must remind ourselves that gift opening is not Christmas. That it's Jesus we are seeking to find and honor this advent. 
Here are several ideas to help you narrow your focus and celebrate Jesus on Christmas morning.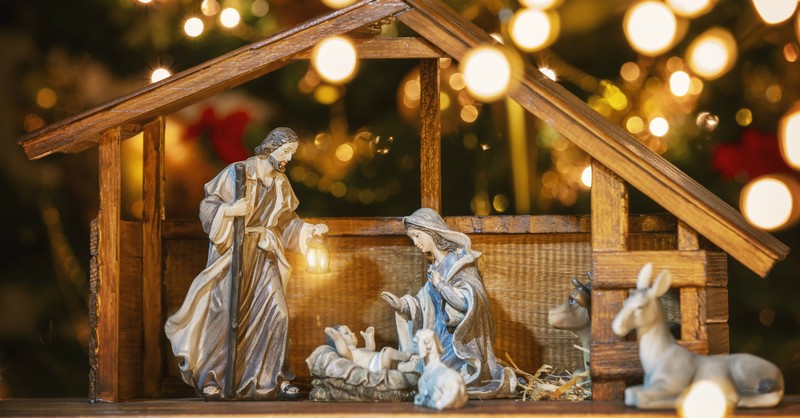 1. Reread the Nativity Story
Gather together in PJs and open your Bible to Luke 2. Read the glory-rich story of the birth of Jesus. God will always use scripture in our lives, no matter how familiar we are with the verses. Show your family how important it is to you.
It is also important to be sure your children understand that this is not a work of fiction with made-up characters. This is a true story!
2. Have a Birthday Celebration
It's Jesus' birthday. There is so much in that to celebrate! Be festive and celebrate Him as you would a friend. Have some birthday cupcakes or a special dessert in His honor. Go all out by singing the birthday song. Light some candles and let everyone blow them out. Talk about why His birthday is worth celebrating. Ask yourselves what gifts you could give Him in the year to come. What kind of gifts would He want? Would they cost anything?
3. Pull Up More Chairs
The Jesus we celebrate at Christmas lived His life working to bring people home. How could you open up your home to honor and fulfill His desires? Invite someone over who you know might spend the holiday alone unless they receive an invitation. Pray about who God might want you to extend an invitation to. If they can't come on Christmas, spend some time making a list of people you might invite over.
4. The Gift of Scripture
Ask your family in advance to choose a scripture that has been meaningful over the past year. Read those aloud on Christmas morning or around your holiday table. Little ones can be asked which Bible story they like best and then why they think that one stands out. These readings can foster deep conversations, growth, and worship for and with the whole family.
Image Credit: ©GettyImages/manaemedia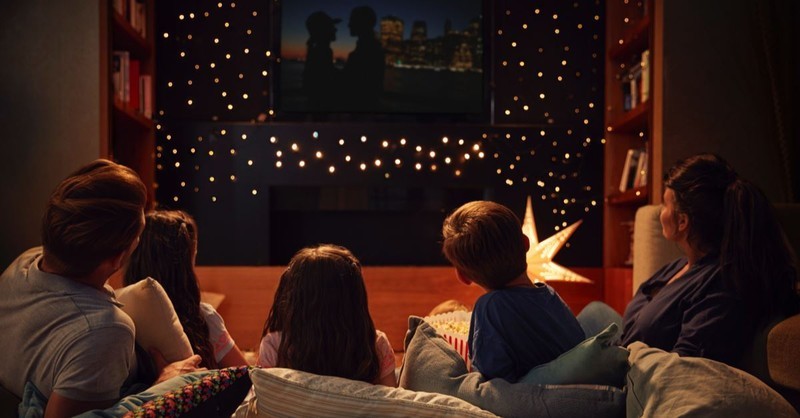 5. Watch a Movie
Be intentional with your viewing. Let it take you back to those holy moments. Try The Star or The Promise: Birth of the Messiah.
6. Serve Someone
How might Jesus want you to honor His birthday? Could it be to serve someone? Is there a neighbor you could carol to, bring cookies or flowers to? Pray about where and how God might want you to serve. Possibly a homeless shelter or children's hospital? Take cookies to a fire station.
7. Attend Church
Plan to attend Christmas services. You might consider finding new times to attend, such as evening candlelight services. If you don't have a church home, be a guest that day. Go and sit for a moment in a cathedral that might be open. Where you go doesn't matter. The goal is to draw near in worship.
8. Share Stories

Take a moment to think back through Jesus' movement in your life last year. Either around the fireplace or the dinner table, take turns telling the stories of how Jesus moved in your lives during the year. Your kids might need a leading, but they'll get it after hearing adults share. Include them and model for them. Don't expect perfection. Just help them know that God is at work in and around them already.
Image Credit: ©Getty/monkeybusinessimages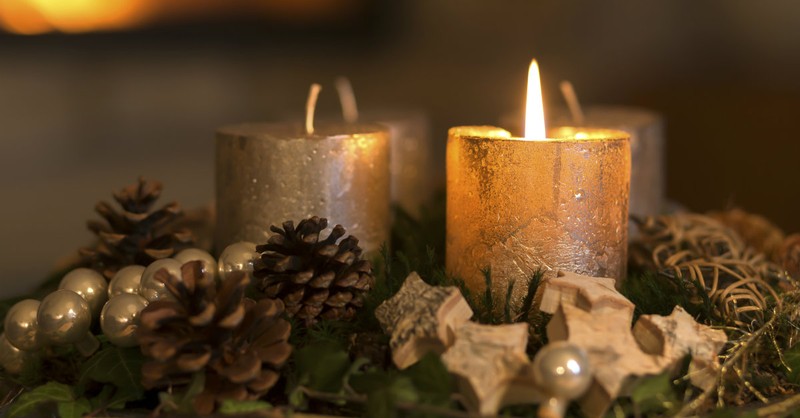 9. Light a Candle
The simplest traditions can become beautiful ways to honor Jesus. Light a candle and place it somewhere special. Talk about how Jesus came in His completely simple way, without lots of pomp and circumstance.
10. Make Your Nativity Set Visible

Place your nativity set in a place of honor in your home. Set it on your mantle or somewhere where it will be visible. Talk to your family about why you'd like to move it to a more prominent spot.
11. Have a Toy Nativity

Family nativities are often family keepsakes, either pricey, delicate heirlooms. These types of nativities certainly are special but consider also having one that is accessible to small children. Have one that kids can pull down and play with. Give them a sensory experience with the story of Jesus. There is something magical about getting to arrange and play with Mary, Joseph, the baby, and the animals.
For your smallest kids, the Fisher-Price Little People Nativity Set is very durable and fun. For all kids, try the Melissa and Doug Wooden Nativity Set. We have the Play Mobile Nativity Set and always leave it in a basket on the coffee table ready to be played with.
12. Hide and Seek Baby Jesus
Consider teaching your kids about how everyone in the time before Jesus was waiting and longing for their King. Leave the baby Jesus out of your nativity set and place it in the manger on Christmas morning to honor and reflect His arrival. Or, hide the baby and have your children look for him throughout the house before opening gifts.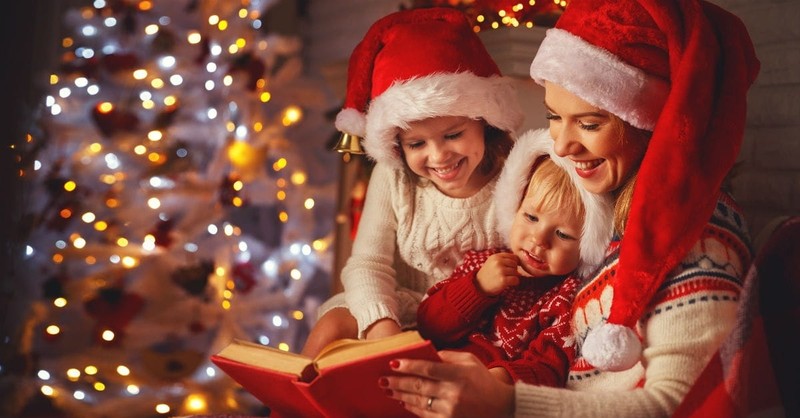 13. Sing Carols
Worship Jesus by singing familiar Christmas carols. Have the words printed out or pull the lyrics up on a karaoke option on your smart TV. Lifted voices are a very sensory and memorable way to celebrate. Each year those lyrics seem to mean more to us as we grow to know God better.

14. Jesse Tree

Jesse trees are an old Christmas tradition made popular again in the last several years. It began in medieval times and told the Bible stories of creation through Christ's birth.
A shoot will come up from the stump of Jesse:
From his roots a Branch will bear fruit.
The Spirit of the Lord will rest on him-
The Spirit of wisdom and understanding,
the Spirit of counsel and of might,
The Spirit of the knowledge and fear of the Lord-
and he will delight in the fear of the Lord.
- Isaiah 11:1-2
You can purchase ornaments like these that represent the Bible stories or make your own. Ann Voskamp's Unwrapping the Greatest Gift: a Family Celebration of Christmas is a beautiful, illustrated coffee table type book that your family could read each night to correspond with an ornament you place on your tree. Or you can simply read those stories from the Bible each night. Make it work for your family.

15. Acting out the Christmas Story:
Tell kids a few days in advance that you'd love for them to act out the Christmas story. Have them read the story and then assign parts. Let them pull out sheets, robes, baskets, and stuffed animals. Watch them engage in the story in a very new way. Be ready to take lots of photos.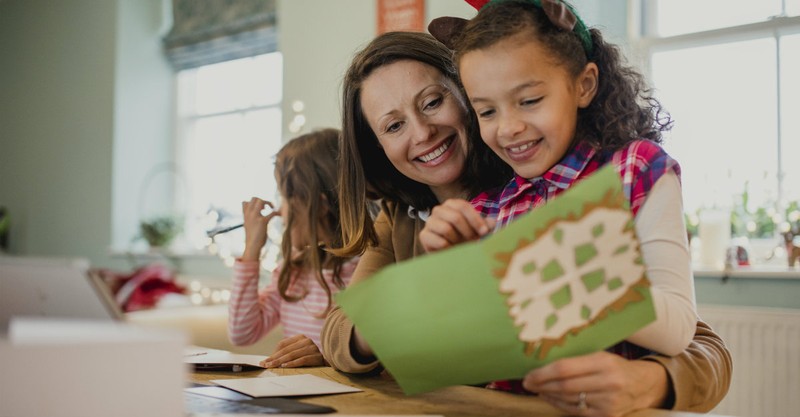 16. Simple Crafts or Sticker Books
Set the table for learning and creative worship by having simple nativity focused crafts ready and waiting on a table. Or, keep it simple and purchase some nativity sticker sets with multiple sheets. For small children, another choice is the Usbourne First Sticker Stories Book and Dover Sticker Books for all age children.
17. Advent Readings and Devotionals

Choose advent readings to read each night. Don't talk yourself out of it if you are late in starting. Just jump in and trust God to speak. This is a great place to start.

Also, don't be discouraged if your kids are playing and don't seem to be listening. Do your best to engage them, but don't stop because they are fidgeting or fussing. They are hearing you and feeling the feeling of God's word read during advent. Keep pressing forward.
The celebration of Jesus' birth in December doesn't have to be stressful and fussy. It's the simple efforts to engage that make the biggest impression on our hearts. Light a candle, read the verses, and talk as a family. It's that simple to come close to the holy. Let worship come with intention but also naturally. Respond to the longing in your heart to honor Jesus very intentionally this Christmas.
Image Credit: ©Getty-DGLimages
---
---