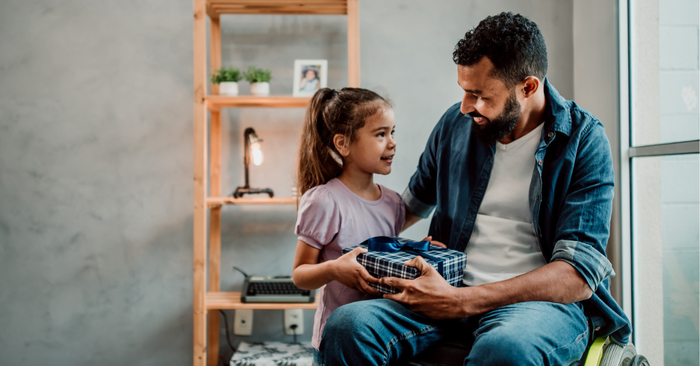 Ultimately, we know that the Lord is our Father no matter what kind of dad we have here on earth.
My dad passed away unexpectedly fifteen years ago. He was absolutely one of my favorite people. I recognize the privilege of having a wonderful father, and I am deeply thankful that he was such a good man. I have also been blessed with two awesome grandpas, a fantastic father-in-law, and a kind stepfather. Father's Day brings gratitude for the men in my life and sadness for the ones I have lost.
Father's Day was first celebrated in the United States in 1910 and deemed an official holiday in 1972. (You can read more about its history at history.com.) While it has become more commercialized with time, at its core, it is a day to celebrate the dads in our lives. We honor their love, support, and hard work. We can be silly or serious, buying them socks or something they've always wanted. Father's Day might be a fun time for you and your family. Or it might bring challenges and hard feelings.
When Father's Day Is Joyful
Many of us have great dads or step-dads or grandfathers or uncles. Father's Day is a fun time to show these men a glimpse of our gratitude. Cookouts, cards, and gifts are common ways to celebrate our dads every June, but the Bible clearly tells us how to honor our fathers throughout our lives.
In the Ten Commandments, we are told, "Honor your father and your mother, so that you may live long in the land the Lord your God is giving you" (Exodus 20:12, NIV). Ephesians 6:2 (NIV) reminds us that this is "the first commandment with a promise." Exodus 21:17, Deuteronomy 5:16, and Leviticus 19:3 also command us to honor and respect our parents.
Proverbs 23:24 says, "The father of a righteous child has great joy; a man who fathers a wise son rejoices in him." Let's bring our fathers joy by living a righteous life led by wisdom. It only benefits us as well! Praise your dad by telling him some of the ways he has taught you and led you in your life. It is good for us to reflect on these things, and it is encouraging for him to hear them. Overall, enjoy Father's Day and spoil your dad, but remember that living a godly life is what really matters when it comes to honoring your father.
When Father's Day Is Difficult
Many of us have challenging or non-existent relationships with our fathers. Maybe Father's Day makes you angry or sad about your situation. Be kind to yourself. There is no need to put pressure on this day. Take it easy. Spend time in prayer. Write a letter expressing your feelings and then destroy it. Work towards forgiveness and healing. Take a long walk and deep breaths. God is on your side. "He defends the cause of the fatherless…" (Deuteronomy 10:18, NIV).
Maybe, like me, you lost your dad, and Father's Day feels empty without him. God is with us, too. He is "a Father to the fatherless…" (Psalm 68:5, NIV). I like to spend some time writing and remembering my dad on Father's Day. I offer a prayer of gratitude and give myself grace for still grieving his loss. You may want to do something specific to honor your deceased father. You can do an activity you often did together or visit a place that makes you think of him. Eat some of his favorite foods or volunteer with a charity that mattered to him. Tell stories and look at old pictures with your siblings. Approach the day with an attitude of thanksgiving for the time you had with your father.
When Husbands Are Fathers
If you and your husband have children in the home, you know that you, as a wife, are actually the one to coordinate his Father's Day. The kids might help with an idea or make a card, but it is going to fall to Mom to execute the plans. How do you want to honor your husband's role as a father? Do you want to tell him "thank you" or "good job"? Do you want to encourage him to strengthen a certain aspect of his relationship with the kids?
Whatever you decide, get the kids involved. Any child can play a role in a Father's Day gift. For infants, you can make a card with their handprint or footprint. For kids any age older than an infant, they can help decide what to get or participate in creating a gift. Guiding the kids to make Dad a card or helping them select a thoughtful gift teaches them a lesson beyond this Father's Day. They are learning to think of others and how to show appreciation for the important people in their lives. Don't blow past this day because it is one more thing for you to do or because your husband says it isn't important to him. Both things may be very true, but there are bigger lessons here. Set your children on a path to honoring their parents, and the reward for both them and you will come with time. You are doing a good work by showing love to the father of your children.
God the Father
Whatever your feelings about your father or Father's Day, remember that we have a perfect heavenly Father at all times. He will never fail, and He is always good. Rest in the arms of your Father when you need comfort. If you have a great dad, the Lord has blessed you, "for every good and perfect gift is from above" (James 1:17, NIV). If you don't have a great dad, the Lord mourns with you and protects you.
We know that when He holds us, we are safe forever. "My Father, who has given them to me, is greater than all; no one can snatch them out of My Father's hand" (John 10:29, NIV).
We know that He has a place for us, and we will live for eternity in a home with the perfect Father. "My Father's house has many rooms; if that were not so, would I have told you that I am going there to prepare a place for you?" (John 14:2, NIV).
We know that, even if our dad is the best, God is much, much better and wants to bless our lives. "Which of you fathers, if your son asks for a fish, will give him a snake instead? Or if he asks for an egg, will give him a scorpion? If you then, though you are evil, know how to give good gifts to your children, how much more will your Father in heaven give the Holy Spirit to those who ask him!" (Luke 11:11, NIV).
Ultimately, we know that the Lord is our Father no matter what kind of dad we have here on earth. "I will be a Father to you, and You will be my sons and daughters, says the Lord Almighty" (2 Corinthians 6:18, NIV). It may not look like a traditional Father's Day, but we can honor the Lord on this holiday through prayer and worship. Praise the Lord that He is our perfect Father!
Photo Credit: ©Getty Images/andreswd
Megan Moore is a military spouse and mom of 3 (through birth and adoption). A speech-language pathologist by training, she now spends her time moving around the country every couple of years. She is passionate about special needs, adoption, and ice cream.
---
---