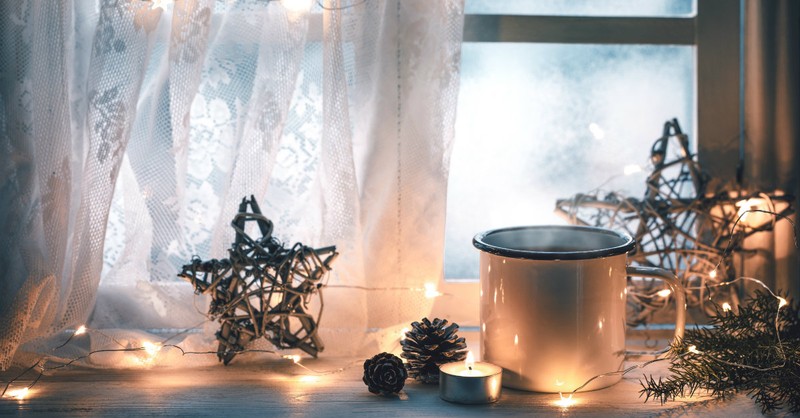 6 Reasons God Commands Us to Give Thanks This Christmas Season
Jennifer Slattery

JenniferSlatteryLivesOutLoud.com
Trusting Him to give us all we need, we find Him to be more than enough. And suddenly our workload doesn't feel so heavy nor our problems so substantial, not once we've placed them in our Savior's hands.
With Thanksgiving over and Christmas fast approaching, we can become so busy, so stressed, that we begin to lose the gratitude celebrated and discussed around countless dinner tables. But God commands us to intentionally maintain a thankful heart, not because He needs His ego stroked. Rather, because He knows how vital this spiritual discipline is for a healthy soul.
Therefore, in love, He told us, through Paul, to "give thanks in all circumstances; for this is God's will for you in Christ Jesus" (1 Thessalonians 5:18, NIV).
Here's why:
1. Giving thanks deepens our connection with God.
We live in a rushed, loud, and chaotic world where numerous things are constantly vying for our attention. Daily demands, those we've placed upon ourselves and those others have dropped upon us, can leave us feeling anxious and depleted. Unfortunately, stressful situations provide the ideal environment for the god of self to grow, tempting us to strive and fight for control. This distances us from Christ, the only One able to nourish, heal, and restore our souls.
When we express our gratitude for who He is and all He's done, the opposite occurs. We're reminded of just how vast and good our God is, how unworthy we are of all He's given us, and how helpless we are apart from Him. As His Spirit connects with ours on a deeper level, He stirs us to surrender—to lay our entire selves before Him. Trusting Him to give us all we need, we find Him to be more than enough. And suddenly our workload doesn't feel so heavy nor our problems so substantial, not once we've placed them in our Savior's hands. Therefore, our praise leads to increased surrender, which inevitably leads to deeper praise.
2. Practicing gratitude calibrates our perspective.
In my early twenties, I had a negative view of the world and others and spent a good deal of time complaining. This soon became my habitual behavior, one that soured interactions and either drove others away or pulled them into negativity.
Then one day, while I was griping about something inconsequential, my husband said, "Tell me something good." I paused, a bit taken aback, before continuing. But then, the next day, once again while I was grumbling over a petty inconvenience, he repeated what soon became his common phrase, "Tell me something good."
After maybe a month of this, something clicked, and I realized not only why he spoke those words, but also, why he needed to. My pessimism was souring his day and the atmosphere in our home.
Grieved by my behavior, I determined to change; to cease the complaining and choose words of praise instead. As I did, I became more alert to the beauty and blessings all around me. I discovered, in fact, that God's gifts by far outweighed my challenges and frustrations.
3. Speaking words of praise bolsters our faith.
Consider the apostle Paul's words in Philippians 4:6. Have you ever wondered why God had him include the parenthetical insert, "with thanksgiving," when telling us not to be anxious and to ask God for all that we need? Have you ever practiced doing so?
Some people say this verse means we're to thank God in advance for answers to our prayers, which might be true. But I think God's purpose goes much deeper. You see, He doesn't want our faith to rest on the solution to that one particular problem or answer for that one specific need. I believe He's teaching us to trust in Him by reflecting on all the ways He's helped us in the past.
Reflecting on God's faithfulness reminds us of who He is, our loving, faithful, all-powerful, and attentive Father who works all things for our good and His glory.
4. "Counting our blessings" decreases anxiety.
As we contemplate and verbalize everything lovely and praiseworthy we experience and receive, we're not only reminded of God's goodness. We're also flooding our brains with two important "feel good" chemicals known to play a role in anxiety and depression: serotonin and dopamine.
This immediately elevates our moods while, due to what scientists refer to as neuroplasticity, forming and reinforcing positive pathways in our brains. This helps counter one's propensity toward negative thinking and increases our emotional resiliency and overall appreciation for life.
5. Thanksgiving encourages "positive recall."
According to two studies conducted by Eastern Washington University, thankfulness increases one's ability to recall pleasant memories. They suggested this created what they referred to as "dispositional gratitude," which they defined as an appreciation for others, for simple pleasures, and a general sense of "abundance."
This means those who practice gratitude tend to view their lives positively. Research also suggests grateful individuals possess more hope for their future and increased confidence in others.
6. Expressing gratitude increases our gospel impact.
Our propensity towards thanksgiving reveals Christ in us while inspiring us to serve as conduits of His love.
In Matthew 5:14, Jesus said His followers were "the light of the world." In other words, you and I radiate the light of life. Our lives should reveal the hope we have in Christ, characterized by joy even amidst trials and peace that surpasses understanding.
God created me and you to serve as living testimonies to His goodness and grace. Psalm 105:1-2 tells us to, "Give praise to the Lord, proclaim His name; make known among the nations what he has done. Sing to him, sing praise to him; tell of all his wonderful acts" (NIV).
1 Peter 2:9 provides similar encouragement when it says, "But you are a chosen people, a royal priesthood, a holy nation, a people for God's own possession, so that you may proclaim the excellencies of Him who has called you out of darkness into His marvelous light" (NASB).
What's more, as we intentionally reflect on all Christ is and has provided, our hearts fill with praise, and a praise-filled heart is a giving heart. Scripture says we love because God first loved us (1 John 4:19). Therefore, we would expect reflecting upon and proclaiming that love to motivate us to display it to others. Because we recognize we're coming from a place of abundance, we're less likely to be stingy with our time and resources. We're able to give to others however God leads, without fear.
Our loving, faithful, attentive, and sovereign God has given us much to be thankful for. Through Christ, we've received "grace upon grace"–more spiritual blessings than we could ever need. He's provided numerous additional gifts–friends, families, food to eat, and roofs over our heads. And while He is more than worthy of our praise, He calls us to regularly give thanks out of His Fatherly love for us. He knows the health and vitality that enter our souls with every grateful word.
Practicing gratitude increases our intimacy with Him, properly aligns our perspective, decreases our anxiety, and helps counter our fears with faith, reminding us of God's provisions and inviting our hurting world to find life in Him. Therefore, He commands us to rejoice always, to pray continually, and to give thanks in all circumstances. This is our gracious Father's will for us, His beloved.
Photo Credit: ©Getty/sofiaworld
Jennifer Slattery is a writer and speaker who hosts the Faith Over Fear podcast. She's addressed women's groups, Bible studies, and writers across the nation. She's the author of Building a Family and numerous other titles and maintains a devotional blog at JenniferSlatteryLivesOutLoud.com.
As the founder of Wholly Loved Ministries, she's passionate about helping women experience Christ's freedom in all areas of their lives. Visit her online to learn more about her speaking or to book her for your next women's event and sign up for her free quarterly newsletter HERE and make sure to connect with her on Facebook and Instagram.