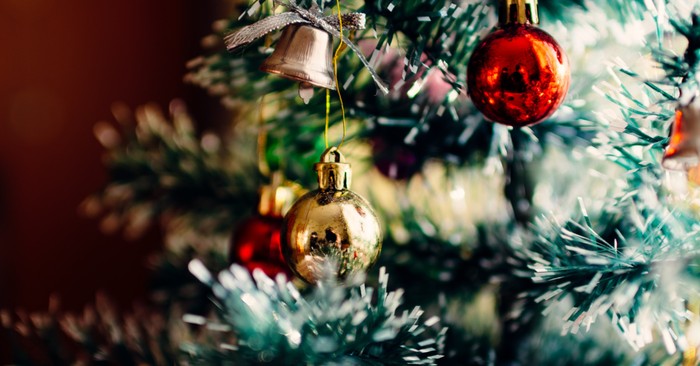 He's like the friend who immediately clears their schedule the moment you text, except He doesn't have a schedule to clear because He's remained focused on you and right beside you well before you called.
Sometimes the celebrations that should feel the most joyous bring the most pain, in part because of the joy and peace our culture promises for such occasions. Sitting across the table from that family member with whom we've become emotionally estranged reminds us of the connection we long for, lack, and perhaps once enjoyed. Marital discord kept in check while the children open presents pricks our soul-deep ache for restoration and healing. And the tension between brother and sister or mother and son amplifies our desire for God's peace to truly come to earth.
We all live in this blessed but not yet state where we've received the most precious gift God could provide—Himself—while waiting for the rest of His promises to unfold. Our souls were created to be filled and surrounded with the love and joy of Christ, a state we won't fully experience until we stand in heaven, face-to-face with our Lord. And this reality should create some level of grief.
But as we wait in the mire and muck of today, He invites us to bring a bit of heaven, His kingdom, to earth.
Here are four truths able to brighten the darkest holiday seasons:
1. Christ's Light in You Is Greater Than the Darkness around You
In proclaiming the birth of Jesus, John, one of Christ's closest disciples, opened his gospel with a powerful promise. After declaring the preeminence and deity of Christ, he wrote, "The Word" referring to Jesus, "gave life to everything that was created, and His life brought light to everyone. The light shines in the darkness, and the darkness can never extinguish it" (John 1:4-5, NLT).
This truth is especially important to hold on to if you battle depression and anxiety. Your world may feel incredibly dark, and circumstantially, this might indeed be true. If you've trusted in Christ for salvation, however, He deposed His radiant, illuminating, and inextinguishable Spirit within you.
2. God's Favor Rests upon You
One of my favorite prophecies for Jesus comes from Isaiah 61:1-3, which says:
The Spirit of the Sovereign Lord is on me,
because the Lord has anointed me
to proclaim good news to the poor.
He has sent me to bind up the brokenhearted,
to proclaim freedom for the captives
and release from darkness for the prisoners,[a]
to proclaim the year of the Lord's favor
and the day of vengeance of our God,
to comfort all who mourn,
and provide for those who grieve in Zion—
to bestow on them a crown of beauty
instead of ashes,
the oil of joy
instead of mourning,
and a garment of praise
instead of a spirit of despair.
They will be called oaks of righteousness,
a planting of the Lord
for the display of his splendor.
This passage assures us that, in Christ, we are not under God's condemnation. Instead, through His death and resurrection, we became recipients of God's favor, clearly described in the surrounding verses.
Jesus brings good news to people like you and me who feel spiritually impoverished and understand our need for Christ. The good news is that we are wholly loved, forgiven, and accepted by Him. He moves close to the brokenhearted, comforts those who mourn, tends to our hurts, and brings wholeness to our deepest wounds. He sets us free from our slavery to sin, and as we deepen our relationship with Him, He guides us to live in such a way that we experience beauty where there were once ashes.
As we turn to Him, trust and rest in Him, and learn to progressively yield to Him, He replaces our sad songs with those filled with praise.
3. God Calls You His Child
When I feel sad, discouraged, or disappointed, my thoughts can become negative and self-defeating. If I'm not careful, legitimate sadness over a failed relationship can turn into shame over mistakes made. Appropriate hurt caused by someone else's careless words or verbal attacks can chip away at my sense of self. In short, I can elevate the words of others, or my own, above those my Father lovingly preserved in Scripture.
Unfortunately, when someone treats us as if we're less than, it's easy to view ourselves in the same manner. In those moments when we're tempted to forget who we truly are, God reminds us that we are His children.
We see this in the first chapter of John. He wrote that to all who believed and accepted Christ, "He gave the right to become children of God," adding, "They are reborn—not with a physical birth resulting from human passion or plan, but a birth that comes from God."
Paul, a first-century church planter who wrote a great deal of the New Testament, expanded on this when he wrote, "Therefore, if anyone is in Christ, the new creation has come: The old has gone, the new is here!" (2 Corinthians 5:17 NIV).
We are not who we were a year, a day, or even five minutes ago. We've been transformed and empowered for growth and transformation. The old us is gone, dead and buried, and the new us—the men and women God hand-crafted us to be—is emerging.
4. God Dwells in You and with You
This is a life-changing truth when fully grasped. When others reject or turn away from us, God comes as close as possible—supernaturally, internally close. He's like the friend who immediately clears their schedule the moment you text, except He doesn't have a schedule to clear because He's remained focused on you and right beside you well before you called.
In John 1, we read, "The Word became flesh and made his dwelling among us" (v. 14a).
According to Scripture, our God adores us. Zephaniah 3:17 states, "The Lord your God is with you, the Mighty Warrior who saves. He will take great delight in you; in his love he will no longer rebuke you, but will rejoice over you with singing."
Psalm 37:23 says, "The Lord directs the steps of the godly. He delights in every detail of their lives."
God delights, rejoices, and sings over you, His child made godly, without blemish or stain, through His grace.
May these truths, recorded in similar ways throughout Scripture, comfort and strengthen your heart this holiday season. When you're hurting, feel discarded, rejected, or alone, may you remind yourself that God's light radiates within you, His favor rests upon you, His fatherly arms surround you, and the One who loved you enough to die for you stays beside you and dwells within you.
Photo Credit: ©Rodion Kutsaev/Unsplash
Jennifer Slattery is a writer and speaker who hosts the Faith Over Fear podcast. She's addressed women's groups, Bible studies, and writers across the nation. She's the author of Building a Family and numerous other titles and maintains a devotional blog at JenniferSlatteryLivesOutLoud.com.
As the founder of Wholly Loved Ministries, she's passionate about helping women experience Christ's freedom in all areas of their lives. Visit her online to learn more about her speaking or to book her for your next women's event and sign up for her free quarterly newsletter HERE and make sure to connect with her on Facebook and Instagram.
---
---