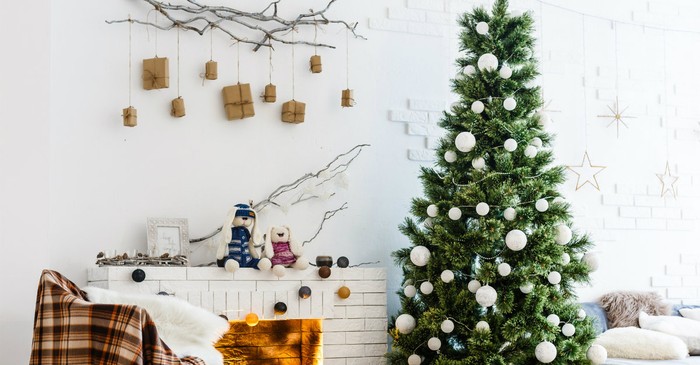 If you know me, you will know that I'm a sucker for the classics. I love classical architecture, Renaissance art, nineteenth-century literature, vintage clothing, throwback songs from decades past. For me, and a lot of people, history is like a treasure trove full of priceless gems—gems that, unfortunately, can never be replicated.
But modernity has a good deal of gems to offer us too. Contemporary artists—whether they are painters, writers, or singers—have produced breathtaking works of art that are all beautiful and powerful in their own right. Take contemporary Christmas songs, for example.
(I know, I know. I'm treading dangerous territory here. Just hear me out!)
I love classic Christmas songs. Nothing gets me into the Christmas spirit more than the heartwarming sound of Bing Crosby crooning "Silent Night" or Nat King Cole's soft baritone voice filling a room with "O Come, All Ye Faithful." But, sometimes, it's nice to hear what contemporary singers have to offer. After all, their music is a constant reminder that—even after two thousand years—the birth of Jesus continues to inspire people everywhere and fill their mouths with songs of praise.
So, here are twelve contemporary Christmas songs that perfectly capture the wonder of the season. I am certain that they will enliven and bring joy to your upcoming Christmas festivities (and get stuck in your head for the remainder of the year!).
1. "This is Jesus" by We Are Messengers
Set to the melody of the classic hymn "Come Thou Fount of Every Blessing," this contemporary Christmas song, released just two years ago, shines a poignant light on the Savior's birth. Its lyrics are powerful and beautiful, and highlight what—or better yet, Who—the Christmas season is all about.
"God sent His Son to be born in a stable to the virgin Mary and to take on human flesh and live the most incredible, holy, wonderful life, and then to die," lead singer Darren Mulligan has stated, reflecting on the message of the song. "It's almost too hard to fathom, but this is Jesus. He is the King of Glory, here to rescue us."
2. "Hark! The Herald Angels Sing (King of Heaven)" by Paul Baloche
This fun rendition of "Hark the Herald Angels Sing" will have you bobbing your head and tapping your foot along to the music. Performed by prolific Christian artist Paul Baloche, the song includes an original (and very wonderful!) chorus: "King of heaven come down!/King of heaven come now!/Let Your glory reign/Shining like the day/King of heaven come!/King of heaven rise up/Who can stand against us?/You are strong to save!/In Your mighty name/King of heaven come!"
3. "Come all Ye Faithful" by Passion, featuring Melodie Malone
To tell you the truth, I was a bit skeptical about this one. I love Nat King Cole's classic version and was afraid a contemporary rendition would ruin the song. But the more I listened to it, the more I fell in love with Melodie's voice and the powerful outro, inspired by Isaiah 9:6, included at the end: "His name shall be Wonderful, Counselor/His name shall be everlasting Father/His name shall be Prince of Peace, mighty God/His name shall be Immanuel." I think Passion lives up to its name, delivering a truly "passionate" performance.
4. "Come Thou Long Expected Jesus" by Shane and Shane
I've had this song on repeat since Thanksgiving. Penned by the prolific eighteenth-century hymn writer Charles Wesley, the lyrics poignantly evoke Israel's centuries-long hope for the Savior. Christian duo Shane and Shane tenderly brings the age-old hymn to life, delivering a powerful and very emotional performance that will have you pressing replay… EVERY. SINGLE. TIME.
5. "He Shall Reign Forevermore" by Chris Tomlin
Popular Christian singer Chris Tomlin offers an upbeat and hopeful title to the list with this hidden gem. Called "He Shall Reign Forevermore," the song joyously captures the everlasting hope we have because of the birth of Jesus. As Chris exclaims: "Here within a manger lies/The One who made the starry skies/This baby born for sacrifice/Christ, the Messiah!/Into our hopes, into our fears/The Savior of the world appears/The promise of eternal years/Christ, the Messiah!"
6. "Face of God" by Phil Wickham
Christian artist Phil Wickham introduces a new Christmas classic with this touching song—a song that emphasizes the awesomeness and wonder of the Incarnation. "The Savior of the world is in her arms," sings Phil, rejoicing in the mystery of Jesus' birth. "She's staring at the face of God!"
7. "Silent Night" by NEEDTOBREATHE
No list of Christmas songs is complete without "Silent Night." Released last year by Christian rock band NEEDTOBREATHE, this version of the classic Christmas carol remains true to the original while also offering a unique instrumental interlude including music from a harmonica. The song is incredibly calming and will fill your heart with the peace of Jesus.
8. "Noel" by Chris Tomlin, featuring Lauren Daigle
Contemporary Christian singer Lauren Daigle offers a soulful performance of Chris Tomlin's hit song "Noel." Daigle's powerful vocals, coupled with the song's beautiful lyrics, make for an instant Christmas classic. I adore the chorus: "Noel, Noel/Come and see what God has done/Noel, Noel/The story of amazing love!/The light of the world, given for us/Noel." Its lyrics gorgeously express the wonder we feel when we encounter the message of the Incarnation.
9. "He Who is Mighty" by Sovereign Grace Music
The simplicity of this song is utterly lovely. Its chorus is both prayerful and memorable and will fill you with profound gratitude for the Savior. I also love how the song's bridge evokes the words of Mary's song of praise from Luke 1:46-56: "Now my soul magnifies the Lord/I rejoice in the God Who saves/I will trust His unfailing love/I will sing His praises all my days."
10. "Do Not Be Afraid" by JJ Weeks Band
Inspired by the words of the angel who proclaimed "Do not be afraid" to the awestruck shepherds (Luke 2:10), this song wondrously recounts the miraculous events surrounding the birth of the Savior. "Do Not Be Afraid" is both courageously original and incredibly catchy and will have you singing all the day long.
11. "Little Drummer Boy" by for KING & COUNTRY
Christian pop duo for KING & COUNTRY revamps this Christmas classic, delivering a passionate and very exciting performance. The music is upbeat and powerful—splendidly bringing the eponymous boy's drumming to life. "Little Drummer Boy" is ultimately a heartfelt reminder that, rich or poor, we all have something to offer the Lord—even if it's only music from a little drum.
12. "O Come, O Come, Emmanuel" by Sovereign Grace Music
A couple of Christmases ago, I was hopelessly addicted to this version of the classic hymn. (I think I might've even broken the replay button!) Like "Come Thou Long Expected Jesus," the lyrics of this song poignantly describe suffering Israel's centuries-old hope for the Messiah. The acoustic guitar and violin add another layer of emotion to the already profound performance, making the song incredibly heartwarming and memorable.
I hope the twelve songs I've discussed above will enrich your Christmas playlist and fill your holiday with joy. May your Christmas be filled with the sound of feet tapping along to the music, hands clapping to the beat, and a chorus of angelic voices singing the praises of the baby Jesus.
Photo Credit: ©Getty/Sinenkiy
Roma Maitlall fancies herself a bit of a logophile (from the Greek, meaning "lover of words"). She's loved writing ever since she could hold a pencil, and this passion inspired her to study English at St. John's University, her alma mater. Now an editor for an NYC-based publisher, Roma spends most of her days dreaming of becoming a published author and obsessing over her favorite people in the world: her sisters. She enjoys exploring museums on the weekends, getting in touch with her heritage, and learning everything there is to know about history, literature, religion, pop culture, and art. She lives in Queens, New York.
---
---