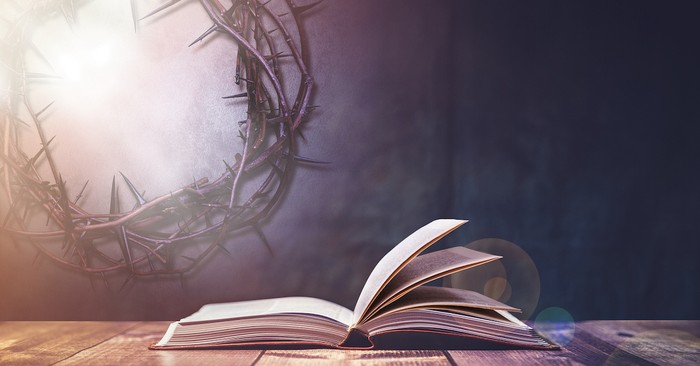 Our God isn't a god who escapes death. Ours is the God who readily takes death upon Himself…and overcomes it!
Pope John Paul II
"Do not abandon yourselves to despair. We are the Easter people and hallelujah is our song."
What a triumphant declaration! Indeed, as Christians, we are members of an elite group ("the Easter people") whose faith is founded on hope. And it's not just any hope—it's the hope of resurrection. After all, Jesus, our forerunner, conquered death on our behalf, willingly surrendering His life on the cross and triumphantly rising from the grave.
So, whenever you feel yourself losing hope, take courage! Our God isn't a god who escapes death. Ours is the God who readily takes death upon Himself…and overcomes it!
Martin Luther
"Our Lord has written the promise of resurrection, not in books alone, but in every leaf in springtime."
Whenever you find your faith faltering, look around you. Everywhere in nature you can see the message of the empty tomb. The trees regaining their rich, green leaves after being stripped bare by the chill of winter? That's God reminding you of Jesus's restoration from death to life. The chickadees hatching from their eggs in a nest atop a tree branch? That's God reminding you that you can be born again because of the resurrection. The cool chill of winter becoming a warm spring breeze? That's God reminding you that even a cold, dead body can come alive again.
The springtime is a perfect opportunity to behold the beauty of nature and realize that evidence of God's saving work through Jesus is everywhere—if only we'd take a second and look.
Charles R. Swindoll
"The devil, darkness, and death may swagger and boast, the pangs of life will sting for a while longer, but don't worry; the forces of evil are breathing their last. Not to worry...He's risen!"
When Jesus died on the cross, the powers of hell thought they had won. Jesus was dead. Destroyed. Or at least that's how it seemed.
After all, Jesus's death had been confirmed by a merciless Roman spear. A centurion had plunged into His side, straight into His heart, leaving no room for doubt. No man could survive such an injury. Even the Son of God willed Himself to succumb to such a death.
Surviving such an execution would've been amazing. It sure would've made for some exciting news. But something happened that was far more amazing. Jesus didn't survive death—He defeated it.
After three days in a grave, Jesus triumphantly returned to life. Though He bore the wounds of the crucifixion, He appeared healthy, whole, and glorious—to the shock and awe of friends and foes alike.
So, imagine for a moment the powers of the devil, death, and darkness puffing their chest out in pride that Friday. They think they've won and have no idea what's going to happen come Sunday.
S.M. Lockridge
"It's Friday, but Sunday's comin'!"
If you haven't heard the sermon from whence this famous quotation comes, here it is. Written and delivered by the prominent twentieth-century African American preacher S.M. Lockridge, "It's Friday, but Sunday's comin'!" imagines the despair of Good Friday—and looks forward to the hope of Easter Sunday. What a powerful message! In the times when we feel like the disciples on that fateful Friday—hopeless, scared, alone—we must remember that Sunday—the day of triumph, jubilee, and wonder—is only a matter of days away. So, be patient. Your Sunday's comin'!
Charles Spurgeon
"We Christians do not believe that Jesus Christ was the only one that ever rose from the dead. We believe that every death-bed is a resurrection; that from every grave, the stone is rolled away."
Because of Jesus's resurrection, we may hope to live forever. Death isn't final. Life never ends. It continues in the heavenly hereafter and lasts for an eternity. How cool is that?
Max Lucado
"Want to know the coolest thing about the One who gave up the crown of heaven for a crown of thorns? He did it for you. Just for you!"
Just imagine—Jesus, who is the sovereign Lord of the universe—gave up His throne in heaven and came down to earth to save you. Relinquishing His heavenly privileges, the King of Kings assumed human flesh and died on the cross on our behalf. As contemporary Christian author Max Lucado says, "He did it for you. Just for you!"
Phillip Yancey
"The image Jesus left the world, the cross, the most common image in the Christian religion, is proof that God cares about our suffering and pain … To some, the image of a pale body glimmering on a dark night whispers of defeat. What good is a God who does not control his Son's suffering? … But a louder sound can be heard: the shout of a God crying out to man, 'I love you.'"
One day, as a freshman in college, I was feeling a bit alone. Then, looking up above the doorway of my classroom, I spotted a crucifix. Suddenly, I didn't feel so alone. The man hanging on that crucifix, Jesus, was there with me and was—and is—the God who died for me. That crucifix was ultimately a powerful reminder that God is always with us—and that His love knows no bounds.
Stephen Charnock
"Let us look upon a crucified Christ, the remedy of all our miseries. His cross hath procured a crown, His passion hath expiated our transgression. His death hath disarmed the law, His blood hath washed a believer's soul. This death is the destruction of our enemies, the spring of our happiness, and the eternal testimony of divine love."
How did the cross—an instrument of torture—become a universal symbol of victory? Simple. God redeemed it. He redeemed the cross by hanging on it, choosing to die in the place of humankind. His death ultimately served as an atonement for our sins, the end of Satan's reign, and the redemption of humankind.
Mahatma Gandhi
"A man who was completely innocent, offered himself as a sacrifice for the good of others, including his enemies, and became the ransom of the world. It was a perfect act."
It was a perfect act. That about sums it up! Sinless Jesus volunteered to die on our behalf—even when we were sinners. We did not deserve this grace—nor could we earn it—but He did it anyway because He loved us. How blessed are we!
Frederick Buechner
"Resurrection means that the worst thing is never the last thing."
Truer words have rarely been spoken. When Jesus died, His friends, family, and disciples thought it was the end. Their Savior—the very Messiah whom they and their ancestors had waited for thousands of years—was dead. The worst thing had come to pass. Jesus, their only hope, was gone.
But they were wrong. Jesus's death was not the end. On the contrary—it was only the beginning. Following the worst moment in history was ultimately the greatest, most amazing event ever witnessed by humankind: Jesus' resurrection.
Let the resurrection of Jesus be an enduring reminder that the worst thing is never the last thing. After all, hope is alive!
Photo Credit: ©GettyImages/Javier_Art_Photography
Roma Maitlall fancies herself a bit of a logophile (from the Greek, meaning "lover of words"). She's loved writing ever since she could hold a pencil, and this passion inspired her to study English at St. John's University, her alma mater. Now an editor for an NYC-based publisher, Roma spends most of her days dreaming of becoming a published author and obsessing over her favorite people in the world: her sisters. She enjoys exploring museums on the weekends, getting in touch with her heritage, and learning everything there is to know about history, literature, religion, pop culture, and art. She lives in Queens, New York.
---
---