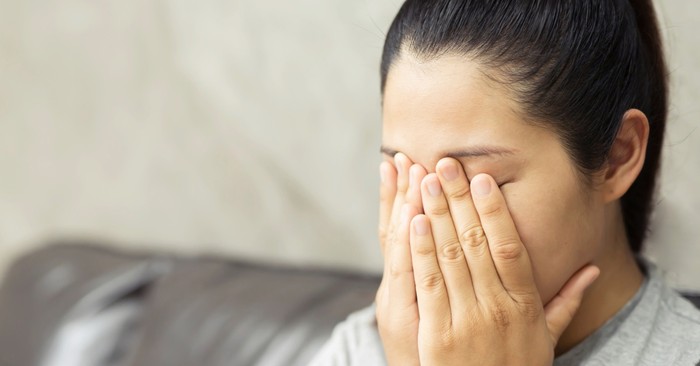 True joy is not found in perfect circumstances. It is chosen in painful ones. Pain has a way of causing us to dig deeper than the comfort we thought was our joy. We find at the crux of our pain that the cross is a reminder that Christ bore our pain—and He did it with joy.
In the aftermath of a personal tragedy that left my children and me devastated, my new circumstances were not what I wanted to be my new normal. I could not absorb my reality and pinched myself to try and prove that it was a nightmare. It just did not seem real. This is what makes traumatic events so difficult to deal with—we don't expect them, and we don't want to think about them. The truth of what we can endure in this life is difficult to deal with, but avoiding the truth will keep us bound in pain's lie: that we cannot overcome.
The truth sets us free, yet we want to avoid the truth because it seems easier to try and move past it than to face it. But if we don't deal with our pain, it will not disappear, and we will live this life from our brokenness rather than the wholeness that we can have in Christ.
Unexpected Pain
"Dear friends, do not be surprised at the fiery ordeal that has come on you to test you, as though something strange were happening to you. But rejoice inasmuch as you participate in the sufferings of Christ, so that you may be overjoyed when his glory is revealed" (1 Peter 4:12-13, NIV).
We don't often expect what this life brings our way, which is perhaps why our experiences can be so traumatic. We are caught off guard and it is hard to let go of what we had hoped for. The shock of unanticipated events can keep us trapped and paralyzed by our pain. But when something is unexpected it does not mean we cannot still overcome it.
Everything is essentially unexpected to us—we don't know what a day will bring forth, but nothing is unexpected with God. Are we willing to trust God with the unexpected, knowing that He is sovereign and able to take what we go through in this life and use it for our good and His glory (Romans 8:28)? When we are willing to do so, pain has less of a hold on us . . . that is, if we are willing to face it.
Avoiding Pain
"He will wipe away every tear from their eyes, and death shall be no more, neither shall there be mourning, nor crying, nor pain anymore, for the former things have passed away" (Revelation 21:4, ESV)
By nature, we tend to want to avoid pain rather than walk through the door of pain as we seek healing. Sometimes my children and I did not want to discuss what had happened to us. It hurt too much. But it also hurt too much not to. Overcoming tragedy requires examining the truth of our pain from several different vantage points.
Pain is multi-dimensional as we experience it physically, emotionally, and spiritually. The world's methods of dealing with pain cannot fully resolve pain. Masking pain or putting a band-aid on our pain will not heal it, either. But when we cleanse our pain by washing it with God's word, our pain begins to fully heal.
The Antidote for Pain: Hope
"And now, dear brothers and sisters, we want you to know what will happen to the believers who have died so you will not grieve like people who have no hope. For since we believe that Jesus died and was raised to life again, we also believe that when Jesus returns, God will bring back with him the believers who have died" (1 Thessalonians 4:13-14, NLT).
Pain feels so final. Its presence snuffs out the hope that we will ever move past it. But there is a higher hope that reminds us that pain does not get the final say. Pain is temporary but God's healing is eternal. When we place our hope in God's hands rather than merely the removal of our pain, we obtain a higher hope that triumphs over earthly suffering.
God's hope reminds us that we can abound in joy and hope if we believe in God. "May the God of hope fill you with all joy and peace in believing, so that by the power of the Holy Spirit you may abound in hope" (Romans 15:13, ESV). Do we believe God is able to help us walk through the door of pain to find healing on the other side? Do we believe God can heal us?
For my children and I, we were able to find joy through faith in God's promises and purposes even when none of what we were walking through made sense. Our harsh circumstances robbed us of hope—if we focused on our situation, but focusing on our inheritance in Christ helped us to steward our pain as a testimony of God's grace right in the middle of our pain.
The Antidote for Pain: Joy
"For I consider that the sufferings of this present time are not worth comparing with the glory that is to be revealed to us" (Romans 8:18, ESV).
We get to choose what we think on. Pain can be loud and make us feel that we cannot choose joy in the midst of pain, but joy is often found in painful places. Part of pain's stigma is comparing our pain to others. When my children and I had to move due to our home being foreclosed, comparison only increased our pain. The stigma of being "that family" hurt our souls so much, and we wanted to escape our pain rather than deal with it. But when we compared our pain to what God has in store for us, that comparison filled us with joy instead.
True joy is not found in perfect circumstances. It is chosen in painful ones. Pain has a way of causing us to dig deeper than the comfort we thought was our joy. We find at the crux of our pain that the cross is a reminder that Christ bore our pain—and He did it with joy.
"Therefore, since we are surrounded by such a great cloud of witnesses, let us throw off everything that hinders and the sin that so easily entangles. And let us run with perseverance the race marked out for us, 2 fixing our eyes on Jesus, the pioneer and perfecter of faith. For the joy set before him he endured the cross, scorning its shame, and sat down at the right hand of the throne of God" (Hebrews 12:1-2 NIV).
Christ's suffering achieved the most important healing we need—spiritual healing. Our sins are forgiven. "He himself bore our sins in his body on the tree, that we might die to sin and live to righteousness. By his wounds you have been healed" (1 Peter 2:24, ESV). Tragic circumstances can try to steal our hope and joy, but when we apply God's word to our emotional and spiritual pain, our physical pain is seen in a different light. Christ showed us how to overcome suffering, and Christ is with us in our suffering. The truth of our suffering in light of eternity helps to take the sting out of our suffering so we can rise above our pain and overcome, just like Christ did.
Photo Credit: ©GettyImages/Kamonwan Wankaew
---
---