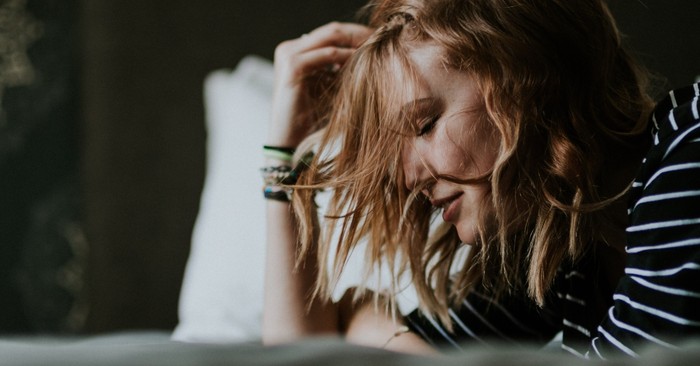 We were never meant to carry everything on our own. God has provided us with ways to approach and manage the stress in our lives through these peace-giving scriptures.
Our hearts were made for worship and wonder, but with what most of us face in our every day—whether you're a parent with a house to manage, a student with deadlines, or a professional trying to perform your best in a time of uncertainty—we're faced with countless causes for anxiety and stress.
We all know it well: your chest feels tight, your breathing shallow, your mind stuck on loops of worst case scenarios, and you just can't find it in you to focus on a task, or make the simplest decisions, much less rest in the knowledge that you're a child of the living God.
It's no wonder, given that our world prefers to power forward, whether we're ready or not, determined to squeeze the most out of what we have to give. Yet our good and loving Creator made us to live as trees planted by water, sending our roots deep into His life-giving stream, and growing tall and strong in the confidence of His provision and nourishment.
No wonder we often feel thinned and scraped dry. The world expects us to burn bright and burn fast. But according to the Bible, God's vision for his sons and daughters is like that of an evergreen tree. The growth is slow, and sometimes not much is seen to be happening. But with time and light and love, we might be able to withstand whatever storms blow our way.
Let's take a look at what these Bible verses can tell us about stress, and how we can faithfully manage it. Turning to prayer and Scriptures to ease anxiety and worry can help you remember that God has not left you, He is with you and for you.
30 Bible Verses to Relieve Your Stress and Anxiety
Thanks be to God, Christ is beckoning and inviting us to lay our burdens at his feet. We were never meant to carry everything on our own. He has provided us with ways to approach and manage the stress in our lives by teaching us to abide, shift our perspective, turn our hearts to wonder and worship, rest and care for ourselves and others, and to tell him about our troubles through prayer and petition, imploring him to act on our behalf.
Photo Credit: © Unsplash/Finn Hackshaw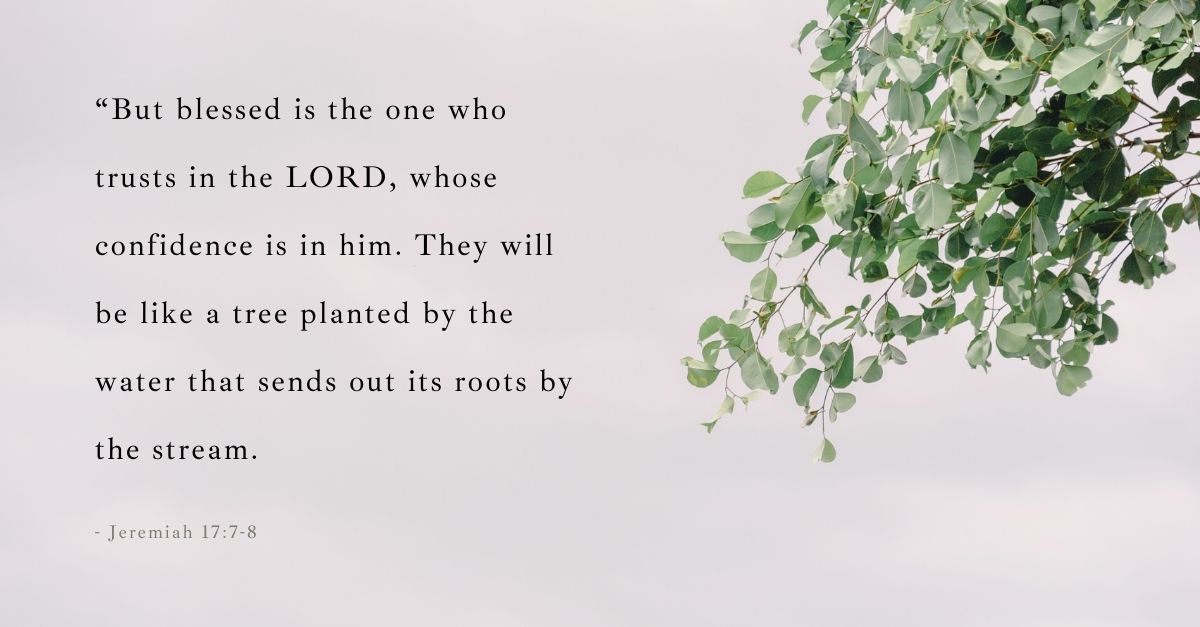 Bible Verse for Abiding
Jeremiah 17:7-8 – "But blessed is the one who trusts in the LORD, whose confidence is in him. They will be like a tree planted by the water that sends out its roots by the stream. It does not fear when heat comes; its leaves are always green. It has no worries in a year of drought and never fails to bear fruit."
You were made to abide, to drink deeply from the ever-flowing life that comes from God. Trust in him and stay close to him, and you will stand strong through drought and storm.
Philippians 4:6-7 – Do not be anxious about anything, but in every situation, by prayer and petition, with thanksgiving, present your requests to God. And the peace of God, which transcends all understanding, will guard your hearts and your minds in Christ Jesus.
Can it be true that we should be anxious for nothing? This command for Christians turns the world's logic on its head. Bring your burdens to God and see what He does.
Romans 12:2 – "Do not conform to the pattern of this world, but be transformed by the renewing of your mind. Then you will be able to test and approve what God's will is—his good, pleasing and perfect will."
The pattern of the world is to be shaped and defined by circumstances. But God invites his people to be shaped deeply by the knowledge of Christ's character, renewed day by day so that we might produce good fruit in and out of season, no matter our circumstances.
John 14:27 – Peace I leave with you; my peace I give you. I do not give to you as the world gives. Do not let your hearts be troubled and do not be afraid.
Jesus' peace is unlike any peace the world has to offer. Greater than financial security, relational affirmation, or even a pandemic-free world. Christ's peace, his gift to you, surpasses all of this—he doesn't want your heart to be troubled.
Design Credit: © SWN/Sarah Martin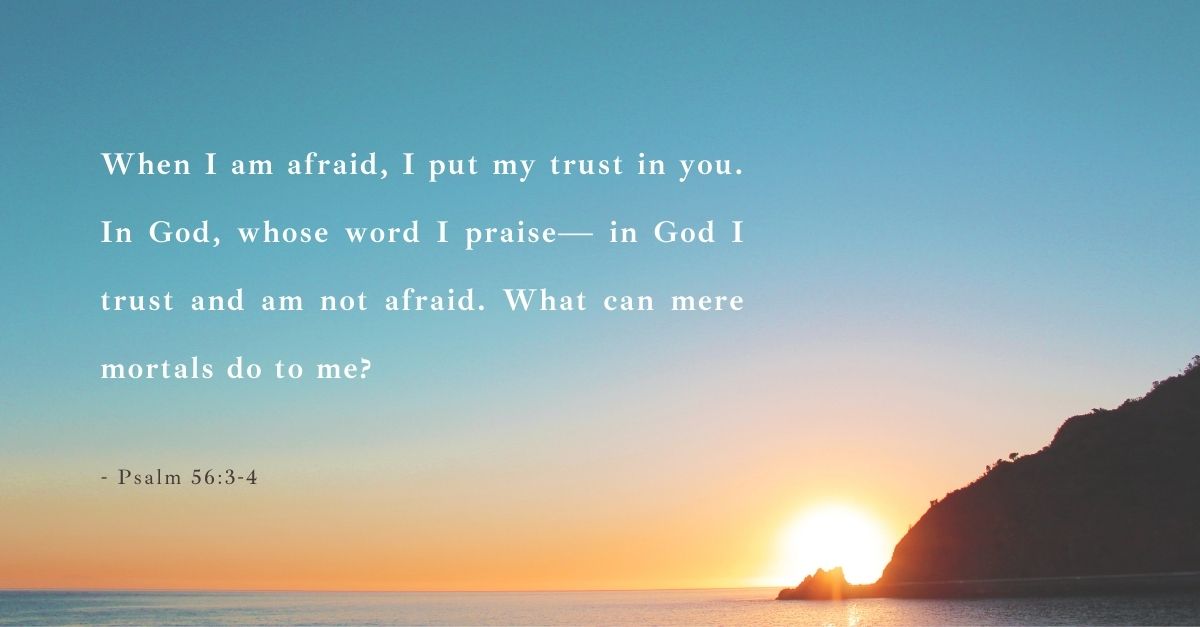 Psalm 56:3-4 – When I am afraid, I put my trust in you. In God, whose word I praise— in God I trust and am not afraid. What can mere mortals do to me?
Often worries and stress become overwhelming to us because the things of the world have stolen our gaze. What we spend our time looking at and contemplating shapes us. Fix your eyes on God, and he will strengthen your heart.
1 Corinthians 3:11 – For no one can lay any foundation other than the one already laid, which is Jesus Christ.
There is no stronger foundation than Jesus Christ. Anything you build upon this rock will last. What are you building with your life, and what are you looking to for your foundation?
Luke 21:19 – Stand firm, and you will win life.
God has greater plans for you than to simply tread water. Abide in him, standing firm in him, and discover life itself.
Psalm 55:22 – Cast your cares on the LORD and he will sustain you; he will never let the righteous be shaken.
God provides us with the recipe for a sustained life: open your hands and let your cares and worries fall upon him. Cast them at his feet. With his life sustaining you, you will not be shaken.
Design Credit: © SWN/Sarah Martin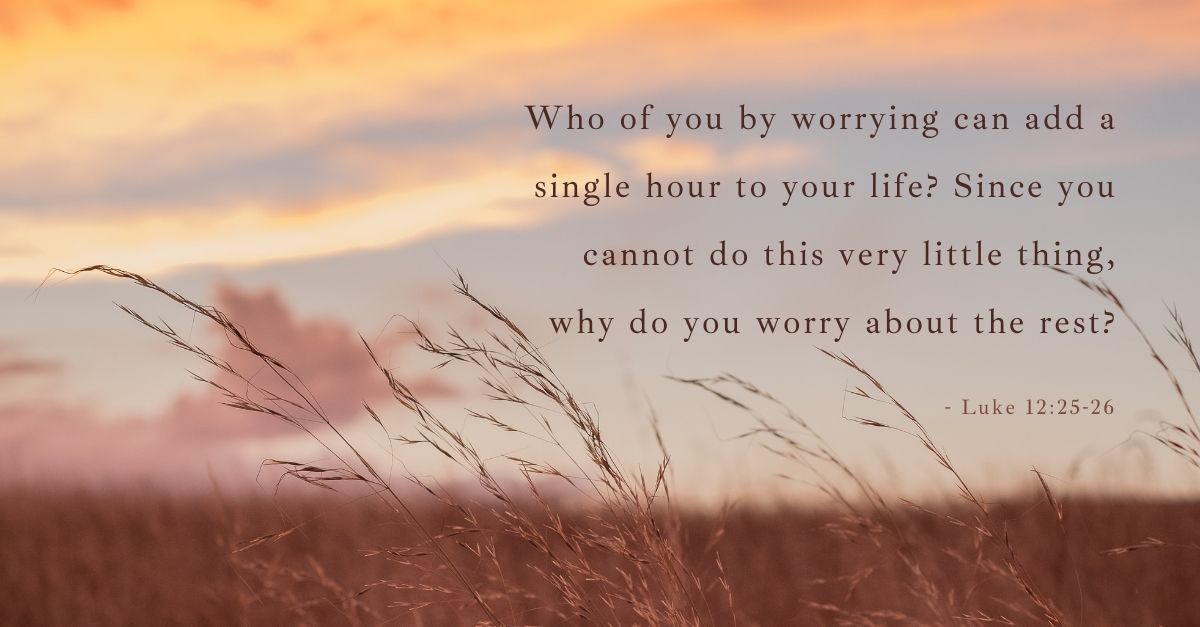 Bible Verses for Perspective in Stressful Times
Luke 12:25-26 – Who of you by worrying can add a single hour to your life? Since you cannot do this very little thing, why do you worry about the rest?
Stress-induced worry doesn't do anything to help your life. Remember who's really in control.
James 1:2-4 – Consider it pure joy, my brothers and sisters, whenever you face trials of many kinds, because you know that the testing of your faith produces perseverance. Let perseverance finish its work so that you may be mature and complete, not lacking anything.
Early Christians realized that trials and challenges were a cause for joy, because they are building something more enduring and strong within us, forging a faith that will last. Could you dare to see your cause for stress as a cause for worship? For Christ is with you in it, making your faith and trust in him complete.
Romans 8:6 – The mind governed by the flesh is death, but the mind governed by the Spirit is life and peace.
The world might tell you that all you need is a new and positive mindset. While positivity tips and tricks might be helpful for a moment, they don't build a deep foundation of the true life and peace found in God. Allow His Spirit to govern your mind, and notice how he leads you to something eternal, not fading or contrived.
Luke 21:34 – "Be careful, or your hearts will be weighed down with carousing, drunkenness and the anxieties of life, and that day will close on you suddenly like a trap.
Stress and worry are a serious business with God. Don't let then rule your life. They may become a trap to you.
2 Corinthians 4:7-9 – But we have this treasure in jars of clay to show that this all-surpassing power is from God and not from us. We are hard pressed on every side, but not crushed; perplexed, but not in despair; persecuted, but not abandoned; struck down, but not destroyed.
To live as a Christian in the world is to live hard-pressed, crushed, perplexed, and sometimes stuck down. But this verse shows us why we aren't destroyed or driven to despair. Because of the treasure God chose to place in these imperfect bodies. A spirit of impossible love and overwhelming victory lives inside us. No stress or anxiety can stand in the presence of such a treasure.
Psalm 119:143 – Trouble and distress have come upon me, but your commands give me delight.
The next time trouble and distress overwhelm you, what commands of God can you find delight in?
Design Credit: © SWN/Sarah Martin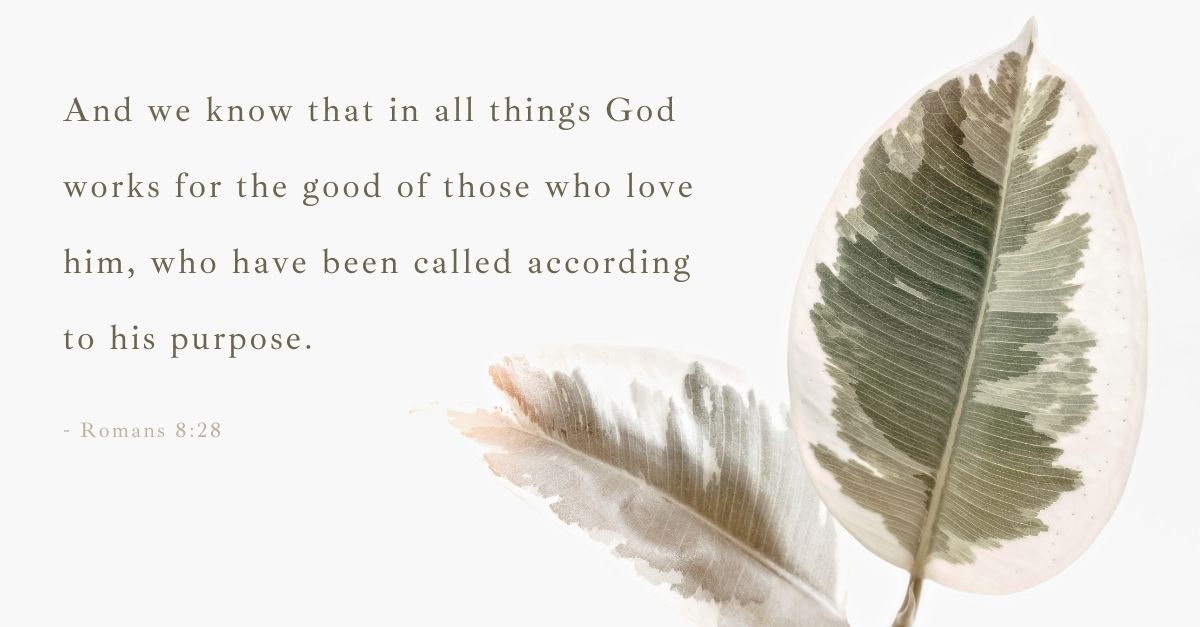 Bible Verses for Worshiping Instead of Worrying
Romans 8:28 – And we know that in all things God works for the good of those who love him, who have been called according to his purpose.
God is for you! He is working for you! Don't waste a moment believing otherwise. He doesn't need you to prove yourself to him. His love for you moves you forward. Feel permission to loosen your grip and need for control. He has you.
Romans 16:20 – The God of peace will soon crush Satan under your feet. The grace of our Lord Jesus be with you.
Praise God, stress and anxiety and causes for worry will one day become as small and insignificant as the enemy Christ destroyed by his sacrifice of love. Praise him for his victory, and your freedom from worry and fear!
Psalm 94:19 – When anxiety was great within me, your consolation brought me joy.
The comfort and consolation of our God can turn our most stressful moments into joy and gladness. What cause for stress is God asking you to turn over to him?
Design Credit: © SWN/Sarah Martin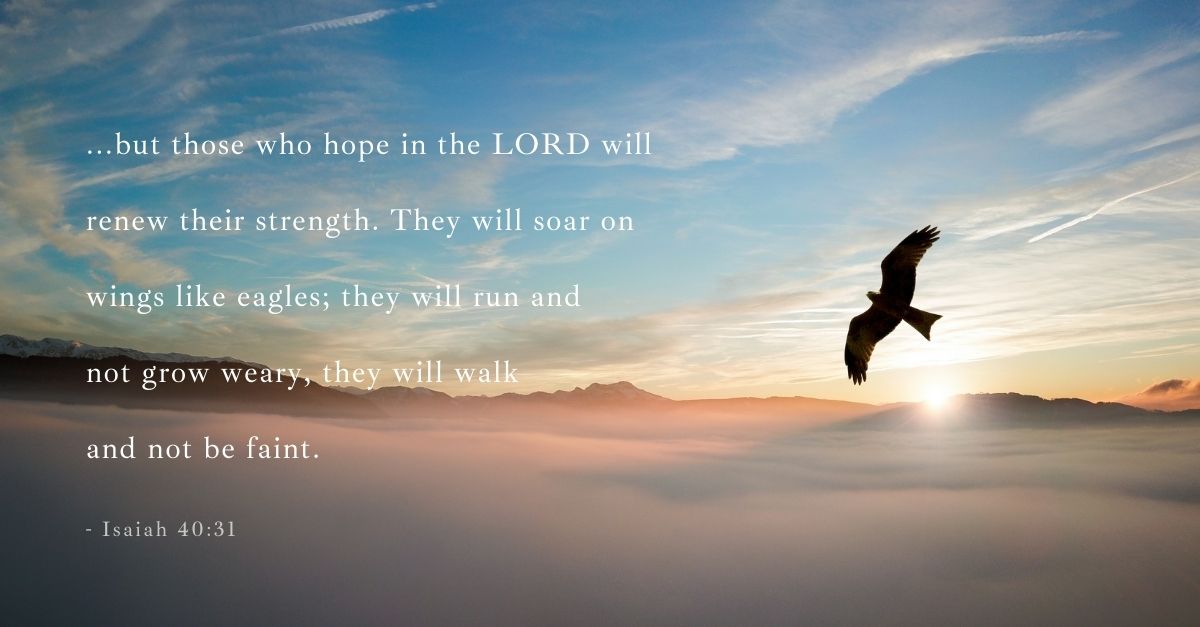 Bible Verses for Rest Instead of Stress
Isaiah 40:31 – but those who hope in the LORD will renew their strength. They will soar on wings like eagles; they will run and not grow weary, they will walk and not be faint.
We have a long race to run. Praise be to God, in him our strength is renewed, and we can rise day after day to face another mile. God made you to fly, so turn to him today to equip you with wings.
Psalm 118:5-6 – When hard pressed, I cried to the LORD; he brought me into a spacious place
The Lord is listening, waiting for you to cry out to him from the stressful place you find yourself in. He will bring you to fresh air and wide, open spaces. No one can box you in when he's around.
Matthew 11:28-30 – "Come to me, all you who are weary and burdened, and I will give you rest. Take my yoke upon you and learn from me, for I am gentle and humble in heart, and you will find rest for your souls. For my yoke is easy and my burden is light."
Resist picking up any yoke that God did not give you himself. In the upside-down Kingdom of God, his "burden" will lead you to rest, and to draw nearer to his gentle and humble heart for sinners.
Design Credit: © SWN/Sarah Martin
Bible Verses for Prayer & Petition
Proverbs 16:3 – Commit to the LORD whatever you do, and he will establish your plans.
God invites us to partner our lives with him. Bring your plans and hopes and dreams to his feet, for your heart matters to him. He wants to lead you in the way you will go.
Psalm 37:5 – Commit your way to the LORD; trust in him and he will do this:
Are you trying to go your way on your own, or have you considered how God may want to guide you and encourage you along your path? Commit your journey into his hands.
Philippians 4:6-7 – Do not be anxious about anything, but in every situation, by prayer and petition, with thanksgiving, present your requests to God. And the peace of God, which transcends all understanding, will guard your hearts and your minds in Christ Jesus.
God doesn't want us to waste a moment of our lives bearing burdens on our own. Tell him what's bothering you, what's on your mind, what desires are in your heart. There is nothing too trivial to bring to him if it means your heart might be free from worry and stress.
Hebrews 4:16 – Let us then approach God's throne of grace with confidence, so that we may receive mercy and find grace to help us in our time of need.
We all need grace and mercy as we try to balance the moving pieces of life. Draw near to God's throne with confidence, for his mercy is endless, and his grace is overflowing.
Psalm 102:17 – He will respond to the prayer of the destitute; he will not despise their plea.
God's heart is for you, and he delights in inclining his ear toward you to listen to your pleas. He won't get tired of hearing your needs. Lift up your voice to him.
Design Credit: © SWN/Sarah Martin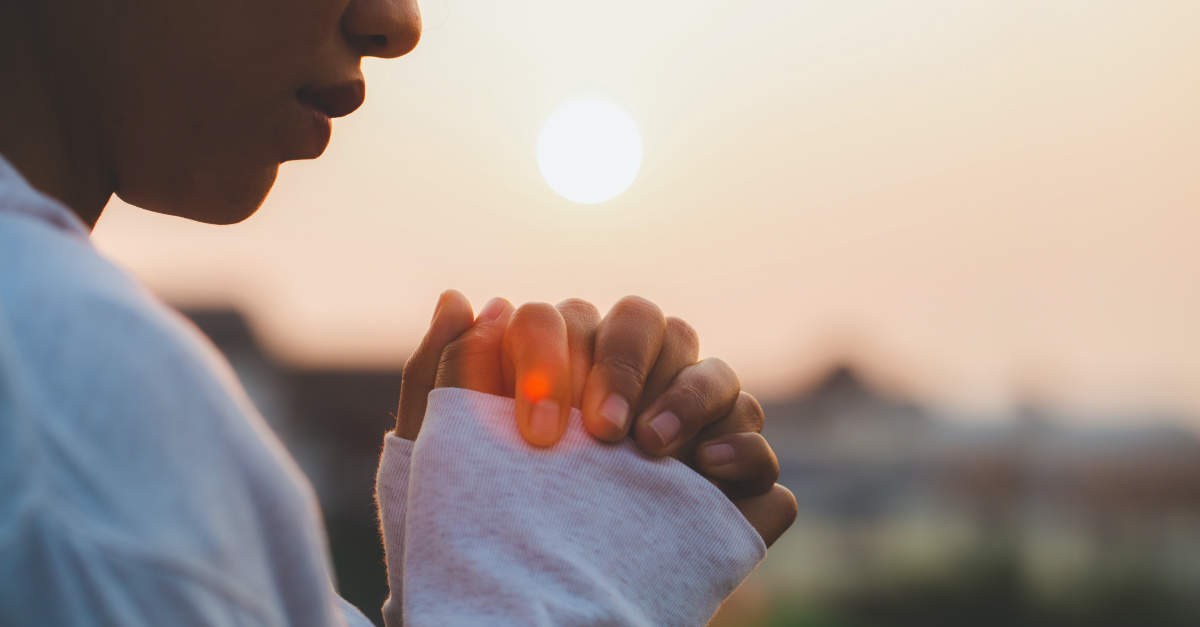 A Prayer to Relieve Stress
Dear Father,
We humbly come before you, stretched and strained, trying with all our might to unclench our teeth, relax our shoulders, let go of the many things creating tension in ourselves and with others throughout our day.
But the truth is, you call us to come to you, not out of our own might and struggles, but out of your loving invitation to lay our burdens at your feet, and rest in the arms of Jesus. Because of your son, because of who you show yourself to be, we can know and believe that we are made whole and complete.
Through the indescribable power of Jesus' death and resurrection, we no longer have to worry whether we are enough to face life's challenges both big and small. Not only can we release our stress and worry to you, we can hope and rejoice that you make us victorious!
All the same, some days it's hard for us in our humanness to remember the greatness of your power and victory over our infirmities. Because of this we pray for your loving grace and comforting hand to still our fast-beating hearts when we fail, or our circumstances fall apart. When disappointments or complications threaten our peace, we ask for your peace-giving presence to bring us back to that sweet spot of love and trust that is only found with you, so that we might go forward in worship and singing instead of fear and defensiveness.
Thank you for your heart for us, God.
In Your Name,
Amen
Photo Credit: © Getty Images/Tinnakorn Jorruang
Sarah E Martin is a sister, aunt, daughter, and sometimes a globe trotter. She has a background in English literature, and a devotion to good tea. When she's not writing or studying, she is attempting to learn the names of her backyard birds, or planning long, unhurried walks in her favorite places. She believes that Jesus is the answer to bringing all our stories together, and is the one who satisfies our ache for home.
---
---