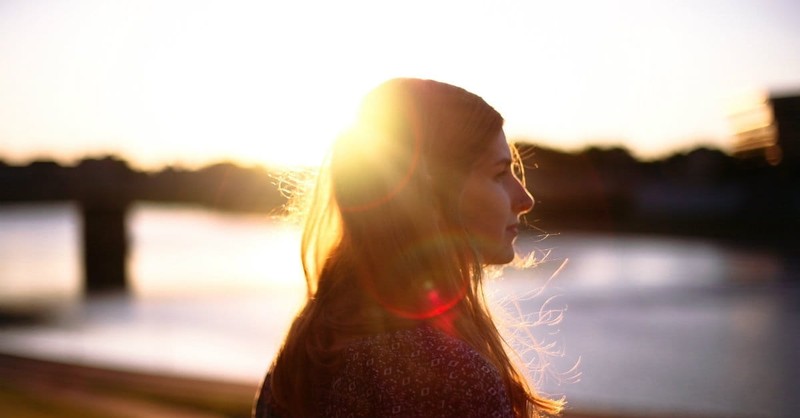 The Power of Saying "Yes" to Simple Things
Peyton Garland

iBelieve Contributing Writer
God knows there's power in the smallest "yes." The Bible is packed with mediocre mess-ups who, because they were willing to say "yes" in the name of revering the Father, blazed a trail with eternal impact.
Just last week, I said "yes" to coffee with a friend. I haven't done something this casual, yet complex amidst a Covid resurge, in a long time. In fact, this was my first girls' outing since Josh and I packed up our little fam's Prius three months ago and moved from peachy, humid Georgia to Colorado's chilly Rockies.
I think this was my first "yes" because this was my first official friend that I had made post-relocation. A Christian school kid who'd had the same friends for 15 years, the homebody who'd never lived more than an hour from home, packed up her whole life and drove 1400+ miles to the other end of the country to help chase her husband's piloting career.
For the first time ever, neighbors, fellow church-goers, even folks in Wal Mart were complete strangers. I knew no one. But what I did know is that loneliness is a cruel, grueling monster that knows its only way to win is to convince you to remain afraid of the "yes"—no matter how trivial it may seem. The more comfortable you become with saying "no", the easier it is for you to shrink, recluse, hide away from the beauty of friendship and community.
Don't Let Loneliness Keep You Afraid
If you've had the chance to check out my most recent article, you know that my oldest pup, Alfie, just caused quite the stink at our apartment complex's dog park. Regardless of which furry Fido was to blame for the brawl, Josh and I have felt so isolated since the incident, as many apartment folks avoid eye contact and won't let their dogs near us. Despite the drama, one girl, Teddy the German Shepherd's mom, reached out to me less than a week after the canine debacle and said, "I'm here if you need a friend."
Teddy's mom said "yes" to being kind, despite the dismal, judgmental trend of others, and because she said "yes" to simply sending a text, I said "yes" to catching coffee with her one week later.
God knows there's power in the smallest "yes." The Bible is packed with mediocre mess-ups who, because they were willing to say "yes" in the name of revering the Father, blazed a trail with eternal impact:
Moses said "yes" to being kicked out of Egypt and hanging in the dessert with stinky sheep for decades, all so God could prepare his heart to free Israel of slavery.
David said "yes" to Samuel's request that they have a chat, all so he could be told that he was God's appointed King of Israel.
Mary said "yes" to carrying a baby for nine months, all so the world could witness the one and only miraculous virgin birth of the Messiah.
Peter said "yes" to fishing for Jesus, though he'd already fished his entire life, all so he could become the rock of the modern church.
Jesus said "yes" to eating, drinking, and talking with sinners, all so He could save them from their least favorite parts of themselves.
It's the simple "yes" that holds the most power. It frees people from feeling so isolated and welcomes them into a space where they not only belong, but desire to bring in others too. It's not always an easy place to navigate because it requires us to show up and say "yes" to boring, routine, "This is getting old" things over and over again.
The Transformational Power in Every "Yes"
But it wasn't parting the Red Sea that molded Moses. It was the waiting in the desert. It wasn't David slaying Goliath or bringing the temple to life that defined his heroism. It was him showing up for an uncomfortable conversation with an old prophet, surrounded by jealous brothers, that instilled his bravery. It wasn't Mary boasting in her chosen-hood, reminding everyone that she was picked to raise the perfect child, that found her favor with God. It was her humbly taking man's mockery to carry, birth, and adore a blameless babe.
Granted, it was the crucifixion and resurrection that confirmed Christ as the Son of God, but I believe it was in the ordinary, simple moments, the moments that He stopped the world to break bread with the broken, that made Him the true embodiment of Jehovah Rapha.
"Yes" is a short, one-syllable word, and it's so easy to brush off when we forget the weight it carries. Yet, when we confirm the weight as means to create purpose, to take up space that counts, "yes" becomes God's power in us. It becomes freedom. It becomes the birthing place of our relationship with God, the revolutionary life that follows. And there is nothing quite so powerful as that.
If this power is the pinnacle of all power, then we, as Christians, must believe this power is accessible every day, in every sort of way. While there have been mountain-moving miracles in my life, while I've felt God's presence in the loudest, undeniable ways, I believe His Spirit's power weaves into the more ordinary, easy-to-miss moments too.
What Is Your Next "Yes"?
As someone who's lately felt isolation, loneliness, and an unexpected, unasked for bout of shame thanks to a dog park scenario gone wrong, I can't describe just how powerful God's hand was the moment Teddy's mom reached out with nothing more than an "I'm here" text message. This likely took less than 30 seconds of her time, but she cared to fit my heart and my hurt into her everyday routine, and it gave me instant self-worth, an instant belief that I didn't have to walk with my head hung low.
When we say "yes" to the simple things on repeat, we create a cycle of opening ourselves up to abide with others, to not only know them in passing, but to step into their hurt and barricade them from guilt and shame God never meant for people to drag through life. When we agree to show up for others with a handwritten note, an unexpected coffee, a thoughtful text, and we make these actions routine, we confirm God's ability to move through us each day.
Allowing the God of everything to access the most basic parts of who we are, where we go, and what we do isn't just a healthy spiritual practice, but is the spitting image of how Christ called the 12 disciples. He didn't tell them to cast out demons day one. Instead, He asked them to eat with Him, camp out with Him, simply follow Him and get to know Him. The simple "yes" of these men didn't only benefit their hearts, but it paved the way for bigger, bolder moves that would offer the world salvation for its weary soul.
Say "yes" when it's boring, when it's repetitive, when it's getting old. Say "yes" when it seems too simple, like it wouldn't matter anyway. Say "yes," and watch what happens.
Photo Credit: © Unsplash
Peyton Garland is an author and coffee shop hopper who loves connecting people to a grace much bigger than expected. Her debut book, Not So by Myself, was promoted by Former White House Press Secretary Dana Perino and Endorsed by TED Talk speaker and creator of the More Love Letters Movement, Hannah Brencher. She lives in Colorado Springs with her husband, Josh, and their two gremlin dogs, Alfie and Daisy.
---
Want more interaction with the women of iBelieve? Join our fans, writers, and editors at the iBelieve Facebook group, Together in Faith, for more videos, stories, testimonies, prayers and more. Visit here to join the community!