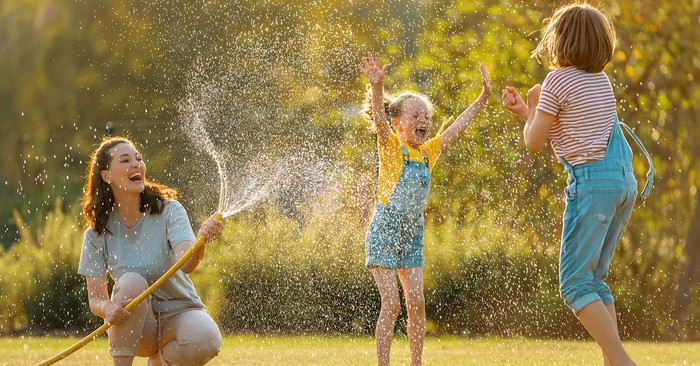 You are not required to hold on to things that damage your life.
If I am honest, I have a love-hate relationship with summertime. I love the freedom: not as many places to be, no school, and more time to rest, but then I dread the heat and shorts. Nevertheless, it comes around every year, and I turn on the fans and put on the shorts, and soak up all that I do love about summer.
This season has always felt like a transition time, almost like New Year; maybe it is the constant reminder of back-to-school days, changing grades, and graduations. It has always been the marker of changing life seasons. Even now, as an adult, it still feels that way, and I find myself stopping to evaluate where I am headed in the last half of the year.
There seems to be more time in the summer to ask the tough questions of our hearts and examine where we have been and where we desire to go. It has always been a transition season, and this is our time to do the work that needs to be done.
Don't be afraid to ask tough questions.
Have I completed the tasks or goals I set out to do at the beginning of the year? Have I taken care of myself as I should? What do I need to improve in myself, in my home, and my spiritual walk? Where have I let distractions take over my life and my heart? Am I thinking ahead about what is to come in the year?
Asking yourself hard questions allows you to put things away that are not helping you grow.
We do this at the end of each year, so maybe we should do the same at the halfway point. Most of us have long given up on New Year's resolutions, and life moves so quickly that most of us have had to push back our goals or pivot in our plans.
Evaluation leads to evolution.
There are three areas in our lives that we can take time to think through this summer. Places that may be in desperate need of a refresh—our hearts, homes, and health.
Refreshing Your Heart
This should be a monthly habit at the rate we are going in this world, but if you have not taken inventory of your heart in a while, summer is a great time to pause and listen.
Are you anxious? Overwhelmed? Hurting?
Our hearts and minds need care; we need to "sort the mail," as my counselor would say. We need to look at what is making us fearful, overwhelmed, or what is hurting and put it in its right place.
If social media, news, or other influxes of information are a source of trouble for your heart, you don't need it. There is a great exodus happening in the social media world because of this very reason. Constant information and the bombardment of other people's opinions, comparing ourselves to others in a dangerous and deadly fashion.
If there is a toxic person in your life who's destroying your heart, weighing down your mind, and causing unhealthy things in your life, you can let them go too.
Look at where you are, evaluate what needs to go, and choose something different. You are not required to hold on to things that damage your life.
Refreshing Your Home
Each spring, most of us get the urge to purge. You know the desire to deep clean and load up the local Goodwill with all the clutter that is making us crazy. Likewise, summer is the time to take a bit of inventory.
If our homes are chaotic, our hearts and minds will follow suit.
Take the time to clear out the cobwebs, figuratively, that is, unless you have actual cobwebs, then literally take the time to clear them. Take up the tasks you have been putting off, like deep cleaning, removing clothes that don't fit, or the pesky exercise equipment that takes up too much space.
Are there new rhythms that you want to put in place within your home? Maybe it's lighting a candle during the day, keeping the blinds open, or limiting the clutter hanging out on your kitchen counters. Whatever you desire to see happen in your home, summer is a great time to implement it.
In our home this summer, I am focusing on pursuing peace. This looks like keeping a device limit and playing worship music throughout the day. It also looks like everyone pitching in daily with chores and making our home a place of rest when the summer days make us weary.
Refreshing Your Health
I know what you are thinking: didn't we just talk about this six months ago? Who are we kidding? None of us stuck to those new year's fitness goals because we made them unrealistic.
Making healthy goals looks like starting small.
We cannot change our bodies or our habits overnight. It takes small steps over time to get our bodies healthy. Maybe you start with drinking more water each day or giving up sodas. Maybe the healthy step you are taking looks like taking a walk each night with your family.
Refreshing our health is about small wins that help us feel better, not drastic changes that are impossible to keep doing.
In our home, I am doing just that; I am making small changes. No sodas allowed and more water consumed. I'm focused on cooking at home and eating out less. These are small steps but ones that make a difference in the long run.
Summer time makes it an even better season to refresh your health because you can get the whole family involved. The kids are spending more time sitting, and because they are bored, they are spending more time eating. It can make a difference in implementing these changes together.
However you choose to spend your summer, I pray you take time to slow down. It can be hard when life feels so rushed, but we can choose peace; we can choose to slow down. We can choose to refresh what is stale and broken, and we can set new habits in place.
When fall rolls around, we will feel ready to take on the busy challenges and hectic schedules. Our hearts, homes, and health will be refreshed and ready for whatever is next, and we will bring our new habits and refreshed minds with us.
Photo Credit: ©GettyImages/Choreograph
Michelle Rabon is a wife and homeschooling mom of three who feels called to help women thrive in their walk with Jesus every day. In 2012, she started Displaying Grace, a ministry that is focused on helping women engage with God's Word. Michelle has also served in women's ministry for the past five years seeking to equip women in the local church through Bible study. When she is not writing or teaching, she enjoys reading, being close to the ocean, and drinking a lot of coffee.
---
---