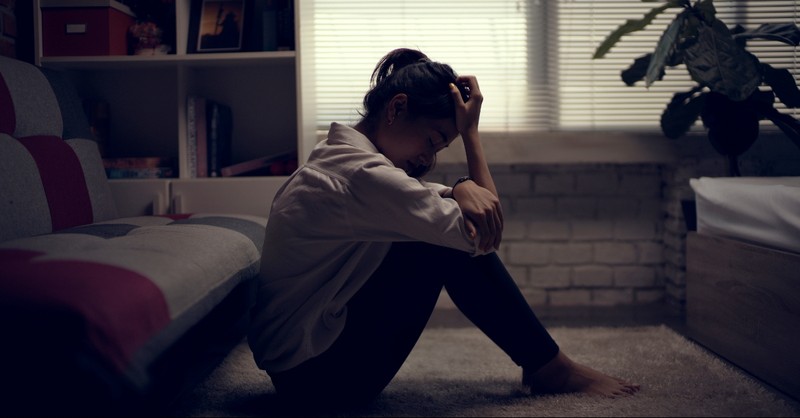 Is Depression a Mental and Spiritual Illness?
Vivian Bricker

Contributing Writer
In this article today, I'm going to set some records straight about depression and what it actually is.
Depression is a common ailment across the world. I have personally struggled with depression for about ten years now. Maybe you have struggled with depression in your life too. Over the course of a decade, I have opened up to many people who have told me that my depression is just a "spiritual problem." In this article today, I'm going to set some records straight about depression and what it actually is.
Defining Depression
The National Institute of Mental Health defines depression as a "serious mood disorder. It causes severe symptoms that affect how you feel, think, and handle daily activities, such as sleeping, eating, or working." From this definition, we are informed that depression is a mood disorder, not an illness. In the same way, depression is not a spiritual illness. A person cannot help whether they get depression or not. Depression is not a choice or a decision. Causes of depression are numerous and can include trauma, genetics, life circumstances, brain damage, and other medical conditions such as anxiety, attention-deficit hyperactivity disorder (ADHD), and eating disorders. Having depression does not mean you have a spiritual illness.
As I mentioned briefly, many individuals have accused me of having a "spiritual problem" because of my depression. The truth is that depression is not a "spiritual illness." From my personal experience, many Christians have told me that I need to "have more faith" and "find joy in the Lord." In all honesty, these statements make me quite upset, but I never say anything. While I'm sure these individuals are trying to be helpful, they are not. A person does not get better from depression by having "more faith." Similarly, when an individual tells me I need to "find joy in the Lord," it causes me emotional distress and anxiousness regarding theology.
For one, joy in the Lord does not mean you are happy all the time. Joy does not equate with happiness. In other words, you can have joy, but not happiness. In theological terms, joy means having joy in Jesus even if everything else is going wrong. You can have joy in the Lord because Jesus is with you. Don't look down on someone else if they are struggling with depression. They do have faith in God and they do have the joy of God in their heart. Depression is a medical condition that cannot be fixed by having more faith or more joy. Through medication and therapy, depression can be helped.
Questioning Salvation
A common question I get about my depression within Christian circles is the question of whether or not I am actually saved. Whenever I open up about my depression or word of my depression gets passed along, so many people question my salvation. I've heard remarks such as "If you were truly saved, you wouldn't be depressed," or "True Christians don't struggle with depression." As one could imagine, these comments hurt. I don't know why people think they can say these things and not hurt someone's feelings because, from my point of view, those saying these statements are the ones who need to have a deep conversation with God.
If you are struggling with depression, know that struggling with depression does not affect your salvation at all. It is not your fault that you are struggling with this condition. Salvation is not based on ourselves but based on the Person and work of Christ (Ephesians 2:8-9). If you have placed faith in Jesus by believing that He died for your sins, was buried, and rose again, then you are saved (John 3:16-17). Acts 4:12 says, "Salvation is found in no one else, for there is no other name under heaven given to mankind by which we must be saved."
Whether you struggle with depression or not, if you have believed in Jesus as your Savior and Lord, then you are saved. As a Christian who struggles with depression, don't let others get you down or make you feel bad about yourself for struggling with depression. It is completely normal to struggle with depression, and it does not make you less of a person or less of a Christian for struggling with it.
God Has Not Abandoned You
In the dark recesses of depression, it can be easy to believe God has left you. I know I believed this for quite some time, but it's not true. God never leaves us. Even if we don't "feel" God, He is always there. God is greater than our feelings. Depression can make you feel alone and isolated, yet God is still there. It can make things worse when Christians tell you depression is a "mental illness" and a "spiritual illness."
Depression is not a mental illness or a spiritual illness. It is a mood disorder that can be caused by a myriad of different things. If you are struggling with depression today, know that God has not abandoned you and that you don't have a "spiritual illness." The Lord knows the pain you are experiencing, and He wants you to give all of your worries and concerns to Him (1 Peter 5:7). Depression is difficult and it can feel as if there will never be brightness again. I know in my dealings with depression, I will go days to weeks where it is a struggle to get out of bed and face another day. I know what it feels like to feel that intense pain and struggle. You are not alone in this struggle.
Bringing Awareness
It is important to bring awareness to the fact depression is not a spiritual illness—it is a mood disorder. Speaking out on this matter, especially among Christian circles, needs to be done. If a person is struggling with depression and another person dismisses their struggle as being a "spiritual illness," it can make the person struggling feel more alone. If they are not a Christian, it could turn them away from Christ because of the hatred directed at them. If you know someone who has depression, don't treat them like there is something spiritually wrong with them and don't tell them to "just have faith."
Depression is a complex medical condition that needs to be taken seriously. A Christian who struggles with this condition is not less of a Christian for struggling with it. If you are a Christian struggling with depression, rest in the peace of Christ and know that it is not your fault for struggling with depression. Depression is very common and does not discriminate against who it goes after. Sadly, many people remain uninformed about the truth of depression and tend to shrug it off as a "spiritual illness." This is wrong because depression is not a sin and it is not a "spiritual illness" that one can "catch."
Don't let others put you down for struggling with depression. I have spent too much of my life worrying about what other people say and think to the point that I started to think poorly of myself. Regrettably, I started to believe what others said about me. I don't want you to experience this same pain and ridicule. Always remember depression is a mood disorder, not a mental illness or a spiritual illness.
Photo Credit: ©iStock/Getty Images Plus/torwai
---
Vivian Bricker loves Jesus, studying the Word of God, and helping others in their walk with Christ. She has earned a Bachelor of Arts and Master's degree in Christian Ministry with a deep academic emphasis in theology. Her favorite things to do are spending time with her family and friends, reading, and spending time outside. When she is not writing, she is embarking on other adventures.
---