10 Hymns and Prayers to Refresh Your Mind and Soul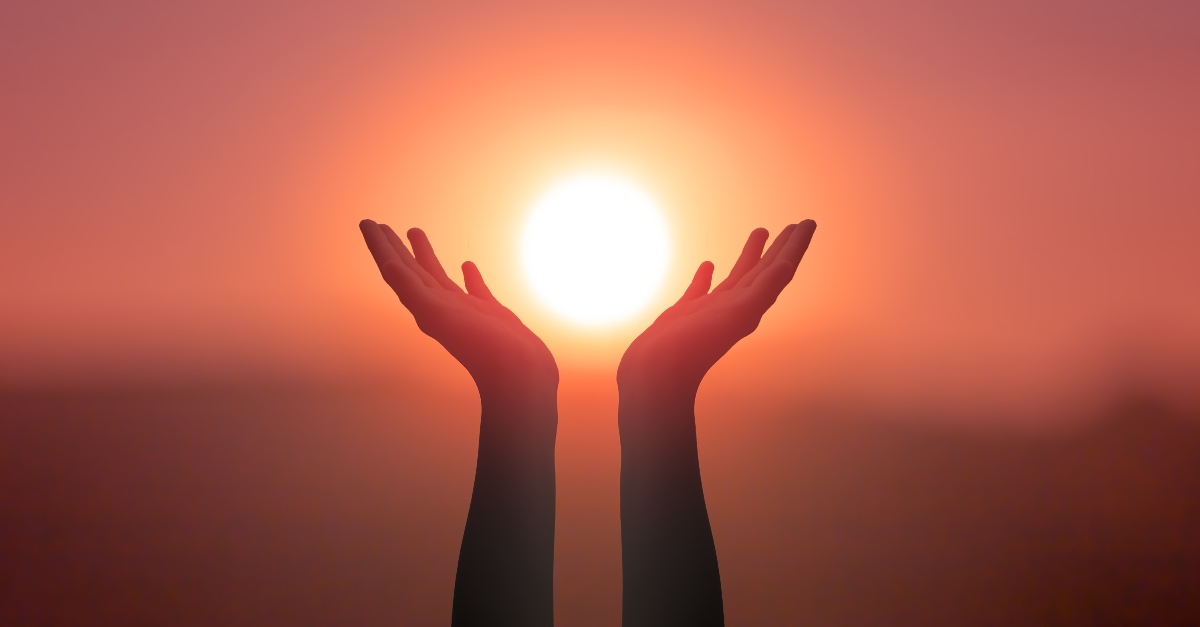 We are living in history-making times. It seems we are assailed with pandemics of multiple proportions no matter where we turn. We cannot hide, but instead, we are forced to acknowledge our present difficulties, then figure out ways to cope. For me, I often find myself looking to hills from where my help comes (Psalms 121:1) singing and praying scriptures.
When I stop to ponder, I realize I find myself humming a steady stream of music to comfort me. Usually, my songs of choice are good old-fashioned hymns. Subconsciously, my mind seems to need the comfort these songs bring for they minister to my deepest needs—calming my fears, reducing anxiety, quelling my worry, and uplifting my spirits. Most of these hymns written in the 1800s are timeless in their message. These are some hymns and prayers I've found myself singing and speaking as we tread through calamitous times.
1. It is Well With My Soul by Horacio Spafford

Slide 1 of 10

The story goes that the writer of this hymn had just experienced and survived an unspeakable tragedy. It was only then he was able to say:

When peace like a river, attendeth my way,
When sorrows like sea billows roll
Whatever my lot, thou hast taught me to say
It is well, it is well, with my soul

Refrain
It is well, with my soul
It is well, it is well with my soul

Though Satan should buffet,
Though trials should come,
Let this blest assurance control,
That Christ has regarded my helpless estate,
And hath shed His own blood for my soul.

Photo Credit: © Unsplash/Linus Nylund

2. Trust and Obey by John H. Sammis

Slide 2 of 10

With so much unknown, I've often felt that the best thing I can do is to trust the One who is over everything. This hymn provides the mechanics and the results of trusting God.

When we walk with the Lord in the light of His Word,
What a glory He sheds on our way!
While we do His good will, He abides with us still,
And with all who will trust and obey.

Trust and obey, for there's no other way
To be happy in Jesus, but to trust and obey.

Not a shadow can rise, not a cloud in the skies,
But His smile quickly drives it away;
Not a doubt or a fear, not a sigh or a tear,
Can abide while we trust and obey.

Then in fellowship sweet we will sit at His feet.
Or we'll walk by His side in the way.
What He says we will do, where He sends we will go;
Never fear, only trust and obey.

Photo Credit: © Unsplash/nega
Credit: DonMoenTV

3. Prayer Is the Soul's Sincere Desire by James Montgomery

Slide 3 of 10

My mother was a praying woman. When she discovered this relatively unknown hymn she sat all of her children down, recited and then sung it to us so we could learn the importance and the blessing of prayer through this hymn. I've noted my favorite verses out of seven.

Prayer is the soul's sincere desire, uttered or unexpressed;
the motion of a hidden fire that trembles in the breast.

Prayer is the simplest form of speech that infant lips can try,
Prayer the sublimest strains that reach the Majesty on high.

Prayer is the Christian's vital breath, the Christian's native air,
His watchword at the gates of death; he enters heaven with prayer.

O Thou by whom we come to God, the Life, the Truth, the Way,
The path of prayer thyself hast trod; Lord, teach us how to pray!

Photo Credit: © Getty Images/Rawpixel
Credit: ElsieBird68

4. How Great Thou Art by Carl Boberg

Slide 4 of 10

This hymn was originally penned as a poem that started when the writer observed the peaceful serenity after a storm. When I see God's beauty in creation, even during chaos, I find myself singing this hymn.

O Lord my God, when I in awesome wonder
Consider all the worlds thy hands have made,
I see the stars, I hear the rolling thunder,
Thy power throughout the universe displayed:

Refrain
Then sings my soul, my Savior God, to thee:
How great thou art! How great thou art!
Then sings my soul, my Savior God, to thee:
How great thou art! How great thou art!

When Christ shall come with shout of acclamation
And take me home, what joy shall fill my heart!
Then I shall bow in humble adoration,
And there proclaim, My God, how great thou art!

Photo Credit: © Getty Images/Digitalskillet
Credit: Gaither Music TV

5. What a Friend We Have in Jesus by Joseph M. Scriven

Slide 5 of 10

It's a comforting reminder to know that we have a Friend in Jesus. He's a good friend!

What a Friend we have in Jesus, all our sins and griefs to bear!
What a privilege to carry, everything to God in prayer!
O what peace we often forfeit, O what needless pain we bear,
All because we do not carry; everything to God in prayer!

Have we trials and temptations? Is there trouble anywhere?
We should never be discouraged, Take it to the Lord in prayer.
Can we find a friend so faithful, who will all our sorrows share?
Jesus knows our every weakness, take it to the Lord in prayer.

Photo Credit: © Getty Images/Motortion

6. Great Is Thy Faithfulness by Thomas O. Chisholm

Slide 6 of 10

This hymn was inspired by Lamentations 3:22-23.

Great is Thy faithfulness, O God my Father,
there is no shadow of turning with Thee;
Thou changest not, thy compassions, they fail not;
as Thou hast been Thou forever wilt be.

Refrain
Great is Thy faithfulness! Great is Thy faithfulness!
Morning by morning new mercies I see;
All I have needed Thy hand hath provided;
Great is Thy faithfulness, Lord, unto me!

Pardon for sin and a peace that endureth,
Thine own dear presence to cheer and to guide;
Strength for today and bright hope for tomorrow,
Blessings all mine, with ten thousand beside!

When I sometimes don't know what to say, I pray the Scriptures. Here are some prayers from the Bible that refresh me:

Photo Credit: © Unsplash/Eberhard Grossgasteiger
Credit: Providence Church

7. The Lord's Prayer — Matthew 6:9-13 (NIV)

Slide 7 of 10

"This, then, is how you should pray:

'Our Father in heaven,

hallowed be your name,

your kingdom come,

your will be done,

on earth as it is in heaven.

Give us today our daily bread.

And forgive us our debts,

as we also have forgiven our debtors.

And lead us not into temptation,

but deliver us from the evil one.'"

Photo Credit: © Amaury Gutierrez/Unsplash

8. Jacob's Desperate Prayer — Genesis 32:9-12

Slide 8 of 10

Jacob was desperate. He hadn't seen his brother in 20 years and was afraid, so he prays:

Then Jacob prayed, "O God of my grandfather Abraham, and God of my father, Isaac—O Lord, you told me, 'Return to your own land and to your relatives.' And you promised me, 'I will treat you kindly.'

I am not worthy of all the unfailing love and faithfulness you have shown to me, your servant. When I left home and crossed the Jordan River, I owned nothing except a walking stick. Now my household fills two large camps! O Lord, please rescue me from the hand of my brother, Esau. I am afraid that he is coming to attack me, along with my wives and children. But you promised me, 'I will surely treat you kindly, and I will multiply your descendants until they become as numerous as the sands along the seashore—too many to count.'"

Photo Credit: © Unsplash/Kyle Cottrell

9. Psalm 91 (NIV) — A Prayer of Protection

Slide 9 of 10

Whoever dwells in the shelter of the Most High
will rest in the shadow of the Almighty.
I will say of the Lord, "He is my refuge and my fortress,
my God, in whom I trust."

Surely, he will save you from the fowler's snare
and from the deadly pestilence.
He will cover you with his feathers,
and under his wings you will find refuge;
his faithfulness will be your shield and rampart.

You will not fear the terror of night,
nor the arrow that flies by day,
nor the pestilence that stalks in the darkness,
nor the plague that destroys at midday.

A thousand may fall at your side,
ten thousand at your right hand, but it will not come near you.
You will only observe with your eyes
and see the punishment of the wicked.

If you say, "The Lord is my refuge,"
and you make the Most High your dwelling,
no harm will overtake you,
no disaster will come near your tent.

For he will command his angels concerning you
to guard you in all your ways;
they will lift you up in their hands,
so that you will not strike your foot against a stone.

You will tread on the lion and the cobra;
you will trample the great lion and the serpent.

"Because he loves me," says the Lord,
"I will rescue him;
I will protect him, for he acknowledges my name.

He will call on me, and I will answer him;
I will be with him in trouble, I will deliver him and honor him.
With long life I will satisfy him and show him my salvation."

Photo Credit: © Unsplash/JW

10. Psalm 23 (NIV) – The Lord Is MY Shepherd

Slide 10 of 10

The Lord is my shepherd, I lack nothing.
He makes me lie down in green pastures,
he leads me beside quiet waters, he refreshes my soul.
He guides me along the right paths for his name's sake.

Even though I walk through the darkest valley,
I will fear no evil, for you are with me;
your rod and your staff, they comfort me.
You prepare a table before me in the presence of my enemies.

You anoint my head with oil; my cup overflows.
Surely your goodness and love will follow me
all the days of my life,
and I will dwell in the house of the Lord forever.

May these hymns and prayers minister to you at this time.

Photo Credit: © iStock/Getty Images Plus/KristiLinton