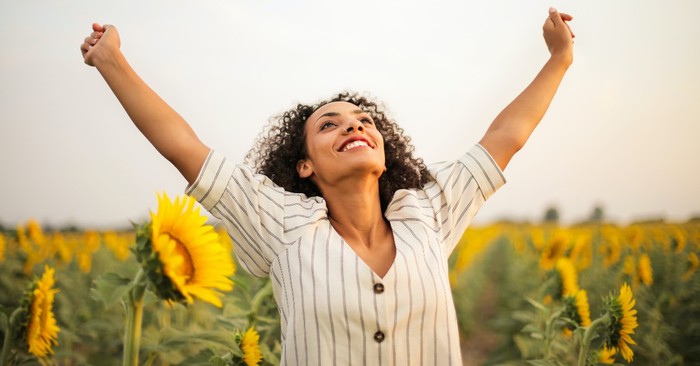 Rather than trying to do it alone, give it to God and let him lead, let him prepare the way, let him deal with the problems that seem too huge to bear, and in this, you will find joy.
We see it on the news every day: bad things happen to good people. We feel it in our own lives when we fight with each other, when we can't afford to pay the bills, when we grieve the loss of a loved one, or when we get bad news for the third time this week.
It's likely that if you're not currently going through a trial, you either just came out of one or you're about to go in one. There are times when you are dealing with multiple trials at one time. Life is not easy.
But what if I told you that no matter how difficult life gets, it is still possible to have joy? We can take heart in knowing that God gives us hope, and in that hope, we find joy.
"May the God of hope fill you with all joy and peace in believing, so that by the power of the Holy Spirit you may abound in hope." Romans 5:13 (ESV)
God never promised that we won't suffer. He never said life is going to be easy. On the contrary, the Bible tells us in several different passages that there will be struggles in this life, even for those who love God.
"I have told you these things, so that in me you may have peace. In this world you will have trouble. But take heart! I have overcome the world." John 16:33 (NIV)
How to Make Joy a Constant in Life
Choose to have joy. Joy is something that you must choose to have. You can choose to dwell on your problems, but that will only bring you down more. When you choose to have joy despite your circumstances, you will be renewed and strengthened.
"A joyful heart is good medicine, but a crushed spirit dries up the bones." Proverbs 17:22 (ESV)
Choosing joy is an intentional shift in perspective. Our natural response when we face problems is to worry, get angry, or be depressed. Next time you're faced with a difficult situation, try joy on for size.
Find Joy in God
We can make joy a constant when we hand our day-to-day struggles over to God. Joy becomes a weapon against the enemy and the darkness that constantly tries to pull us down.
"Don't be dejected and sad, for the joy of the Lord is your strength!" Nehemiah 8:10 (NLT)
The more I find joy in God, the more I am strengthened. I fight my battles by opening up my Bible and reading the truths recorded in the Scriptures by praying and giving all of my worries and concerns to God (1 Peter 5:7) and by keeping my eyes fixed on Him.
"You will keep him in perfect peace, whose mind is stayed on You, because he trusts in You." Isaiah 26:3 (NKJV)
God gives us everything we need to endure trials, yet He does not expect us to walk through them alone.
"Have I not commanded you? Be strong and courageous. Do not be frightened, and do not be dismayed, for the Lord your God is with you wherever you go." Joshua 1:9 (ESV)
Rather than trying to do it alone, give it to God and let him lead, let him prepare the way, let him deal with the problems that seem too huge to bear, and in this, you will find joy.
"Rejoice always, pray without ceasing, give thanks in all circumstances; for this is the will of God in Christ Jesus for you." 1 Thessalonians 5:16-18 (ESV)
See Trials as an Opportunity for Growth
The suffering we endure serves to strengthen our character, spurring us to grow and mature into the people God is calling us to be.
"More than that, we rejoice in our sufferings, knowing that suffering produces endurance, and endurance produces character, and character produces hope, and hope does not put us to shame, because God's love has been poured into our hearts through the Holy Spirit who has been given to us." Romans 5:3-5 (ESV)
If life were easy, we would never grow. Try to see challenges as tests that check our readiness to move on to bigger and better things.
"Blessed is the man who remains steadfast under trial, for when he has stood the test he will receive the crown of life, which God has promised to those who love him." James 1:12 (ESV)
God has so much in store for us, and through the suffering, our faith is put to the test.
The Apostle James tells us to "consider it pure joy" when we are faced with the various trials of life. He says "because you know that the testing of your faith produces perseverance." James 1:3-4
When we change the way we choose to view our trials, it's easy to make joy a constant in this ever-changing world.
Remember That Our Trials Are Temporary
Although we may struggle and suffer with many temporary things, like finances, relationships, or health, we can find hope in knowing our suffering here on earth is temporary. One day we will be restored to Him, and we will suffer no more.
"And after you have suffered a little while, the God of all grace, who has called you to his eternal glory in Christ, will himself restore, confirm, strengthen, and establish you." 1 Peter 5:10 (ESV)
But God tells us that for those of us who choose to love Him and obey Him, we have much to look forward to.
"And we know that for those who love God all things work together for good, for those who are called according to his purpose." Romans 8:28 (ESV)
Look Around and Learn from Others
It helps me keep things in perspective when I remember that it could always be worse. You don't need to look too far to find someone who seems to be dealing with more hardship than you are.
The Apostle Paul was no stranger to struggle. He spent the majority of his Christian ministry behind bars and wrote many of his letters while in chains. He was locked up for teaching the love of Jesus, but chains couldn't quiet him, nor could they steal his joy.
From his jail cell, he rejoiced and praised God and even converted some of the prison guards to turn their hearts to Jesus! What an amazing example of turning a sour situation into something joyful!
Paul made joy a constant in his life because he had hope of a future. If you are ever struggling to find joy, just refer to this passage:
"But we are citizens of heaven, where the Lord Jesus Christ lives. And we are eagerly waiting for him to return as our Savior. He will take our weak mortal bodies and change them into glorious bodies like his own, using the same power with which he will bring everything under his control." Philippians 3:20-21 (NLT)
These two verses display so many promises:
First, this world is not our home. So if you ever feel out of place, like a stranger in this land, it's because you are! You are just visiting. You're a citizen of heaven, and you're just here on earth, passing through.
Second, we're just waiting for Jesus to return and get us so He can take us home. Remember, we only have to suffer for a little while. We have work to do while we're here, so don't allow anything to distract you and waste your time from the work God has called you to do. There's a prize waiting for those who fulfilled their calling while here on earth. "I focus on this one thing: Forgetting the past and looking forward to what lies ahead, I press on to reach the end of the race and receive the heavenly prize for which God, through Christ Jesus, is calling us." Philippians 3:13-14
Third, Jesus is in control. No matter what happens, no matter how terrible the circumstances become, Jesus is still in control, and He has the power to just speak, "Peace, be still," and the storm will die down, and the waters will become calm (Mark 4:35-31).
Finally, this body is temporary. When we finally reach our destination, we will be transformed and given a new glorious body, like Jesus Christ! All of our diseases, pains, and sorrows will be taken away.
Joy Comes from God, Who Never Changes
It is absolutely possible to make joy a constant in your life, even when everything around you is crashing down. It requires that you intentionally focus on God rather than dwell on your current and temporary circumstances.
Joy comes from God, the one who never changes. That is why even as each day is different and full of trials, we can still have joy as long as we keep our eyes fixed on the One who remains the same yesterday, today, and forever (Malachi 3:6, Hebrews 13:8).
Photo Credit: ©Pexels/Andrea Piacquadio
Jennifer Jabbour resides in the scenic San Diego countryside with her husband, teenage son and daughter, and their hilarious English Bulldog. Jennifer has a B.A. in Integrated Business Communications and a life-long desire to share her faith with others so they can also experience the joy of having a relationship with God. She has finally decided it's time to go after her lifelong dream of writing and publishing her first book, and hopefully many, many more thereafter. Besides being a writer, Jennifer is also a brown belt in Brazilian Jiu Jitsu, a photographer, and an avid outdoors-woman. She loves camping, hiking, running, and playing the piano in her free time.
You can keep up with Jennifer on her website https://www.jenniferjabbour.com.
Related podcast:
The views and opinions expressed in this podcast are those of the speakers and do not necessarily reflect the views or positions of Salem Web Network and Salem Media Group.
Related video:
Click to read the full article.
Photo and video Credit: ©SWN Design/©GettyImages
---
---