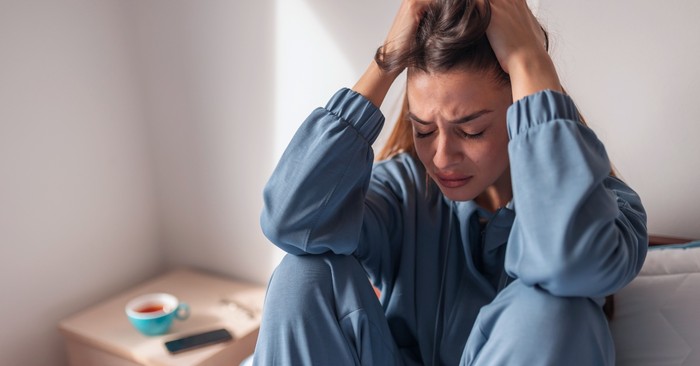 Most importantly, I need to be reminded that God is not blind to the worries of my mind, but He is present with me and has given me the tools that I need to find my way out.
It's unfortunate but I feel sure that this might be the story of my life. It is the random days when I wake up and before my feet even touch the floor that I can already feel the anxiety rising. The temptation is to pull the covers over my head and refuse to move; I will just try again tomorrow.
Life doesn't work that way. I cannot hide under my covers for the rest of my life.
The anxiety doesn't get the last say; there are children to raise, jobs to go to, and lives to live. Even if the appeal of staying in bed is great, it's not the only option in our toolbox. (My counselor would say that remaining in bed is avoidance and not even a tool to use).
Two Options
There are two options when it comes to anxiety; I can avoid it, or I can confront it.
When I open my eyes in the morning, it is going to be up to me. I can pull the covers up, avoid the anxiety that will still be there, or I can confront it with truth and the right tools at my disposal.
When it comes to anxiety, we often fail to do the work, whether that is in counseling or getting help. We let anxiety be the only voice in our minds and the controller of our days. However, we get to have a say here. We get to have the control. It doesn't mean we won't have to fight for it, and it doesn't mean that all of our anxiety will just magically go away.
Philippians 4:4-9 is a passage shared so often when it comes to anxiety. It is a passage that I have clung to more than once or twice in my worst anxiety moments: "Rejoice in the Lord always; again I will say, rejoice. Let your reasonableness be known to everyone. The Lord is at hand; do not be anxious about anything, but in everything by prayer and supplication with thanksgiving let your requests be made known to God. And the peace of God, which surpasses all understanding, will guard your hearts and your minds in Christ Jesus. Finally, brothers, whatever is true, whatever is honorable, whatever is just, whatever is pure, whatever is lovely, whatever is commendable, if there is any excellence, if there is anything worthy of praise, think about these things. What you have learned and received and heard and seen in me—practice these things, and the God of peace will be with you."
Philippians was written by the Apostle Paul, and it is known as the Book of Joy. What I appreciate about it being known for joy is the simple fact that this joy is not based on a circumstance but on Christ alone. Chapter four is the wrap-up of this letter to the Church of Philippi and Paul is pointing believers to the matter of their minds, their anxieties, worries, and thoughts.
The Truth of Anxiety
I appreciate that the Scriptures are not silent on the matter of our minds and our anxieties. God knows how much people would wrestle with these very things, and how often they would need to be reminded about the truth of anxiety and the danger of our thoughts. Jesus, himself, even taught this in His Sermon on the Mount in Matthew 5-7.
The Lord is always with me. Christ's presence abides with us; we are not alone or without Christ in our times of need. Psalm 145:18 says, "The Lord is near to all who call on him, to all who call on him in truth." It casts our eyes upward rather than on our difficulties. Christ being with us and present in our difficulties is an essential reminder for anxiety sufferers.

I don't HAVE to be anxious about anything. Sounds simple in statement, yet can feel much harder in execution. When Paul uses the term "anxious" here, there is an implication that this type of anxiety is not compatible with trusting God. When we fail to take captive our thoughts and combat the anxiety, we are no longer resting in a believing trust in God. We have to challenge the anxiety and the lies that seek to trap our minds. We fail to exercise trust when we don't dwell on what is not true.

Everything means everything. There is nothing that is off-limits. I cannot hold on to my anxiety about my family and only take captive the thoughts that don't sound so bad. Paul's words are focused on all anxiety, not just what we choose. It also means that there isn't any anxiety I cannot place in God's hands. He is capable of handling all things, and He is present in the midst of every worry.

Prayer is essential to the battle. When it comes to anxiety, prayer is essential to the fight. It is crucial for my thoughts and focuses my heart. Paul demonstrates the importance of prayer by using the words "supplication, prayer, requests, and thanksgiving." Prayer is a way to deal with our anxiety; it is one of many ways we can deal with our overwhelming thoughts. 1 Peter 5:7 says, "casting all your anxieties on him, because he cares for you."

Peace is possible. Peace in the middle of anxiety is possible because of Christ. As a believer in Christ, I have full access to His perfect peace. He will answer my prayers with his peace. It does not mean a change of circumstance but it does mean a change of heart and mind. What I love about God's peace is that I cannot always explain it, but a settled mind in the chaos is the evidence of it.

My thoughts matter. What I think about and what I set my mind on matters. That may seem obvious, but nine times out of ten, we don't take stock of where our thoughts are headed. When we set our minds on the right things we are better prepared for the anxious attacks that come and Paul is very specific about where those thoughts are set. We think about what is "true." Ephesians 4:24 says, "and to put on the new self, created after the likeness of God in true righteousness and holiness." Think about what is "honorable" or worthy of respect. Think on what is "just" (Titus 1:8), "be hospitable, a lover of good, self-controlled, upright, holy, and disciplined." Think about what is "pure, lovely, and commendable." These are the thoughts that matter, and these are the thoughts that begin to take up residence in your mind.
This passage encourages my heart and strengthens my mind because it is the exact reminder that I need. I hope it is the reminder that you need. There is a reason that anxiety is mentioned so often throughout Scripture. God knew the reminder would be needed.
Every day I need to be reminded that I am more than the anxiety that seeks to control. I need the reminder that there is a battle plan ready and waiting for me. I need to be reminded that where I set my thoughts matters. I need to be reminded that prayer is a source of strength and a direct access to God's peace. Most importantly, I need to be reminded that God is not blind to the worries of my mind, but He is present with me and has given me the tools that I need to find my way out.
Photo Credit: ©iStock/Getty Images Plus/vladans
Michelle Rabon is a wife and homeschooling mom of three who feels called to help women thrive in their walk with Jesus every day. In 2012, she started Displaying Grace, a ministry that is focused on helping women engage with God's Word. Michelle has also served in women's ministry for the past five years seeking to equip women in the local church through Bible study. When she is not writing or teaching, she enjoys reading, being close to the ocean, and drinking a lot of coffee.
Related podcast:
The views and opinions expressed in this podcast are those of the speakers and do not necessarily reflect the views or positions of Salem Web Network and Salem Media Group.
Related video:
Click to read the full article.
Photo and video Credit: ©SWN Design/©GettyImages
---
---