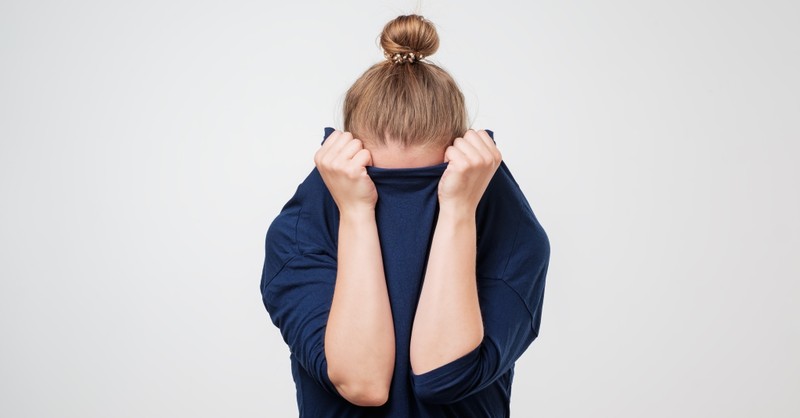 30 Bible Verses on Worry for a Weary Mind
Betsy de Cruz

Crosswalk.com Contributing Writer
Turning your mind to the word of God will help calm your troubled thoughts. The following list of Bible verses can equip you to stand stronger in the battle against fear.
Just when I think I've finally started to trust God with my challenges, worry returns through the back door of my thoughts. All the what-if's and worst-case scenarios come to mind in living color. (Sometimes at 2:00 am.) Turning to Scripture to read Bible verses on worry renews my mind again; it reminds me I have a loving Heavenly Father who cares for every detail of my life.
We may wrestle with worry, but it doesn't have to defeat us. When we turn to the word of God, it vanquishes our fear. Meditating on the wealth of Bible verses on worry will equip us with truths we need to face our challenges.
Worry makes any problem worse and any challenge greater. Not only do we have to make it through what's in front of us, but we also have to struggle under the weight of anxiety. We know worry is useless. We know God is faithful to care for us, yet it's hard to control negative thoughts when they take off down the dark paths of doubt.
Have you ever told yourself you'll stop worrying once you solve your problem, only to find new ones keep cropping up? Have you wondered how to stop your anxious overthinking when there's always something to worry about?
Turning your mind to the word of God will help calm your troubled thoughts. The following list of Bible verses can equip you to stand stronger in the battle against fear. How about choosing one or two verses to memorize? The next time worry comes knocking at your door, you'll be prepared with a truth to declare. As you meditate on God's word and stand on His truth, He'll strengthen you to trust Him.
Photo Credit: © Getty Images/Koldunova_Anna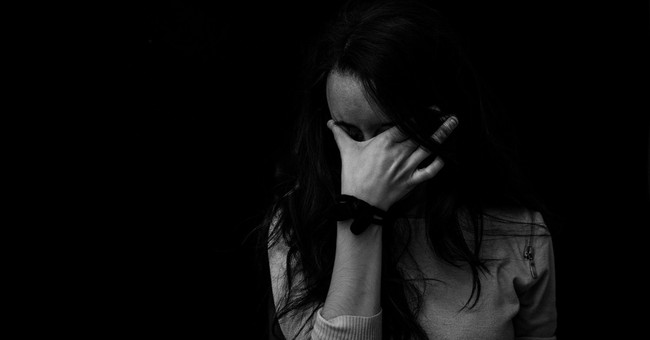 Bible Verses on Worry
1. Matthew 6:25
"Therefore I tell you, do not worry about your life, what you will eat or drink; or about your body, what you will wear. Is not life more than food, and the body more than clothes?"
"Consider the ravens: They do not sow or reap, they have no storeroom or barn; yet God feeds them. And how much more valuable you are than birds! Who of you by worrying can add a single hour to your life? Since you cannot do this very little thing, why do you worry about the rest?"
"But seek first his kingdom and his righteousness, and all these things will be given to you as well. Therefore do not worry about tomorrow, for tomorrow will worry about itself. Each day has enough trouble of its own."
4. John 14:1
"Do not let your hearts be troubled. You believe in God; believe also in me."
5. Luke 10:41-42, NLT
"But the Lord said to her, 'My dear Martha, you are worried and upset over all these details! There is only one thing worth being concerned about. Mary has discovered it, and it will not be taken away from her.'"
Photo Credit: © Juan Pablo Serrano Arenas/Pexels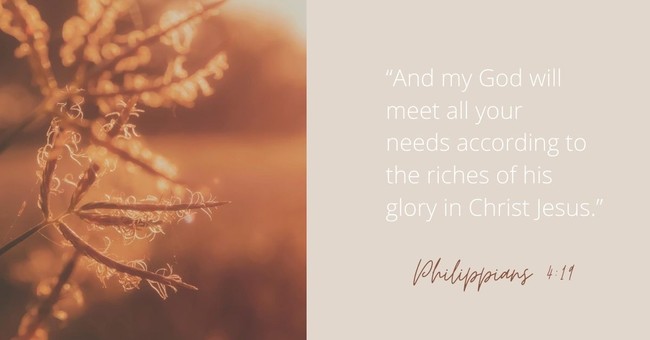 Bible Verses on Worry about Finances
6. Luke 12:22
"Then Jesus said to his disciples: "Therefore I tell you, do not worry about your life, what you will eat; or about your body, what you will wear."
"Keep your lives free from the love of money and be content with what you have, because God has said, 'Never will I leave you; never will I forsake you.' So we say with confidence, 'The Lord is my helper; I will not be afraid. What can mere mortals do to me?'"
"And my God will meet all your needs according to the riches of his glory in Christ Jesus."
"And God is able to bless you abundantly, so that in all things at all times, having all that you need, you will abound in every good work."
10. Psalm 37:25-26
"I was young and now I am old, yet I have never seen the righteous forsaken or their children begging bread. They are always generous and lend freely; their children will be a blessing"
Design Credit: © SWN/Sarah Martin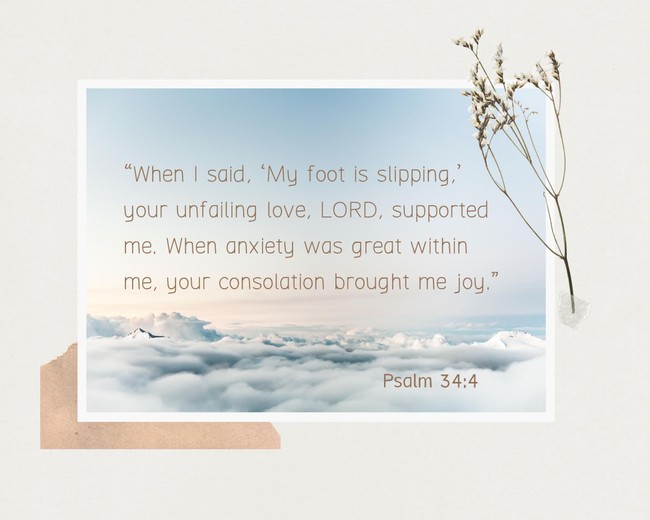 Bible Verses on Anxiety
11. 1 Peter 5:7
"Cast all your anxiety on him because he cares for you."
"Do not be anxious about anything, but in every situation, by prayer and petition, with thanksgiving, present your requests to God. And the peace of God, which transcends all understanding, will guard your hearts and your minds in Christ Jesus."
13. John 14:27
"Peace I leave with you; my peace I give to you. Not as the world gives do I give to you. Let not your hearts be troubled, neither let them be afraid."
14. Psalm 94:18,19
"When I said, 'My foot is slipping,' your unfailing love, LORD, supported me. When anxiety was great within me, your consolation brought me joy."
15. Psalm 34:4, NLT
"I prayed to the LORD, and he answered me. He freed me from all my fears."
16. Isaiah 26:3-4, ESV
"You keep him in perfect peace whose mind is stayed on you, because he trusts in you. Trust in the LORD forever, for the LORD GOD is an everlasting rock."
Design Credit: © SWN/Sarah Martin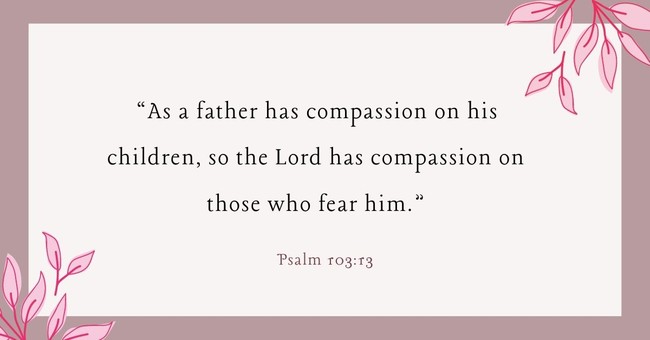 Bible Verses on God's Care for You
17. Matthew 10:29-31
"Are not two sparrows sold for a penny? Yet not one of them will fall to the ground outside your Father's care. And even the very hairs of your head are all numbered. So don't be afraid; you are worth more than many sparrows."
18. Matthew 6:31-32
"Therefore do not be anxious, saying, 'What shall we eat?' or 'What shall we drink?' or 'What shall we wear?' For the Gentiles seek after all these things, and your heavenly Father knows that you need them all."
19. Psalm 23:5-6
"You prepare a table before me in the presence of my enemies. You anoint my head with oil; my cup overflows. Surely your goodness and love will follow me all the days of my life, and I will dwell in the house of the Lord forever."
20. Psalm 103:13
"As a father has compassion on his children, so the Lord has compassion on those who fear him."
21. Isaiah 49:15-16a
"Can a mother forget the baby at her breast and have no compassion on the child she has borne?
Though she may forget, I will not forget you! See, I have engraved you on the palms of my hands…"
Design Credit: © SWN/Sarah Martin
Bible Verses to Remember God is With You
22. Psalm 23:4, NLT
"Even when I walk through the darkest valley, I will not be afraid, for you are close beside me.
Your rod and your staff protect and comfort me."
23. Isaiah 41:10
"So do not fear, for I am with you; do not be dismayed, for I am your God. I will strengthen you and help you; I will uphold you with my righteous right hand."
24. Isaiah 41:13
"For I am the Lord your God who takes hold of your right hand and says to you, Do not fear; I will help you."
25. Joshua 1:9
"Have I not commanded you? Be strong and courageous. Do not be afraid; do not be discouraged, for the Lord your God will be with you wherever you go."
Bible Verses on Trusting God with Your Worries
26. Proverbs 3:5-6
"Trust in the Lord with all your heart, and do not lean on your own understanding. In all your ways acknowledge him, and he will make straight your paths."
27. Isaiah 12:2, ESV
"Behold, God is my salvation; I will trust, and will not be afraid; for the Lord God is my strength and my song, and he has become my salvation."
28. Psalm 9:9-10
"The Lord is a refuge for the oppressed, a stronghold in times of trouble. Those who know your name trust in you, for you, Lord, have never forsaken those who seek you."
29. Psalm 28:7
"The Lord is my strength and my shield; my heart trusts in him, and he helps me. My heart leaps for joy, and with my song I praise him."
30. Romans 8:28
"And we know that in all things God works for the good of those who love him, who have been called according to his purpose."
More uplifting resources to help you deal with worry:
21 Bible Verses for Sleep and Rest When Your Soul Needs Peace
30 Day Prayer Challenge for Stress and Anxiety
5 Spiritual Disciplines to Lighten Your Load
Good Stress, Bad Stress, What's the Difference?
How to Help Someone with Anxiety
Design Credit: © SWN/Sarah Martin
Betsy de Cruz writes and speaks to help overwhelmed women take small steps to invite more of God's presence and power into their lives. Connect with Betsy and get a free Quiet Time Renewal Guide at FaithSpillingOver.com. Her book More of God is a distracted woman's guide to more meaningful quiet times. Betsy and her husband José live in Arlington, Texas and love hanging with their two young adult children.
---
Want more interaction with the women of iBelieve? Join our fans, writers, and editors at the iBelieve Facebook group, Together in Faith, for more videos, stories, testimonies, prayers and more. Visit here to join the community!
Comments
---
---