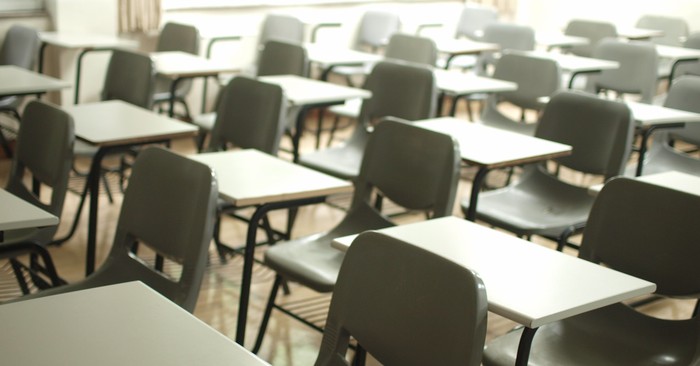 The sad fact is that many children are not taught much about values at home. Their parents may not even pay much attention to them, and they may spend too much time online where other youngsters may say cruel, hateful things to them.
Many Christian parents' radars have been aroused regarding a popular secular curriculum known as Social Emotional Learning (SEL). It is a tool that is being used in public schools with the purpose of helping schoolchildren approach life's problems with a cool head rather than turn to angry outbursts that have been known to result in violence.
It is no secret that there have been way too many school shootings (actually one is too many) over the last few decades because some schoolchildren never learned the best way to handle being bullied or tackle other awkward and uncomfortable feelings that might come up in their relationships with fellow students. The sad fact is that many children are not taught much about values at home. Their parents may not even pay much attention to them, and they may spend too much time online where other youngsters may say cruel, hateful things to them. Where did we go wrong when an entire generation seems to be lost online and clinging to social media as their only source of relationships, miserable as they are?
How Do We Help Our Kids Deal with Feelings?
I belong to a group that started in our church called Real Impact. It was originally created with the purpose of finding out how candidates for office in our area stacked up regarding their attitudes about moral/political issues. However, we have also waded into the area of trying to monitor what is going on in the public school classrooms. Although the area of Utah where I live is relatively conservative, we still have to make sure we are aware of what our children are being taught. Wokeness can creep in anywhere.
So a concern arose in the late spring of this year about a program that was being introduced into the local middle and high schools that is known as Social Emotional Learning, SEL for short. All sorts of rumors were going around about it, such as it was promoting inclusivity (which is often interpreted as a buzzword for promoting unbiblical ideas). So my small group decided to carefully examine the program for ourselves to find out if there would be anything really objectionable in the proposed curriculum. The particular curriculum the local school district is planning to use is called Life Launch University. It is a series of about 90 short videos that students will be viewing.
Since no one in our group had the time to go through all 90 or so videos, we divided them up between us so that each group member had approximately 20 short videos to review. As I went through all the videos assigned to me, I did not find anything terribly objectionable in them, considering that they were targeting a secular audience in public schools, and I did find some very useful strategies for teens and preteens to handle issues such as anger, fear, or other strong emotions. Not only that, when my group got back together to review the videos we had all watched, we realized that each video lesson left room for inserting Scriptural principles that Christian youth (or anyone, for that matter) could apply to the lessons.
Here is one example of what I saw in the videos that could be very useful to young people struggling with negative emotions at a very pivotal, and often very sensitive, time in their lives:
The primary subject of Lesson 8 was emotional hijacking and how to deal with it constructively. First, the lesson provided a basic definition of hijacking, which is "A hijacker forcibly takes control of a vehicle." From there students learn how the brain operates under stress or upset and how to recognize when they are being "emotionally hijacked," which means that someone has taken control of their mind by initiating a very stressful, upsetting situation. Questions presented to them for dealing with such situations included:
Is it helpful to keep emotions this intense? Are those emotions furthering their values and goals?

How can they check their emotional intensity and regain control?

Then they learn to explore triggers, feelings, thoughts, and urges, all within a calm setting. Each video in Lesson 8 offered a "mindfulness moment" that suggested strategies such as paying attention to one's senses as a way to slow down the mind when it may be operating at very high RPMs in an upsetting situation. While these "mindfulness moments" are very secularized, there is nothing outright objectionable in them. They generally amount to variants of the advice many of us received when we were growing up like "counting to ten" before firing a retort at someone who upset us.
How Can SEL Employ Christian Principles?
A blog on the website CurriculumTrak made a very profound statement regarding the significance of SEL to the young Christian students. It reads as follows:
"God is very concerned for our social and emotional wellbeing. He created us to be beings that live and thrive in relationships. He also loved us enough to do the best social emotional teaching that exists. He sent His Son, Jesus Christ, to be a model for us here on earth."
The competencies that SEL seeks to inculcate in students include:
Self-awareness

Social awareness (relationship skills)

Self-management

Responsible decision-making
The St. John's School website, which specializes in curriculum for grades K-8, adds a few other goals in teaching SEL. Those include:
Feeling and showing empathy for others

Establishing and maintaining positive relationships

Setting and achieving positive goals
In fact, the St. John's website highlights the bedrock principle behind SEL from the Christian point of view, which is Matthew 22:37-39:
"Jesus declared, 'Love the Lord your God with all your heart and with all your soul and with all your mind. This is the first and greatest commandment. And the second is like it. Love your neighbor as yourself.'"
How Can Parents Approach SEL in Their Children's Schools?
This is the question that my impact group considered as we approached how we would inform local churches and Christian parents regarding the SEL curriculum. Clearly, the videos were very secular in nature, especially in the use of the "mindfulness moments" that could be considered to be very similar to yoga meditative exercises. In the introductory video, the host touted several well-known celebrities such as Oprah Winfrey and Hugh Jackman as examples of people who made a daily practice of "meditating," which would reflect the influence of Eastern religions. So, after watching that video, my critical "antennae" went up regarding what I might encounter in later videos. But again, as I watched the other videos, I did not find anything actually objectionable and generally encountered positive approaches to problems that young people might deal with in their lives.
As my impact group discussed the curriculum, we agreed that parents and youth group leaders should first be aware of the curriculum content. We published a flyer that encouraged youth leaders to view the videos for themselves with the goal of using them as a springboard for employing Scripture to help students learn to solve relational challenges. Additionally, parents could use the lessons taught in the curriculum to teach their children kind and considerate behavior, even under stress, again applying Scripture to deal with the scenarios presented.
This does require vigilance on the part of parents because our group was informed that teachers would not necessarily be sending homework with the students. So parents need to specifically ask the teachers presenting the curriculum to send homework based on it because there are worksheets for students to complete. That way they can understand what is being taught to their children and how it can be used to further Christian education at home.
Of course, Life Launch University is not the only SEL curriculum available. The experience I relate in this article is based on that particular curriculum. In today's public education environment, most Christian parents have already learned, through hard experience, to acquaint themselves with everything their children are being taught. It is a matter of being vigilant in the education of their children and being the in-home "salt and light" to them.
Photo Credit: ©Mche Lee/Unsplash
Cathy Wentz lives with her husband, Brian, in Cedar City, UT, and has been a believer in Jesus Christ for more than 30 years. She has two grown children and four grandchildren, all who live in Cedar City. Her writing experience includes working as a newspaper reporter for eight years, and she currently serves as a public relations assistant for a local orthopaedic surgeon, which involves writing blogs, social media posts and other web content.
Related podcast:
The views and opinions expressed in this podcast are those of the speakers and do not necessarily reflect the views or positions of Salem Web Network and Salem Media Group.
Related video:
Click to read the full article.
Photo and video Credit: ©SWN Design/©GettyImages
---
---