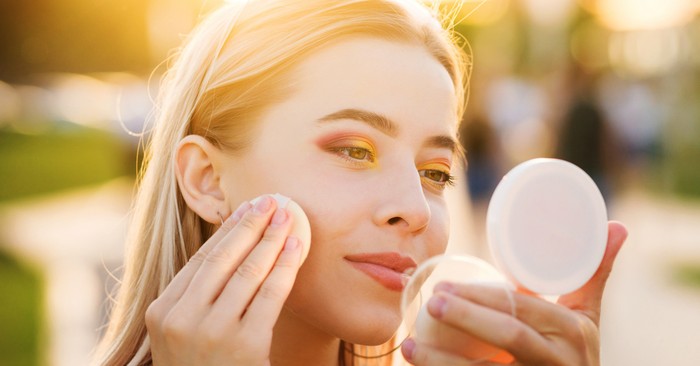 It may come as a surprise that the U.S. beauty industry isn't highly regulated. This means personal care products are more likely to contain potentially harmful ingredients.
The moment your feet hit the floor in the morning, your body is in constant contact with products:
—The laundry detergent your undergarments were washed in
—The toothpaste you used this morning
—The swipe up and down of the deodorant you used today
—The facial cleanser you'll use before hitting the pillow tonight
All of these things are interacting with your body. Whether it is applied on top of the skin, inserted into the body, or even inhaled, what you put on you will end up in you. That's why it's critical for us to aim for using clean beauty products.
Clean beauty products are skin-care, hair care, and cosmetics that are free from harmful chemicals. With clean beauty products, we mustn't focus only on the "natural" ingredients that have been added to the products but more so on what's left out of the product. A product may be infused with shea or coconut (clean and natural), but if it also contains phthalates, sodium lauryl sulfate, and the mysterious "fragrance," we need to take caution.
No matter your skin type, race or age, all women should look to use products that support total well-being inside and out. Whether it's your eye shadow, your lip balm, or your lotion, it's interacting with your body, namely by way of the skin.
It may come as a surprise that the U.S. beauty industry isn't highly regulated. This means personal care products are more likely to contain potentially harmful ingredients. While Europe has banned or restricted over 1300 chemicals from being used in personal care products, the U.S. has only banned 11. But we won't allow that to make us anxious. We will remember that the Lord did not give us a spirit of fear (2 Timothy 1:7). And we will proactively seek out clean beauty products that are least harmful to our skin.
As our largest organ, our skin is responsible for so many functions, including serving as a protective barrier from outside elements. Our skin can also be a reflection of our overall health. When looked upon, our skin can communicate health, vigor, and even youthfulness. One glance upon David and both Samuel and the Philistine noted his appearance, namely his skin (1 Samuel 16:12, 1 Samuel 17:42).
Parsing through the list of ingredients to figure out what is harmful and what's not can be daunting. The names of the ingredients alone can make you feel like you need a degree in Chemistry to decipher everything. Fortunately, there are organizations like the Environmental Working Group which has a database called Skin Deep that evaluates, reviews, and rates skincare products. But even databases like this can be a little overwhelming to sift through, so we've taken some of the guesswork out of it for you.
Here are seven staple clean beauty products that every woman needs:
1. Moisturizer
Not only for those with dry skin, moisturizer is a daily essential for all skin types. Moisturizers serve as a barrier between your skin and the harsh environment. They work to keep your skin moist and ward off wrinkles. Moisturizers even help those with oily skin. It's a myth that moisturizers will make oily skin even worse. Paula's Choice has a complete line of moisturizers, many with SPF built in. For moisturizing the body, I'd be remiss if I didn't mention almond oil, coconut oil, vitamin E oil, and shea butter. These single-ingredient oils straight from nature leave your skin feeling smooth and soft yet not greasy.
2. Sunscreen
Not only designed to protect from harmful rays, sunscreen can help us prevent certain types of cancers, sagging, wrinkles, and lines. Think has a sunscreen line for the entire family. From sports to babies, they've got you covered, literally. Another clean sunscreen is BGS. Some have assumed that having melanated skin doesn't warrant wearing sunscreen but that's not fully accurate. All skin needs protection, and this product is formulated with that in mind.
3. Cleanser
Dirt. Grime. Dust. Our faces seem to attract a million little particles every day, so it's important to have a gentle yet effective daily facial cleanser. Look no further than Alaffia's Everyday Coconut Cleanser. Its ingredients are straight from the good of the earth, just the way God intended. And the price can't be beat. You'll definitely want to add this one to your daily wellness lineup. And let us not forget Biore's long-held, all-purpose, deep-pore cleanser.
4. Deodorant
Your fearfully and wonderfully made body was designed to sweat. Sweating allows you to regulate body temperature, release toxins, and more. Traditional deodorants, which include antiperspirant block, your sweat receptors with potentially harmful ingredients. So ditch the antiperspirants and reach for clean deodorants. Queen by Play Pits will have you smelling divine and feeling fresh. And if you're looking for a clean deodorant that doesn't have baking soda (A common ingredient in natural deodorants but can cause rashes for some), look no further than Native. They have an extensive line of deodorants including sensitive skin ones free of baking soda like this Coconut & Vanilla one.
5. Lip Balm
Cracked, peeling, drying out— NO ONE wants to feel that on their lips. Soft lips begin with proper hydration that can be supported with a nourishing lip balm. And lip balm is definitely one product that you want to go clean with since you're practically eating it all day. Burt's Bees has a long history of supplying families with clean, wholesome body care products. Their lip care line includes conditioners, scrubs, tinted balms, and more.
6. Shampoo and Conditioner
Whether curly or straight, your hair deserves the best of the best. You want it to shine, smell amazing, and feel luxurious. Love Beauty & Planet's products seek to do just that. Made with certified vegan, cruelty-free ingredients, these products are readily available in your local big box stores.
7. Makeup
Leading the way in clean beauty products, specializing in makeup, is Beautycounter. Not only are their products good for the skin, but they are also responsibly sourced. Remember that foundation, shadow, and blush are all interacting with your pores.
Bonus Product
Just for good measure, I had to throw in a bonus item. Though not technically a beauty product, feminine products are a need for most women and teen girls. As such, they need to be clean as they'll come into close contact with one of the body's most delicate parts. Most conventional menstrual products contain harsh chemicals and bleaching agents. Fortunately, we have several options for that time of the month. Thinx makes a vast line of reusable period panties that absorb the monthly flow. June cup is a medical-grade silicone cup that captures the flow. And I can tell you that in my Mom community, many women and their daughter's have reported reduced monthly cramping by switching to these reusable, non-toxic menstrual products.
Clean beauty products support us in our efforts to honor our bodies. After all, the body is the temple of the Holy Spirit and should be treated with great regard. Let us be reminded of the scriptures which tell us, "Or do you not know that your body is a temple of the Holy Spirit within you, whom you have from God? You are not your own, for you were bought with a price. So glorify God in your body." 1 Corinthians 6:19-20
With these clean beauty products listed above, we can feel good knowing that we're caring for the temple inside and out.
Photo Credit: ©GettyImages/Vagengeym_Elena
Tyra Lane-Kingsland is a speaker, Women's Ministry Director and author of the book Purposeful Parenting. She enjoys facilitating the classes she's developed on parenting and Health & Wellness. It is her assertion that health is wealth and believes that optimal health is achieved through proper nourishment, rest and exercise. Tyra is an attentive wife and mother of six. Knowing that God causes all things to work together for good, she is on a passionate pursuit to see women inspired to live fully!
Related podcast:
The views and opinions expressed in this podcast are those of the speakers and do not necessarily reflect the views or positions of Salem Web Network and Salem Media Group.
Related video:
Click to read the full article.
Photo and video Credit: ©SWN Design/©GettyImages
---
---