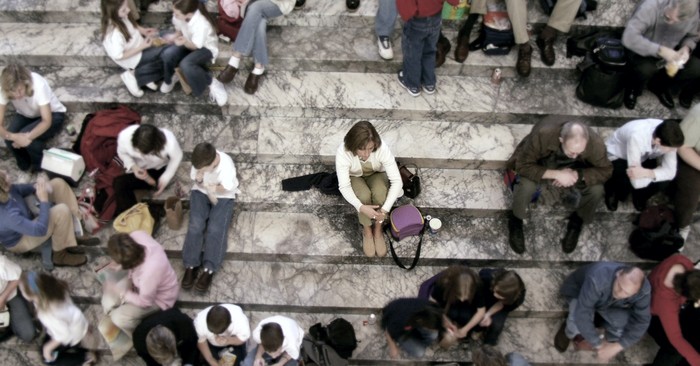 Friend, if we were perfect, we would not need a Savior. Yes, it would be so much easier if we were self-sufficient, but we were never meant to be set apart from God.
After multiple years as a stay-at-home mom, the world outside the walls of my home felt scary. All the conversations that I might have felt terrifying. The eyes of others on me when the only eyes that had seen me day after day were the "safe" eyes of my kids and my husband left me petrified. How would I even know how to interact with another human being when I had been communicating with a baby and a toddler most of my days?
I explained away my worries as not having as much adult interaction, but it was more than that. The way I would ruminate over every spoken word, analyzing the body language and facial expressions of the people around me, the weight of fear that I would do something to embarrass myself, or all the ways I would fail to meet the expectations of others and my own expectations, kept me on edge. I have told my husband more than once that I could stay inside the walls of our home and never leave. Not because I don't want to leave, but because life is so much easier when I am at home. At first, I figured it was just a continuation of my anxiety and depression. But, I came to realize that it was another form of anxiety altogether.
The National Institute of Mental Health defines Social Anxiety Disorder as "an intense, persistent fear of being watched and judged by others. This fear can affect work, school, and other daily activities. It can even make it hard to make and keep friends."
Does this or the following sound familiar to you or someone you love?
Psychology Today used these phrases, and many more, as common statements from those who experience social anxiety:
"I feel paralyzed and speechless when someone I don't know starts talking to me."
"If most people are already seated in a room, I'm highly reluctant to enter it."
(Here I am with my hand raised! I am often running late to church. Once I get through the glass doors into the foyer, if I hear the melodious sound of voices praising the Lord, I will open the door and quickly find a seat. If I do not hear the sounds of worship, I have to work up the courage to open the door, keep my head down, and quickly find the closest seat—all while my heart feels like it's going to beat out of my chest.)
"I become tense at casual get-togethers."
Maybe you can relate to one or more of these. Now that we have defined and described social anxiety, where is the hope we are searching for? Our hope is found in the Lord, so let's search His Word together.
"O Lord, you alone are my hope." Psalm 71:5 NLT
Let's discuss five bits of hope through social anxiety:
1. Be Kind to Yourself
Many times we are our own worst critics. We set ourselves up for failure with unrealistic expectations, or we conjure up expectations that we "feel" others have for us. Here is your reminder to extend yourself the same amount of grace and patience to yourself that you extend to others. You are learning and growing despite the struggles you are facing. When you are already feeling down about yourself, the enemy loves nothing more than to collapse the walls of a house in on itself. If he can find an open door to get his foot into, he will wreak havoc wherever he can, especially on your heart and mind. Our own understanding will lead us to exchange the enemy's lies for truth. Our own understanding cannot be trusted. This is why we must trust in the Lord and depend completely on Him.
"Trust in the Lord with all your heart; do not depend on your own understanding. Seek his will in all you do, and he will show you which path to take." Proverbs 3:5-6 NLT
2. You Are a Masterpiece in the Eyes of the Lord
You are going to fail, you are going to make mistakes, you are going to have all eyes on you, you are going to freeze up, but that is not the end of your story. If we can accept that these moments may or will happen, we are choosing to believe that, despite our biggest fears, we are the work of His hands even amid our struggles. Friend, if we were perfect, we would not need a Savior. Yes, it would be so much easier if we were self-sufficient, but we were never meant to be set apart from God. We were always meant to stay in close communion with the Father. When we stay rooted in Him, we will flourish in the way He designed us to be.
"For we are God's masterpiece. He has created us anew in Christ Jesus, so we can do the good things he planned for us long ago." Ephesians 2:10 NLT
3. Discover the Root of Your Anxiety
What is the reason for the tightening in our chest, shallow breaths, or rapid heartbeat? Is it fear of failing? Messing up? Embarrassing myself? Of keeping a conversation going? Social anxiety affects each of us differently, but when we understand the "root reason" we can know how to pray, seek help, or move through our struggle with certainty.
"And now, just as you accepted Christ Jesus as your Lord, you must continue to follow him. Let your roots grow down into him, and let your lives be built on him. Then your faith will grow strong in the truth you were taught, and you will overflow with thankfulness." Colossians 2:6-7 NLT
Friend, the root of our social anxiety is rooted in the lies of the enemy. Right now, where can we replace the lies with God's truth?
Example: "Everyone is going to think I am a failure." — I am an imperfect daughter of the King. In my failures, I see my need for the Savior.
Example: "Everyone is going to see that I am late to church, again." – I am doing my best to get to church on time, but whether I am on time or late, God sees my heart and desire to be in the Lord's house.
4. Speak Scripture over Your Heart
In moments that feel overwhelming, reminding ourselves of the promises in the Word of God can replenish the peace we have lost in the face of fear. His Word is a promise, the truth, and a comfort in all circumstances.
"So be strong and courageous! Do not be afraid and do not panic before them. For the Lord your God will personally go ahead of you. He will neither fail you nor abandon you." Deuteronomy 31:6 NLT
Others around us may cast judgment unknowingly in their mannerisms or responses, but the Lord will never fail us or abandon us. We can walk in confidence that He is for us. But, we must spend time in His Word to carry His Word around in our hearts.
5. Remember God is Present in Our Struggles
Whatever the "root reason" for our social anxiety, let's remember the truth that God is present with us in every moment we face. We are never alone in our anxiety, in a moment of embarrassment, or when all eyes are on us.
"Don't be afraid, for I am with you. Don't be discouraged, for I am your God. I will strengthen you and help you. I will hold you up with my victorious right hand." Isaiah 41:10 NLT
We can be assured that He is with us, and He will help us. The Amplified Bible describes the victorious right hand of God as "a hand of justice, of power, of victory, of salvation." No matter the size of our fears and doubts, our God is greater. His power cannot be matched. We have victory in His name over the seeds of lies that the enemy tries planting in our hearts and minds.
Social anxiety is hard, but it is not more powerful than the mighty working Hand of God in our lives. It will take time, perseverance, preparation, and hope, but it is possible to thrive amid this struggle. Friend, I want to leave you with the truth that you can proclaim with confidence in any circumstance social anxiety is hindering:
I am rooted, firmly planted, in the Lord. He is my firm foundation.
The Lord will personally go ahead of me.
Although I will make mistakes and fail, God will not fail me or abandon me.
I am a chosen race, a royal priesthood, a holy nation, a people for God's own possession.
God called me out of darkness (out of my struggles, fears, and doubts) into his marvelous light. 1 Peter 2:9-10
The Lord is with me. He will strengthen me and help me.
God is the source of my hope.
Photo Credit: ©Stock/Getty Images Plus/spfoto
Laura Spurlin is a Christian, wife to her high school sweetheart, mama to her kiddos, nurse, and writer that has a passion for sharing what the Lord puts on her heart about motherhood, mental health, and all things in the Word of God.
Related podcast:
The views and opinions expressed in this podcast are those of the speakers and do not necessarily reflect the views or positions of Salem Web Network and Salem Media Group.
Related video:
Click to read the full article.
Photo and video Credit: ©SWN Design/©GettyImages
---
---