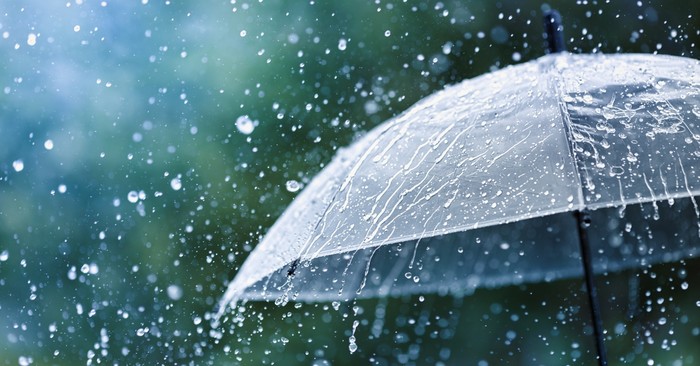 Light always drives out darkness, so remember, no matter where you go or what you do, as God's child, you reflect His light.
Have you ever experienced several days of overcast, rainy weather and wondered, "When's the sun going to come out?" If you have, you're not alone. Happiness, better mood, better disposition, better outlook, and more motivation seem to rise to the surface when the sun's shining.
Sunshine plays a huge role in our physical and mental health. Research shows that the availability of sunshine has more impact on our mood than temperature, rain, or any other environmental factor.
When most of us think of a sunny day, we envision fun activities, being content, and having peace, joy, and happiness. We seem to have more energy and a positive attitude, and everything seems better when the sun's out. Life, in general, just seems brighter. If you tend to think like that, what happens when the days are overcast and a little dreary?
You may feel a little down, have less energy, and not feel as motivated when the sun's not shining. It seems to be a natural response to search for the light switch when we walk into a dark room or long for sunny days after several days of rain and dreariness. God created us to long for the light.
When we walk through difficult circumstances in life like job loss, health crises, loss of relationships, or loss of loved ones, it can seem like the sun is not shining and that darkness is looming over us. We may even start to wonder if things will ever get better.
My family walked through many days that seemed dark and dreary during my husband's extended illness with Lyme disease and during my daughter's recovery after being hit by an eighteen-wheeler. As we were walking through these difficult times, cards, text messages, visits, and meals from family and friends brightened our days. These rays of sunshine lifted our spirits and renewed our hope for better days.
God's Word encourages us to remember the hope we have. Peter reminded his fellow believers in 2 Peter 1:12, "So I will always remind you of these things, even though you know them and are firmly established in the truth you now have."
As a Christian, you know these things, but it helps to be reminded of the following three truths when the sun is not shining in your life:
1. God Is Always Good, and He's Good to Me
God always does what is right, true, and good. It's His character, who He is. You can count on Him to be with you every day, and that's something to celebrate. Psalm 100:5 says that "For the Lord is good and his love endures forever; his faithfulness continues through all generations."
God's goodness is seen in His plan to redeem you from your sins so you can have a relationship with Him. God loved you so much that He sent His one and only Son to die on the cross so you could be forgiven. (John 3:16)
God has good plans for you. Jeremiah 29:11 reminds you that God knows the plans He has for you, and they are good and filled with hope. When you are walking through a difficult season of life, Psalm 34:8 invites you to "taste and see that the Lord is good; blessed is the one who takes refuge in Him."
God gave you the Holy Spirit as your Counselor. (John 14:15-17) As a child of God, you've been given the Fruits of the Spirit. You can walk in peace (John 16:33) as you face difficult seasons of life without being worried or anxious (Philippians 4:6).
2. I Can Trust God
Because you are God's child, you have a relationship with Him. Trust is a key ingredient in all relationships. Trusting God means you can count on God to be who He says He is and to do what He says He will do. (1 Kings 8:56)
Trusting God is an opportunity to live out your faith. This is when you believe in the promises of God found in His Word, even when you can't feel or see such promises.
When the days seem dreary, and it's a difficult season of life, you have a promise from God in His Word that He will never leave you or forsake you. (Deuteronomy 31:8)
In your sadness, grief, and suffering, you can "Trust in him at all times, you people; pour out your hearts to him, for God is our refuge." (Psalm 62:8)
Proverbs 3:5 tells you to "Trust in the Lord with all your heart and lean not on your own understanding." Even when you don't understand why certain things happen, you can trust that God's plans are perfect, holy, and righteous, and He will work out all things for your good. (Romans 8:28)
3. I Have God's Light
Jesus said, "I am the light of the world. Whoever follows me will never walk in darkness, but will have the light of life." (John 8:12)
Light always drives out darkness, so remember, no matter where you go or what you do, as God's child, you reflect His light.
"You are the light of the world. A city that is set on a hill cannot be hidden. Neither do men light a candle and put it under a basket, but on a candlestick. And it gives light to all who are in the house. Let your light so shine before men that they may see your good works and glorify your Father who is in heaven." (Matthew 5:14-16)
Because you have God's light living inside of you, you can never be in complete darkness. The heaviness of life's difficulties can bring up a lot of emotions and cause your perspective to seem overcast, gray, and even hopeless.
God never promised that life in this sin-filled world would be without sorrow and that we would never experience sickness or difficulty. But when we remember who God is and who we are, our hope is renewed, and our outlook is brighter for the days ahead.
Because our foundation is built on Christ, we can weather the sunless, difficult circumstances of our lives and walk through them strengthened as God's beloved children. The rains may come, and we may be tossed about, but we will be able to withstand whatever comes our way, and we will not fall. (Matthew 7:24-25)
We don't know what the future holds, and at some point, we may experience more difficult circumstances. Even when there are unknowns, memories of previous health crises, financial and other losses, and looming new health, financial, or relationship issues, God is good, you can trust Him, and you can move forward in who you are in Christ.
Be encouraged by the lyrics of this beautiful song by Lauren Daigle.
Remember
"In the darkest hour, when I cannot breathe
Fear is on my chest, the weight of the world on me
Everything is crashing down, everything I had known
When I wonder if I'm all alone
I remember, I remember
I remember, I remember
You have always been faithful to me
I remember, I remember
Even when my own eyes could not see
You were there, always there
I can't stop thinking about
I can't stop thinking about
I can't stop thinking about
Your goodness, goodness"
Photo Credit: ©Getty Images/Julia_Sudnitskaya
---
---