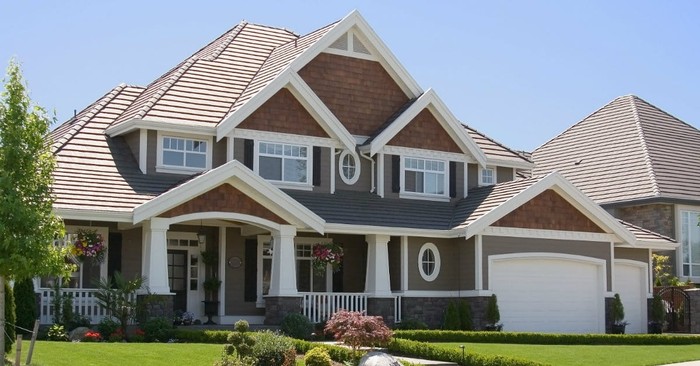 Today I told my husband that I no longer wanted to fulfill the dream of building our "dream home." I could instantly see relief in his face as I earnestly told him that I'd rather he be able to quit his high-pressure job that affords zero work-life balance.
Today I told my husband that I no longer wanted to fulfill the dream of building our "dream home." I could instantly see relief in his face as I earnestly told him that I'd rather he be able to quit his high-pressure job that affords zero work-life balance.
I realized that my husband would never be free of his job if we built a house. Not only would he have to stay in his high paying job, but it would mean that he wouldn't be able to retire at the age he'd planned.
Let's face it: pretty soon, our son won't want to be around as much. The longing for solitude and separation and signs of puberty will come. Everyone who has a teenager—or who has ever been a teenager—knows teens are rarely home! And if they are home, they're locked away in their bedrooms. So I could see me sitting there all alone on our new home's huge front porch in my rocking chair, sipping coffee, and feeling even lonelier than ever.
Three years ago, we purchased four acres of land I'd dreamt about living on since I was a child. I don't know why, but this piece of land always called to me. It seemed peaceful there, wooded and shaded and full of woodland creatures, not the scary ones, but the nice ones like Bambies and Thumpers.  
We prayed about purchasing it and felt that God wanted us to have this for our future home.  And so we have been making a mortgage payment on top of our home's mortgage payment, in hopes that we'd pay it off soon and build a comfy dream house—not a huge one, but certainly one bigger than the 1300 square feet we're currently living in.
We were excited.
Now—not so much.
Priorities Change
We never thought that would happen.
It happens.
Last year, it really hit me hard whenever my husband and I  were talking about what kinds of plans we wanted for the house and what we couldn't live without. We were  "dreaming" about how awesome things would be in our large, comfy home with its gigantic closets, no stairs to climb, anything-but-white kitchen, and our back patio with brick fireplace.
My husband responded, "Well, Babe, it really doesn't matter to me because I'll just be sleeping there. So whatever you want is cool with me."
That stopped me cold. And my heart sank.
He was exactly right. He'd rarely be home to enjoy it.
So why do I want to burden us with the expense and headache of building a house that my husband never gets to enjoy because he's always gone to work paying for it?!?
When you put it that way…
I DON'T!
But "that way" is the truth. That's exactly what would be happening.
Saying "Goodbye" to Our Dream Home and "Hello" to Our Dream Family
As I grow older and closer to Him, I understand more about the temporal and eternal things of life. Since I was created in my mother's womb, I have been in a state of decay, just as has those things around me. Cars, trucks, boats, planes—our "toys," if you will. Those things are all in a state of decomposition.  
Metal will rust and fiberglass will deteriorate in time. This new house we were going to build will deteriorate right along with everything else that's temporal. Yes, even a "dream house" will decay.
Likewise, this body of mine houses my soul. It is nothing more than a house, a temple. And just like every house or temple, this body of mine will no longer stand tall someday. But what's in my "house,"— that part of me that is truly eternal, my soul, will live on. "Praise God!
There's nothing wrong with having a huge, new home if it's right for your family and circumstances. And I'll not pretend that I wouldn't want to have that for myself.
But what I want more, so much more, is time with my husband and son.
It just doesn't seem worth the sacrifice to me.
I'm convinced that the God I know and love wants good things for me but not at the expense of my family.  
God cares about our family, and He cares about yours. He cares about our hearts, the sacrifices we make, the impacts we have on others. I'm convinced that God wants us to put people before objects and that we do it in His name.
When I told my husband that all I really wanted wasn't, in fact, a dream home but for him to be less stressed and at home with us more (which means changing careers and most definitely means a much lower paying job), the relief was evident. It was as if I had unloaded a truck from his shoulders. In the sweetest voice ever, my husband thanked me. That big wrinkle in his forehead instantly seemed to fade.
So we will stay in this House for Hobbits, as I so affectionately call it. And we will be just fine. I'll plug along, blogging, transcribing, and writing. And we'll trust God with our future. No matter what comes, I have peace in knowing that we're prioritizing our lives based on the eternal and not the external.
We're now making plans of a different kind, plans that will, with God's grace and guidance, allow him to find a less stressful and less consuming job. I know God will open that door.  
We'll now plan a future of putting the time and effort into our dream family as opposed to our dream home.
Even though life and the things of this world are but vapors, the values, morals, time, and memories I instill in my son and share with those I love will last for generations to come. This means that I'm committed to a life of faithful obedience that is focused on eternal and not external, temporal things.
It also means not giving a rip about the Joneses!
Article originally appeared at The Stay at Home Scribe. Used with permission.
Related Video: Is it wrong for us to wish for something?
iBelieve.com: Is it wrong for us to wish for something? - Jen Michel from ibelievedotcom on GodTube.
Renée Davis is a devoted wife & mom and self-proclaimed beach-a-holic, surviving on Christ and caffeine as she navigates her way through tween parenting, entrepreneurship, and the ups and downs of life itself. Although she's most comfy (and happy) seaside with laptop in hand, she seems to spend the majority of her time at her desktop, wordsmithing into the night-- swimming only in coffee. Visit her blog at The Stay at Home Scribe.
---
---