10 Old-Fashioned Tips and Tricks to Make Your Home Feel Like Christmas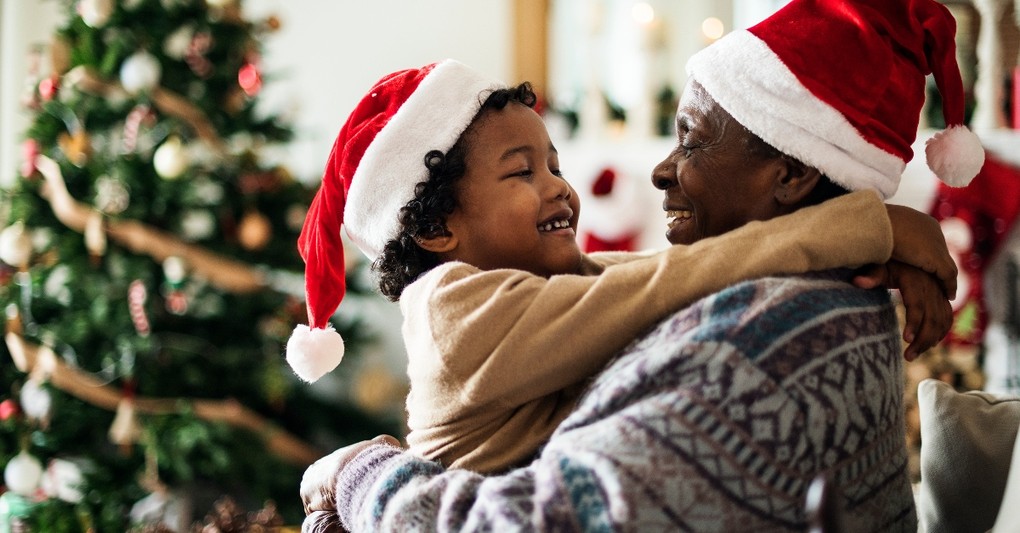 Making our homes feel like Christmas goes beyond decorations and gifts, and old fashioned catches up to us quick as we age! Christmas isn't as commercial as cyber sales would have us believe. It's personal. Christ came to earth as a babe, setting in motion a chain of events that forever affected our eternity. God came down to earth to save us. As we recall the many ways we have grown to love celebrating Christmas and think up new traditions to add, it's important to keep the babe in the manger center-scene. When we live life within the love of Christ, Christmas comes alive in our hearts, families, and homes.
Here are some of the things that make my home feel like Christmas each year. I hope and pray they will inspire others to continue old traditions and create new ones which reflect the true wonder of the season.
Photo Credit: © Getty Images/Rawpixel
1. The Nativity Scene

Slide 1 of 10

The soft, white curves of each nativity figure gracefully tell the story of the first Christmas night. The scene belonged to my Grams, who loved Christmas and Jesus more than anyone else in my life. Baby Jesus has a small circular piece of gaudy gold garland around His head, and no amount of super strong glue will hold the angel's horn in place anymore, but the story each character tells remains the same. My mom used to wait until Christmas to place baby Jesus in the manger of her nativity scene. Sometimes, we added one figure at a time on the days leading up to Christmas.

Perhaps you, too, have special memories attached to nativity scenes passed down from people who have moved on to heaven. If not, consider adding or creating this scene, sure to remain relevant no matter how old the story is. The story of Christmas is the most tender tale of love there will ever be. The babe in the manger was fully God and fully man. Each character in the nativity scene, divinely placed, so we would know undoubtably, who and Whose we are.

Photo Credit: © Getty Images/manaemedia

2. O Christmas Tree

Slide 2 of 10

The Christmas tree is an old fashioned tradition many still hold dear. I remember our huge artificial tree with garland and tinsel covering it from top to bottom, and the traditional trip to the Christmas tree farm we began when my siblings and I were in elementary school. Our job was to string the tree with popcorn and cranberries, and I remember the painful finger pricks my siblings and I endured along the way! After Christmas, we would move the tree to our backyard and watch the birds eat our garland.

When I started my own family, my husband insisted there be a train under our tree, another old fashioned tradition. My brother-in-law added his tradition of finding the pickle: a pickle ornament hiding somewhere in the tree must be found before the first gift of Christmas could be opened. Whether it's the smell of fresh pine or plugging in a pre-light tree, embrace and continue favorite traditions. Add new ones along the way. Old Christmas movies are fantastic to reference for old fashioned Christmas tree decor.

Photo Credit: SWN

3. Anticipate Advent

Slide 3 of 10

Advent is a special season of anticipating the coming of Christ at Christmas, beginning four weeks before Christmas Day. During this time, many open Advent calendars to celebrate each day closer to Christmas. When my children were young, we experienced a winter which gifted them eleven snow days from school in a row! That time ended up being a blessing, as we cleared out our craft bin and broke out the hot glue gun to make homemade Advent ornaments.

Truth in the Tinsel guided us through each day of Advent with a Scripture from the Christmas story and a homemade ornament to represent it. My daughters, five and seven at the time, cherished their newly decorated tree, and still look forward to pulling out those ornaments each year. Whether just a cardboard calendar filled with a yummy chocolate each day, or a wooden piece with doors that faithfully swing open with a surprise each day, this old-fashioned tradition is a wonderful way to celebrate the gift of Christ's birth.

Photo Credit: © Getty Images/A-Basler

4. Savor a Cup of Cocoa

Slide 4 of 10

This Christmas, we are navigating a global pandemic. Life isn't as it usually is around this time of the year, full of Christmas parties, concerts, and celebrations with friends and family. A cup of cocoa with a mountain of melty marshmallows at the ready is an old-fashioned way to bring comfort though the difficult losses and cancellations we're all experiencing this Christmas.

The cocoa counter at my house is set up next to a glittery gingerbread house given to me by my mother-in-law, and we think of her warm and constant smile often as we make our hot cup of cocoa. My daughters are old enough to flip the electric kettle on and make a cup of Christmasy cocoa in their favorite holiday mug. It's a little thing that warms their hearts. Each year, on Christmas Eve, my husband and I watch the Polar Express with our daughters and break out the cocoa during the hot chocolate scene. This year, our cocoa counter will make it a little sweeter.

Photo Credit: © Pexels/Jill Wellington

5. Sing Carols and Watch Classic Movies

Slide 5 of 10

When I was a child, my mom would gather my sister, our friends and cousins and I together to go caroling around our neighborhood. The worn pages of the song books were stained with cocoa and hid cookie crumbs in the creases. We looked forward to belting out those songs each year, but singing those songs at the Christmas Eve service has remained my favorite. My daughters and I start telling our devices to play Christmas music around the house as soon as Halloween passes. There's something about those lyrics and melodies that fill our home with Christmas spirit.

Though my Gram's old VHS copy has long since gone, I still watch "White Christmas" every year. It was her favorite Christmas movie, and I remember her signing the songs. I didn't like the movie much as a kid, but have grown to love it and the memories shared with Grams every Christmas. There are many classic movies, and entire channels that light up the screen with Christmas decorations and stories of helping others and celebrating the holiday. The older, the better.

Photo Credit: Flickr

6. Deck the Halls

Slide 6 of 10

My daughters have proved to me year after year, we're never too old to make paper snowflakes. Mine always turn out square-shaped, and they always laugh. It's a simple and old-fashioned way to decorate. They look pretty on windows, Christmas trees, and mantles. Another old fashioned tradition some neighborhoods still honor are luminaries. Made out of milk jugs with the top cut off, and a candle glowing in the bottom, they line driveways and sidewalks during the Christmas season.

Remember those old-fashioned movies? They serve as great references to old fashioned decorations. Much of the retro decor has made its way back into dollar and drug stores. Christmas candle lights that bubble and even tinsel. Fresh greenery is a great way to give the house an old-fashioned feel for Christmas, inside and out. Flower boxes look beautiful with greenery and ornaments or bows, as do fireplace mantles. Plus, the smell of pine inside is refreshing and sweet.

Photo Credit: © Getty Images/Nastco

7. Christmas Light Tour

Slide 7 of 10

My community was sad to see a traditional Christmas light drive-thru close this year, but not having it as an option reminded me of what my family did when we were younger. Every year, my dad would drive to downtown Cleveland, just 10 minutes from our home, to look at the lights set up on the sides of the skyscrapers. When we were little, every building downtown looked huge, and some of the light displays were animated. It was magical, to see the Terminal Tower lit up and Public Square decorated for Christmas.

On the way home, we would drive through every neighborhood in town, looking at everyone's Christmas light displays. It's a fun tradition my husband and I have carried on in our family, driving around local neighborhoods with hot cocoa listening to Christmas music. Get out and tour the lights this Christmas. Bundle up for a Christmas light walk around town, or drive with Christmas carols playing in the background. The lights remind us of the true light of the world. In a year when things seem so dark at times, let's be reminded by the Christmas lights of the One true Light who brings life to all.

Photo Credit: © Unsplash/James Wheeler

8. The Mitten Tree

Slide 8 of 10

Every year, my mom would make sure we had gloves to put on the mitten tree at our church. As a child, we don't always realize all of the work and help people accomplish during the holiday season to help others in need. It's important work, and mitten trees are a small and important part of it. Warm hands is a big gift to someone who doesn't have a pair of gloves or mittens in the cold winter months.

But there are also so many other ways to give to those in need. Winter coat drives, shoe boxes filled with necessities and gifts for those who are less fortunate, food pantries and the red bell that rings outside many storefronts this time of the year. We are called to love our neighbors. Creating a plan to give at Christmas fills our homes with the Christmas spirit. Packing shoe boxes together, gathering donations from the pantry and the coat closet, usher in the true meaning of the holiday season.

Photo Credit: © Getty Images/5 second

9. Traditional Christmas Recipes

Slide 9 of 10

Whether we continue old recipes or discover and add new ones, the smells wafting from our kitchen create an old-fashioned Christmas vibe. My mom used to make mountains of Christmas cookies, and I followed in her footsteps. Some of the cookie recipes are decades old, and each year we try out a new kind.

Now, my daughters are a part of the Christmas cookie operation, making all different kinds of cookies—both old and new recipes—for cookie trays, neighborhood gifts, and to fill our own cookie jar. Since we're navigating a pandemic this year, cookie trays and passing out cookies isn't needed or ideal, so I decided to inaugurate the twelve days of Christmas cookies. (And honestly, my aging back doesn't look forward to making all of those cookies at once anymore!) Keep the smells and tastes of Christmas going, and consider starting some sweet traditions if there aren't any to pass down.

Photo Credit: © Getty Images/Seventy Four

12. Celebrate the Twelve Days of Christmas

Slide 10 of 10

The Twelve Days of Christmas begins on Christmas day, and ends on the Epiphany, which celebrates the arrival of the Magi (the Three Kings) to see the newborn Messiah. Growing up, we would leave our tree and all of the decorations up until the Twelve Days of Christmas passed. There was no hurry to declutter and move on to the next holiday.

The day after Christmas can feel lackluster in the wake of all the anticipation leading up to Christmas Day, but stretching it out allows us to recalibrate our thoughts and remember the true meaning of the season. Without all of the fanfare, decorations and traditional recipes, Christmas is still Christmas. Christ's birth set a chain of events in motion which changed our eternal destiny! Celebrating the Twelve Days of Christmas allows us to savor Christ's birth a little longer. He is, indeed, the greatest gift.

I hope this helped spark some ideas and trigger some nostalgia to create an old-fashioned feeling in our homes this Christmas. Let's hold onto those who are dear to us, whether we can physically be with them or not, and refuse to lose sight of the babe born in a manger. The King of Kings, Messiah, Immanuel, Son of God broke through the atmosphere and became fully God and fully man. He fully empathizes with what it feels like to be human. Though many things are different this year, He remains the same, and with us always.

Photo Credit: © Unsplash/Robert Thiemann