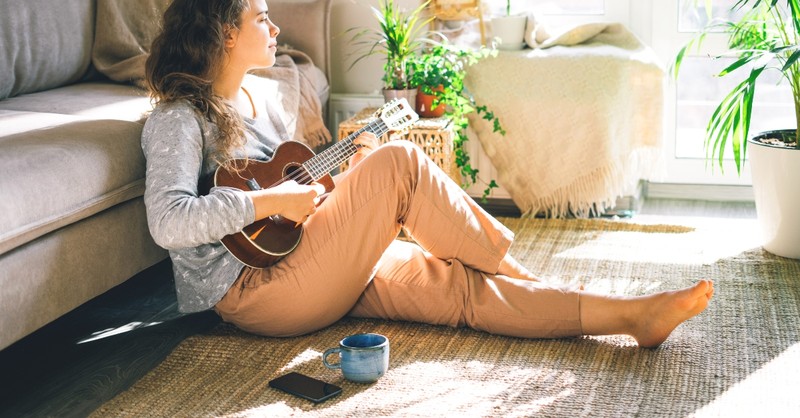 5 Hymns You Should be Singing in Your Home
Michelle Rabon

iBelieve Contributor
Maybe you're not a musical family, maybe your desire is simply to add more worship to your home. While we can play music from the Christian radio station or playlists on our phones, there is something special about teaching your children the words to these beautiful hymns.
There are songs that have stuck with me most of my life, lullabies sung by my mother, songs that I heard in church. Some songs I can remember where I was when I first heard them. Music that reminds me of people I have loved in my life.
I believe God uses music to stir our souls.
Time and again I can tell you stories of the power music has had in my life, believe it or not I don't have a musical bone in my body. I have played a few instruments but nothing ever stuck with me.
I married my opposite: musically talented, sings beautifully, and is a Minister of Music. God has put a deep love for music into my husband's heart. It is evident every Sunday when he stands up in front of the church and pours out worship to God through song.
Music can root us in worship.
Needless to say in the fifteen years we have been married, music has played a role in our home and with our children. They know most hymns, they hear worship music during school, in the car, it fills their every day. It is part of the heartbeat of our home.
Maybe you're not a musical family, maybe your desire is simply to add more worship to your home. While we can play music from the Christian radio station or playlists on our phones, there is something special about teaching your children the words of beautiful hymns.
Hymns are purposefully written to be sung with a congregation. A plea and worship from God's people rising to heaven.
Here are five hymns that have been dear to my heart over the years. Their words and the history of those who wrote them stir my heart.
Photo Credit: © Getty Images/Polina Panna
1. My Jesus I Love Thee
"I love thee because thou has first loved me and purchased my pardon on Calvary's tree. I love thee for wearing the thorns on thy brow. If ever I loved thee, my Jesus tis' now."
This hymn was written by a sixteen year old William Featherston in 1864 at the time of his salvation. He wrote this poem to send to his aunt, which was later transformed into the hymn as we know it. This is the plea of a new believer who has been awoken to life in Christ. Such a love that comes from the Father, through the Son on the cross for our salvation and eternal security. It is precious. We love Him, because He first had such an incredible love for us. "We love because he first loved us." (1 John 4:19)
Credit: Anthem Lights
2. He will Hold Me Fast
"Those He saves are His delight, Christ will hold me fast;
Precious in his holy sight, He will hold me fast.
He'll not let my soul be lost; His promises shall last;
Bought by Him at such a cost, He will hold me fast."
This one of my favorite hymns and one I long for my children to know and let sink deep into their hearts. This song was written by Ada R. Habershon, a woman who wrote over 200 hymns. The words she penned remind us that no matter what comes in this life we are held fast in the hands of Christ. It points us to Jesus' words in John 10:28, "I give them eternal life, and they will never perish, and no one will snatch them out of my hand."
Credit: Keith and Kirstyn Getty

3. In Christ Alone
"In Christ alone! - who took on flesh,
Fullness of God in helpless babe.
This gift of love and righteousness,
Scorned by the ones He came to save
Till on that cross as Jesus died,
The wrath of God was satisfied
For every sin on Him was laid
Here in the death of Christ I live."
A newer hymn written in 2002 by Keith Getty is one where every word rings down into the heart of all believers. The gospel, and certainty of God's hand in our lives are powerfully communicated. This is one we sing not only at church often but in our home with our family.
Credit: Steph MacLeod
4. Be Thou My Vision
"Be thou my wisdom, and thou my true word
I ever with thee and thou with me, Lord
Thou my great Father, and I thy true son
Thou in me dwelling and I with thee one."
Where we set our eyes matters, and in a world lacking in hope, we must teach our children to set their gaze on the things above. Christ is our Victor, our joy, and our greatest love. Hymns are powerful because their tune and structure allows for them to be easily memorized and become a part of our daily thinking as we encounter truth.
Credit: Audrey Assad
5. How Great Thou Art
"O Lord my God, When I in awesome wonder,
Consider all the worlds Thy Hands have made;
I see the stars, I hear the rolling thunder,
Thy power throughout the universe displayed."
This hymn is one I sing when we are outside, especially in the evening if we gather around the fire. Nights when we can see the stars clearly in the dark sky, the words of this hymn always spring into my mind. I pray that my children will always do the same. God created the world in all its incredible beauty. All things that are magnificent to behold and all we have not seen were created by His hand.
Hymns are made to point our minds and hearts to God, to the gospel, and to be constant reminders that He is worthy of all our worship and praise. As we sing them in our homes and remind our children of them as they grow, they will stay with them as beautiful reminders of truth.
Credit: Home Free
Michelle Rabon is a wife and homeschooling mom of three who feels called to help women thrive in their walk with Jesus every day. In 2012, she started Displaying Grace, a ministry that is focused on helping women engage with God's Word. Michelle has also served in women's ministry for the past five years seeking to equip women in the local church through Bible study. When she is not writing or teaching, she enjoys reading, being close to the ocean, and drinking a lot of coffee.
---
Want more interaction with the women of iBelieve? Join our fans, writers, and editors at the iBelieve Facebook group, Together in Faith, for more videos, stories, testimonies, prayers and more. Visit here to join the community!
Comments
---
---