Faith, Food, and Fear Struggles under Quarantine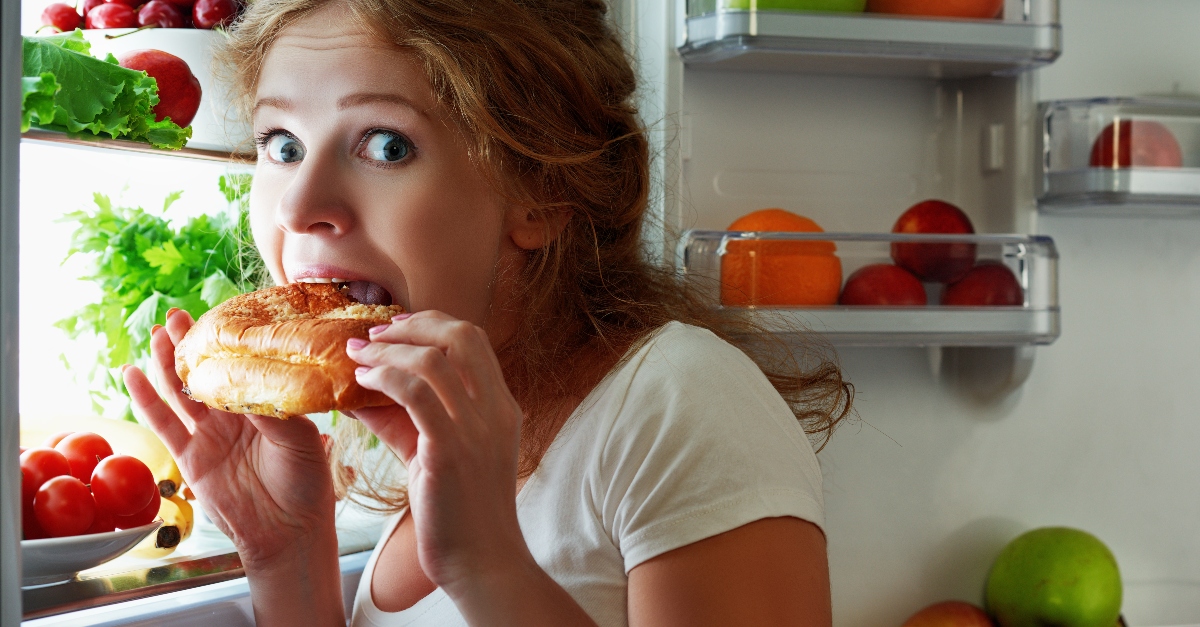 When facing the uncertainty of the coronavirus, our thoughts can naturally become anxious and fearful. Are you wondering what's going to happen when you can't follow your diet's food rules in a quarantine? Are you asking yourself whether you're going to have enough food to make it through? Are you questioning your own sanity when you can't seem to stop eating your feelings? You are not alone.
In this time of trial, the better question to ask ourselves is what does our relationship to food tell us about the condition of our hearts?
Whether we realized it or not, what we believe about food can reveal what we believe about God. Difficult times like this can exacerbate our underlying heart issues or bring new issues to light. Could God be using this time of crisis to teach us something about ourselves and grow our faith? I know God works all things together for good, so I choose to see this stressful season as an opportunity to learn and grow with the Lord, and I invite you to do the same.
Photo Credit: © Getty Images/evgenyatamanenko
Feeling out of Control

Slide 1 of 8

How will I be able to stick to my diet in a quarantine? What's going to happen to my health when I can't follow the diet rules?

"And we know that in all things God works for the good of those who love him, who have been called according to his purpose." (Romans 8:28 NIV)

No food can save you, only Jesus can. No eating regimen or diet can provide you the recipe for the satisfaction or life of fullness you desire. Only the transformational work of Jesus can do that. You may know this in your head, but how we treat food and what we think about it reveals what our hearts truly believe.

The coronavirus has disrupted nearly everyone's routines. Now instead of being able to grocery shop any time we need for any food we want, our choices, access and conveniences are seriously limited. As stores close or have reduced inventory, we can find ourselves eating differently than we normally would.

For many women, especially those of us who have used dieting to manipulate our body size, anxiety can mount when we are unable to maintain our usual food rules and routines. We can begin to feel out of control and fearful. I used to cling to food rules and guard them closely to feel in control of my body. It felt safe to follow a meal plan (dare I say, religiously) and check off all the boxes of what I "should" be doing in the kitchen and at the gym. I am so thankful the Lord brought me out of my diet bondage years ago, because the stress of trying to eat only organic, gluten free food at a time like this would have surely left me teetering on the edge.

Photo Credit: © Unsplash/Jennifer Burk

Lie: We Must Eat a Certain Way to Be Healthy

Slide 2 of 8

Diet culture paints a very narrow picture of what health and happiness looks like. We're told we have to put in work, eat salad and skip dessert to get the man we deserve. But this simply isn't true. This worldly view of health is hyper-focused on the physical while God's design is about whole health, for our hearts, minds and souls, that gives us abundant life.

If you find yourself anxiously thinking you will to ruin your health by not sticking to a meal plan, if you find yourself stressed because you might have to eat processed food instead of fresh produce for the foreseeable future, if you find yourself searching for that new superfood to boost your immunity and protect you from the coronavirus, then the Lord might be using this season to help you see how the lies of diet culture have taken root in your life.

We could all use a glimpse of this, especially at a time when "health" influencers are exploiting a pandemic to judge our food choices, shame us into working out (hey, you're stuck at home so you've got no excuses), and sell everyone their diet products with no regard for people's actual health.

By His grace, we can reject this fearmongering and rebuke these diet culture lies for what they are: worldly wisdom and spiritual warfare.

Photo Credit: © Unsplash/Thought Catalog

Truth: All Foods Fit within Biblical Healthy Eating

Slide 3 of 8

The truth is you don't have to eat a certain way to be healthy. Jesus sets us free from this type of thinking about food in Mark 7:18-19 when he declared all food clean saying, "don't you see that nothing that enters a person from the outside can defile them? For it doesn't go into their heart but into their stomach, and then out of the body."

Jewish people who lived by the belief that certain foods were "unclean" could fall into the trap of believing that avoiding them assisted their spiritual cleanliness and thus salvation. Living in diet culture, we can find ourselves in a similar trap. By believing that certain foods (like salad) are "good" and other foods (like dessert) are "bad", we can find ourselves believing that adhering to these food rules will make us "good" too, earn us worthiness, and keep us healthy.

While we might not believe certain foods can "defile" our souls, we can still face the pitfall of believing certain foods can "defile" our bodies and jeopardize our attempts to control them. In this way, "clean eating" can become a burden, a worldly standard to drag around in a vain attempt to transform ourselves, instead of a life-giving relationship to food that keeps food in its proper place.

Knowing no "bad" food can defile me and no "good" food can save me helps me to see food as just food again. I hope you'll consider this your personal invitation, as I have, to drop the chains of clean eating and step out in faith knowing all foods fit into biblical healthy eating.

No number on the scale can save your health. No food has the power to save you. Only Jesus has the power to save.

"For God alone my soul waits in silence; from him comes my salvation. He alone is my rock and my salvation, my fortress; I shall not be greatly shaken." (Psalm 62:1-2 ESV)

Prayer: Heavenly Father, I reject the false gospel of "perfect" eating and I renounce diet culture's legalistic food rules. Lord Jesus, my salvation comes from You alone. Help me to feel the joy that comes from Your salvation. I trust You with my health. I surrender my health into Your capable hands.

Photo Credit: © Pexels/Ray Piedra

God is the Source of All You Need

Slide 4 of 8

Will I have enough food to make it through the quarantine?

Not knowing if you will have enough of what you need can create a lot of anxiety. The fear of deprivation can cause us to overreact and over-consume "while we can." We saw this play out with toilet paper and hand sanitizer as people rushed out to buy supplies and stores sold out of many items. For most Americans who are accustomed to abundance, the sight of bare shelves at the grocery store can be very unsettling. The coronavirus has raised scarcity issues that many of us have never faced before.

For those of us who have faced scarcity issues in our lives, now is a time to recall God's faithfulness and provision in that season of need. Remembering what God has done for us can encourage us that He will do it again.

For those of us in uncharted territory, worrying about whether we will have enough to get by, now is a time to learn God's faithfulness and provision in a new way.

Photo Credit: © Getty Images/Valeriy G

Lie: You Alone Have to Take Care of Yourself

Slide 5 of 8

The world tells us that we have to look to ourselves and work harder and smarter to survive. This kind of thinking drives us to buy more than we need and store up our supplies so that we are protected. We are tempted to believe that we are taking care of ourselves in our own strength and meeting our own needs.

Truth: The Lord provides

Let's remember the true source of everything we have and everything we need: God.

When dwindling pantry items make us worry we won't have enough, it exposes a heart that doubts God is enough. Let's take those worries, doubts and thoughts captive and replace them with God's promises to us that He sees, He cares, and He will meet our needs.

"So do not worry, saying, 'What shall we eat?' or 'What shall we drink?' or 'What shall we wear?' For the pagans run after all these things, and your heavenly Father knows that you need them. But seek first his kingdom and his righteousness, and all these things will be given to you as well." (Matthew 6:31-33 NIV)

After all, the Lord might be using this season of scarcity as an invitation for us to know Him personally as Jehovah-Jireh, which means "the Lord provides." Our daily worry of "what will we eat?" could be a daily reminder to seek God first and trust Him to provide.

Prayer: Lord, I believe you are my portion and my strength. I know you are the source of every good gift. I believe you are Jehovah-Jireh and I wait with expectant faith to see how you will provide for me today. Help me to seek your kingdom first, today and every day.

Photo Credit: © Getty Images


God Created Us to Find Our Satisfaction in Him

Slide 6 of 8

Why am I eating my feelings right now?

The coronavirus has strapped many of us into an emotional rollercoaster ride. One minute we are enjoying quality time with loved ones that seemed so elusive weeks ago, and the next minute we are plummeted into panic when devastating statistics and headlines scroll across our screens. The highs are high, the lows are low, and there are lots of feelings in between.

Many of us are not used to dealing with this difficult feelings, so we may find ourselves using food to cope with our emotions. We might notice that stress is sending us running for something sweet to soothe us. We might realize being confined in the house all day has left us bored and mindlessly grazing on snacks to pass the time. We're all craving comfort and it's no surprise why.

Photo Credit: © Unsplash/Nathan Dumlao

Lie: Food Will Satisfy Me and Give Me the Comfort I Need

Slide 7 of 8

The world would have us find our comfort from sensual pleasures of the flesh. But any pleasure or comfort you get from food will be temporary at best.

To be clear, there is nothing wrong with comfort food or being satisfied when we eat a delicious meal. There is a reason that homemade chicken soup makes you feel better when you're under the weather, it's comforting! Food is a gift from God and it's OK to enjoy it.

Truth: Our True Satisfaction Comes from God, Not Food

The truth we need to remember here is that God is our comforter and He created us to find our satisfaction in Him.

"The Lord will guide you always; he will satisfy your needs in a sun-scorched land and will strengthen your frame. You will be like a well-watered garden, like a spring whose waters never fail." (Isaiah 58:11 NIV)

When we turn to food to cope with our feelings, we're doing something that is totally normal—and there is no shame in it—but not totally helpful. We would be better served by allowing our feelings to be what they are, without judging them or trying to escape them with food, and by bringing our feelings honestly and openly before the Lord in prayer.

"Cast your cares on the Lord and he will sustain you; he will never let the righteous be shaken." (Psalm 55:22)

So when we find ourselves standing in the pantry or in front of the refrigerator, let's pause and ask the Lord to show us what we truly need in that moment. Let's welcome another opportunity to pray during the day and open our hearts to what God wants to show us about true satisfaction and comfort.

"Praise be to the God and Father of our Lord Jesus Christ, the Father of compassion and the God of all comfort, who comforts us in all our troubles, so that we can comfort those in any trouble with the comfort we ourselves receive from God." (2 Corinthians 1:2-4 NIV)

Prayer: Lord, I praise you for being a refuge I can turn to when emotions overwhelm me. Help me to remember I find my true satisfaction in you. Please comfort me in my trouble so that I can spread the compassion and comfort you've given me to those around me.

Photo Credit: © Getty Images/dragana991

Scripture's Power against Food Struggles

Slide 8 of 8

As we face these struggles with food in the already difficult time of the COVID-19 pandemic, let's choose to believe God is at work and God is working on each one of us. After all, faith grows through adversity.

Choose joy: "So let's consider it pure joy when we face trials because we know the testing of our faith produces perseverance." (James 1:2-3 NIV).

Bring struggles to light: Let's look for the ways the Lord is showing us stumbling blocks and strongholds in these trials so that we can remove them and grow in faith.

Practice Gratitude: Let's thank Him for patiently shining a light into the dark corners of our hearts so that we can return to Him.

Be satisfied in Him: Let's thank Him for the comfort of His perfect peace and the satisfaction of His presence.

Rest in your salvation: Let's praise Him for being our only salvation, our source of all we need, and our ultimate satisfaction.

---

Erin L. Todd is a wife, dog mom, attorney-by-day and writer-by-night living in St. Petersburg, Florida. As a redhead who battled insecurity and body image issues for over 30 years, she now claims the concept of being both a masterpiece and a work in progress simultaneously. Her blog "Ginger In Progress" was born from a spiritual awakening where Jesus set her free from diet prison. Now she is on a mission to empower and equip women to Follow Jesus Not Diets. Find out more about Erin and grab your free Intuitive Eating Starter Kit for Christian Women HERE.

Photo Credit: © Getty Images/Wenping Zheng
Contact Us
Get iBelieve.com