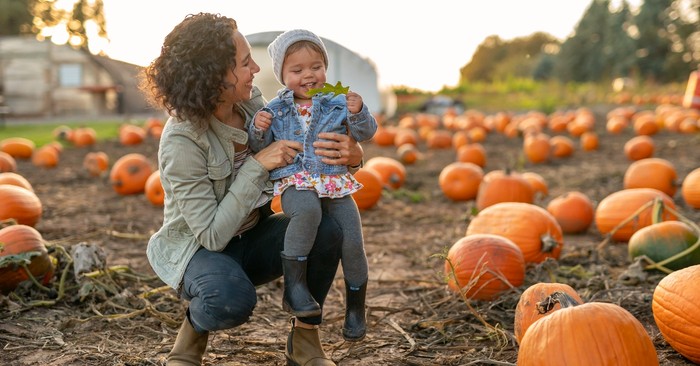 When you celebrate a new season, remember that the Lord designed these changes and express your gratitude to Him!
The changing of the seasons can bring about both joy and mourning. With autumn comes the start of a new school year, the end of summer and all that time I got to spend with my kids, and the approaching of winter. I love cooler temperatures, football, and colorful leaves. I dislike anything pumpkin-spice flavored, shorter days, and raking up all those leaves. Despite my feelings, positive or negative, the seasons change as designed by God. "He changes times and seasons" (Daniel 2:21, NIV), and He will continue to "as long as the earth endures, seedtime and harvest, cold and heat, summer and winter, day and night will never cease" (Genesis 8:22, NIV).
As time transitions, there are three main ways to embrace our current season. We need to reflect and be thankful for the past, plan and prepare for the future, and focus on the present so we can fully enjoy it.
Gratitude for Summer
As summer ends, we can take time to appreciate what it brought. Summer is often a highlight of the year, especially for kids. Maybe your family took a fun vacation or spent some time at the pool. Perhaps your summer was filled with late-night conversations with friends or attending outdoor concerts. Whatever summer brought to your life, now is a good time to reflect on the past few months and intentionally express gratitude. This can be done alone or in a group, through writing or just in thought, but whatever approach you choose, tell the Lord what you are thankful for. Even if summer was a tough time for you, tell the Lord that you are thankful He walked with you through it.
"Enter his gates with thanksgiving and his courts with praise; give thanks to him and praise his name" (Psalm 100:4, NIV).
"Give thanks in all circumstances; for this is God's will for you in Christ Jesus" (1 Thessalonians 5:18, NIV).
Preparation for Winter
In anticipation of winter, we can prepare. Some of us live in climates where preparation means pulling out the winter clothes, getting the chains ready for our tires, and making sure that everyone's snow gear still fits. For others, the weather may not change as drastically, but it is still important to prepare ourselves to thrive over the winter season. Are we preparing to honor Christ well this Christmas season and not be stressed due to last-minute shopping? Are we making plans to guard our mental and physical health as we have less sunlight and less time outside? What changes do we need to make now to fully embrace winter when it arrives? We must prepare as God continues to work in our lives.
"Put your outdoor work in order and get your fields ready; after that, build your house" (Proverbs 24:27, NIV).
"Being confident of this, that he who began a good work in you will carry it on to completion until the day of Christ Jesus" (Philippians 1:6, NIV).
Appreciation for Autumn
"This is the day that the Lord has made; let us rejoice and be glad in it" (Psalm 118:24, ESV). Whether or not fall is your favorite season, it is upon us. There are several ways that we can make the most of the season, embracing it fully. While "living in the moment" may not be exactly how we approach our days, we do know that it is important to focus on the here and now. "Therefore do not worry about tomorrow, for tomorrow will worry about itself. Each day has enough trouble of its own" (Matthew 6:34, NIV). The more intentional we are with our approach to the new season, the greater our appreciation for the season will be. "I am not saying this because I am in need, for I have learned to be content whatever the circumstances" (Philippians 4:11, NIV). We can look for the Lord's hand as we find our way through whatever autumn brings.
"Forget the former things; do not dwell on the past. See, I am doing a new thing! Now it springs up; do you not perceive it? I am making a way in the wilderness and streams in the wasteland" (Isaiah 43:18-19, NIV).
Here are some fun ways to fully embrace autumn:
Autumn Food
Autumn brings cooler temperatures and the harvest of many of our foods. We can embrace autumn fully by incorporating some of its best flavors into our meals. Apple, pumpkin spice, butternut or acorn squash, maple, and soups and stews are all delicious ways to really enjoy the season. Perhaps apple cider and maple-glazed donuts become part of your weekly routine. While I prefer a maple latte, maybe you sip a pumpkin spice latte.
Autumn Routines
With its shorter days, autumn encourages a natural change to our rhythms. Maybe your family settles in for earlier nights, transitions the closets from summer clothes to winter clothes, or pulls out the blankets for some snuggling on the couch. Our daily and weekly routines determine how we spend this season. What will you incorporate to fully enjoy the fall?
Autumn Traditions
The fall season is full of annual traditions. Football games, pumpkin carving, pumpkin patches, harvest festivals, raking and jumping in leaves are some of the special activities that come with autumn. Think about the traditions that your family has. Maybe you have never really considered them traditions. What are the things that you do every fall? Those are your traditions, and they are memories that will last for years to come even if they only happen once a year.
Autumn Reflections
As we enter autumn, we can reflect on what the new season means. Autumn is a time of transition. We know that change is constantly occurring in our lives, just as the seasons change from one to another. The season of fall looks like the end. Leaves fall, flowers fade, grass dies. We watch and wait, knowing that what appears to be death is really just preparation for new life that comes with the spring. Perhaps there is something in your life that appears to be dying. What would it look like to consider this just another season of your life? A season that may look like it is the end but is potentially just making room for something new to grow? We know that the Lord works all things together for the good of those who love Him (Romans 8:28).
When you struggle with a new season, remember that the Lord designed these changes, and we can fully trust His plan. "He made the moon to mark the seasons, and the sun knows when to go down" (Psalms 104:19, NIV). When you celebrate a new season, remember that the Lord designed these changes and express your gratitude to Him! "For since the creation of the world God's invisible qualities—his eternal power and divine nature—have been clearly seen, being understood from what has been made, so that people are without excuse" (Romans 1:20, NIV).
The seasons of the year and the seasons of life may change but "Jesus Christ is the same yesterday and today and forever" (Hebrews 13:8, NIV).
Photo Credit: ©iStock/Getty Images Plus/Fly View Productions
Megan Moore is a military spouse and mom of 3 (through birth and adoption). A speech-language pathologist by training, she now spends her time moving around the country every couple of years. She is passionate about special needs, adoption, and ice cream.
---
---