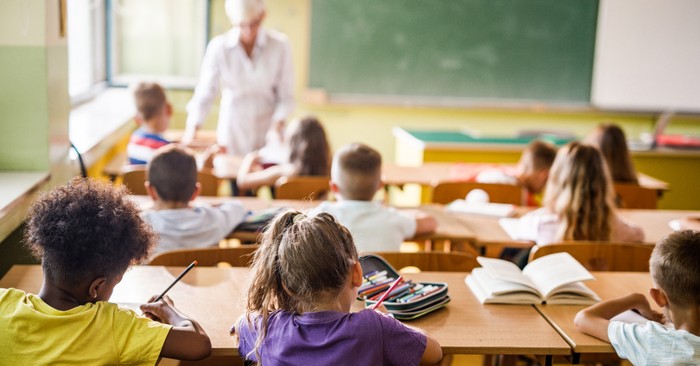 If we are honest, we can admit that even the most long-suffering mama gets to the point where the influx of external stimuli can be overwhelming. If we don't have time to think, time to process, and time to exhale, we can easily become frustrated and resentful.
While there's a time and season for everything under the heavens, I'm not ready to let go. I've got summer tethered to my waist, yet it's making the slow drift away from me as the tide of the school year moves in. This mama of six has children headed in many different directions this school year. My firstborn has already headed back to college. I've got two high schoolers (one of whom is homeschooled). Yet still I have one returning to middle school, one just starting middle school, and one returning to elementary. Needless to say, back to school for me is a wild ride.
Amid the flurry of shopping for composition notebooks and uniforms, turning over every rock to find clear backpacks, and sourcing homeschool curriculum only to find its own backorder, there are a few practical things we can do to prepare our hearts, minds, and homes for the start of the school year. No need to panic, Mama; I've been there and frankly, I'm here right now. I can't find one subject notebook for under $3.00 apiece. When did that happen?! The P.E. uniform pants that are a requirement are sold out, yet the students are expected to have them on the first day, and one child has already broken the strap on their new backpack.
Through it all, I'm not going to stress. Experience is a great teacher, and over the years, I've learned some strategies to calm the chaos and ease the angst. While your back-to-school prep may look different than mine, there are things we can do proactively to position ourselves for less stress and more joy in the weeks ahead. Whether your children are public, private, or homeschooled, riding the bus or in the drop-off/pick-up line, we can all employ the following strategies for a smooth transition back to school:
1. Abide in the Vine
You've heard it said time and time again, "You can't pour from an empty cup". I know right, cliche. While it may be a cliche, I've found it to be absolutely true in my life. When I don't find solace and have quiet time with the Lord at the top of my day, I can be short and easily irritable. That's why I advocate rising early. Get up 30 minutes earlier than kiddos for quiet time to think, pray, worship, and establish your day.
The Psalmist said in Psalm 5:3, "In the morning, LORD, you hear my voice; in the morning I lay my requests before you and wait expectantly." Even Jesus rose early while it was still dark (Mark 1:35) so we know there is something to be gained through the habit of rising early. But do we do it? If you aren't, I encourage you to give it a try. And if you have in the past but have let it slip, grab onto it again.
I don't know about you, but I am constantly inundated with noise. Whether it's the sounds of the Bop-It toy, brothers wrestling, my girls chatting with one another, or the often repeated phrase "Mommy can I….", the constant barrage can be a bit much to bear. If we are honest, we can admit that even the most long-suffering mama gets to the point where the influx of external stimuli can be overwhelming. If we don't have time to think, time to process, and time to exhale, we can easily become frustrated and resentful. That's why we need the stillness that the early rise brings. Perhaps this stillness comes midday for you or late at night. Nonetheless, get that quiet time in.
2. Establish a Good Sleep Regimen
Get yourself on a sleep schedule. For the same reason that most of us give our children a bedtime, we need the benefits of a good night's sleep. Over summer you may have been able to sleep later in the morning. You may have even been staying up later at night. Ensuring you have the stamina to make it through the morning rush, drop-offs/pickups, work, ministry, extracurricular activities, and dinner will require you to be well-rested.
Sleep hygiene refers to the habits, behaviors, and environment you create to promote a good night's sleep. Here are a few of my favorite sleep hygiene practices:
Shower before bed

Use lavender essential oil

Stop eating 2 hours before going to bed

Drink a cup of chamomile tea

Turn off devices at least an hour bed turning in
Let me speak this word over you from Proverbs 3:24, "When you lie down, you will not be afraid; Yes, you will lie down and your sleep will be sweet." Establishing a good sleep regimen is a gamechanger!
3. Assess Your Calendar
With summer, you may have had a more relaxed calendar of events, but now it's time to update it for fall events, family activities, extracurricular activities, and more. Throw in doctor's appointments and the holidays and you may find that your calendar from now through the end of the year is filling up fast.
So this weekend, take some time to tidy up your calendars by syncing your personal and family calendars. Don't forget about your spouse, and if you're caring for your parents, check in with them too in case they are looking for you to take them to appointments.
And while you're doing that, update your alarms/alerts on your phone to reflect new school/work routines. Whether you find alerts helpful or intrusive, they may be a key component in keeping you on schedule as you get acclimated to the new school year.
4. Schedule Self-Care
We hear so much talk about self-care in the media these days. Self-care is actions and mindsets that help you renew and restore your mental, physical, emotional, and spiritual sense of well-being. In order to practice self-care though, you have to identify what actions and mindsets recharge you. Going to get a pedicure would stress me out. All I'd be thinking about are the 900 things I could be doing instead of sitting in that chair. On the contrary, a quiet walk alone would totally recharge me.
Once you identify what helps you feel restored, you've got to schedule it. You have to put YOU on your calendar. You've got back-to-school night on there and your child's upcoming dental appointment so I want to challenge you to put yourself there. As you already know, you're better equipped to care for your family when you've been taken care of, so be sure to schedule your exercise, your prayer walks, your girls' night out, or whatever it is that restores your soul.
5. Outsource What You Can
Lighten your load as you ease back into the season by outsourcing what you can. I know the world glorifies the image of Supermama but that's not God's intention for us. I've been there, done that, and have hung up the cape. Unlike the song, I'm not every woman, it's not all in me.
But what I am is a daughter of the King, and a daughter relies upon and trusts her daddy. She also asks her dad for help when she needs it. So enlist outside help when you can. Ask for what you need. Can you send out your laundry? Can you hire a cleaning service? Is there a meal-delivery service you can use? These don't have to be permanent fixtures but something for the interim to help ease the burden of the back-to-school season.
6. Meal Planning and Preparation
In the event you are unable to outsource some of the meal preparation, think through ways to simplify meal planning and prep. On a Saturday evening, take 15 minutes to plan out your meals for the week. Even better, if you have a teen in your house, delegate the weekly meal-planning to them,
Prep smoothie packets or breakfast egg muffins for the freezer for a quick and easy breakfast that's pretty much ready to go. What can you make and freeze in advance so that you can do little to no cooking that first week back? Haven't used your Instant Pot in a while? Now is the perfect time to pull it out. Throw chili ingredients in there and let it do its thing.
7. Delegate
Running a household is a family affair. Get all family members on board to ensure a smooth transition back to school. From the oldest member of the home to the toddler, everyone can pitch in. Someone can lead morning devotions before school, someone can ensure backpacks are at the door, ready to go. An older sibling can help a younger one tie shoes and put on coats. Someone can be responsible for the lunches.
Delegating is closely tied to stewardship. God calls us not only to be good stewards over His creation but to also care for the things He's blessed us with. When we delegate, we are giving others an opportunity to practice stewardship. All members of the household should demonstrate their appreciation of the blessings God has bestowed upon them. From the homes we reside in to the cars we drive to the toys and clothes our children have. We can all actively show our thanks for these blessings by taking care of them and keeping them tidy.
These seven strategies are the very tools I use to keep my sanity during the back-to-school season. It keeps mayhem at bay and creates space for abounding love and laughter. One last thing–the Lord loves you, and He loves your children. He knows the plans He has for you and the plans He has for them. And with that in mind, He's already seen this school year's beginning and its end. He's got it all in His hands, and that's a surety that you can find comfort in.
Photo Credit: ©Getty Images/Skynesher
Tyra Lane-Kingsland is a speaker, Women's Ministry Director and author of the book Purposeful Parenting. She enjoys facilitating the classes she's developed on parenting and Health & Wellness. It is her assertion that health is wealth and believes that optimal health is achieved through proper nourishment, rest and exercise. Tyra is an attentive wife and mother of six. Knowing that God causes all things to work together for good, she is on a passionate pursuit to see women inspired to live fully!
Related podcast:
The views and opinions expressed in this podcast are those of the speakers and do not necessarily reflect the views or positions of Salem Web Network and Salem Media Group.
Related video:
In the video are 5 Tips for Decluttering Your Space by Michelle S. Lazurek.
---
---