10 Clean Movies to Watch at Home on Date Night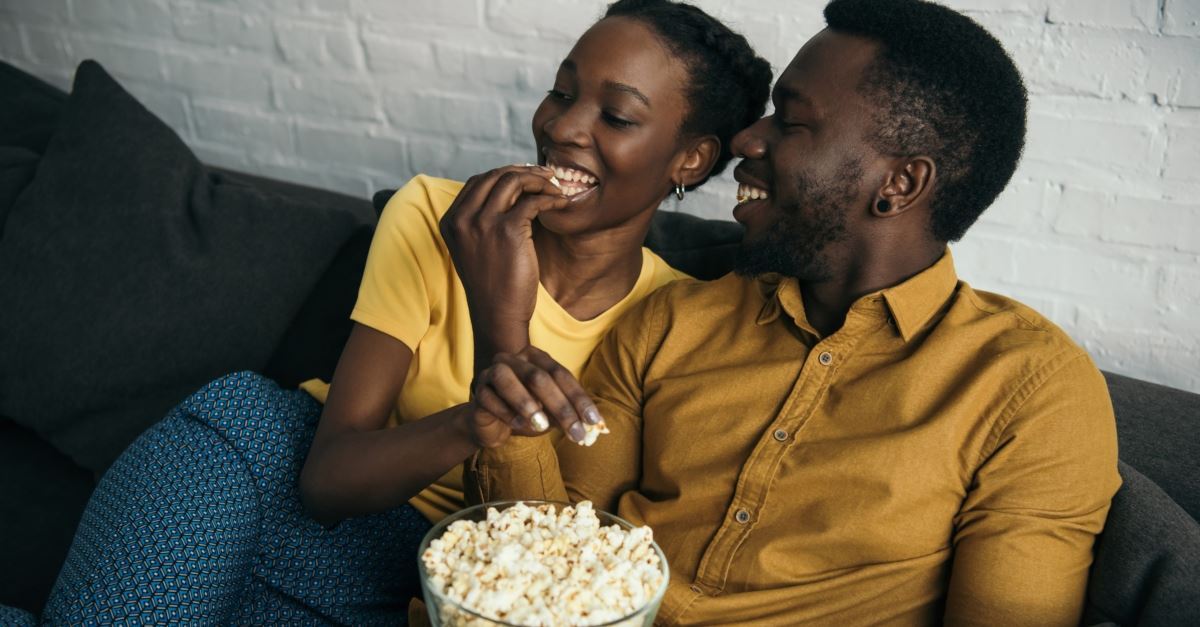 Want to have a movie night with your significant other but aren't sure about going to the theater? Not only are tickets expensive, but it's difficult to make God-honoring media choices with the proliferation of violence and sexual content in films. The good news is, you don't have to violate your conscience to enjoy a good movie on date night.
Here is a list of 10 clean films you can rent or buy that are friendly to Christian values and your budget.
Photo Credit: GettyImages/LightFieldStudios
1. The Matchbreaker

Slide 1 of 9

Ethan Cooper, a professional breakup artist who gets paid by clients to end relationships for them, soon finds that the person targeted is his dream girl. Featuring Torry Martin (comedian and actor who plays Tully Flanagan), Christina Grimmie, and a great performance by Wesley Elder, this lighthearted comedy is perfect for any couple who needs to add a little comedic levity to their lives.

2. Mom's Night Out

When a frazzled mother, childhood friend, and pastor's wife go out to dinner one night leaving their husbands and children at home, what could possibly go wrong? This hilarious comedy starring Sarah Drew and Patricia Heaton takes viewers on a wild ride as plans get derailed when Allison's nephew goes missing and they must scour the town to find him. The cast is stellar and relatable to anyone who has children. If you want to sit back, relax, and laugh, this is the movie for you.

Photo Credit: GettyImages/FS-Stock

3. I Can Only Imagine

Slide 2 of 9

This movie about the story of Bart Millard, lead singer of the popular band MercyMe, shattered box office records when it raked in 17.1 million in its first two weekends, easily making back its modest budget of 7 million.

Showcasing the singing prowess of John Michael Finley and the lighthearted wit of Trace Adkins, this movie tells the story of how the hit song "I Can Only Imagine" came to be, which, while written in only 10 minutes, took a lifetime to birth.

Although Finley's portrayal of Bart Millard is noteworthy, it is the transformation of Bart's father played by Dennis Quaid that drives the theme home: that anyone can receive true forgiveness, no matter what they have done.

Photo Credit: Pexels/JESHOOTS.com

4. The Case for Christ

Slide 3 of 9

This movie stars Mike Vogel as Lee Strobel, a self-proclaimed atheist who sets out to disprove the existence of God. Through months of intense research, interviews with religious scholars and scientists, and his own reading of the Bible, he compiles as much evidence as he can. In the end, however, he can't seem to refute the reality that God is real.

Through this realization and his wife's own conversion to Christianity, he comes to believe in Christ and goes on to write the best-selling book The Case for Christ, on which the movie is based. He has since written several other bestsellers and is a well-known expert within the Christian community.

With compelling performances by Erika Christensen, Mike Vogel, and Faye Dunaway, this is yet another film that confirms God's existence both to believers who need a reminder of God's presence in their lives, and non-believers.

Photo Credit: Pixabay/StockSnap

5. The Blind Side

Slide 4 of 9

Sandra Bullock gives an Oscar-winning performance with her portrayal of Leigh Anne Tuohy, whose family's chance encounter with a homeless boy named Michael Oher (Quinton Aaron) changes their lives forever.

Tim McGraw also stars in the film.

As Michael becomes a part of the Tuohy family, he gets an opportunity to play on his school's football team, setting him on the path to success.

Grossing 300 million at the box office, this movie teaches that the greatest virtue a Christian can display is love, living out the gospel in daily life.

This is the only movie on the list rated PG-13 for a couple of violent scenes. However, they are mild compared to most PG-13 movies depicting similar content, and their overall objective is to help the viewer better understand Oher's life and what the Tuohy family's compassion saved him from.

Overall, the theme of a Christian's love and the power it has to change lives outweighs the handful of violent scenes depicted.

Photo Credit: GettyImages/Chris-Ryan

6. Miracles from Heaven

Slide 5 of 9

This film is based on the true story of the Beam family. When 10 -year-old Anna Beam starts showing symptoms of illness, her mom, Christy (played by Jennifer garner), goes to doctor after doctor for an answer with no results.

Christy's faith is tested along with the faith of her entire church when Anna is diagnosed with a rare, incurable disease and all hope seems lost.  

That is, until Anna's miraculous healing—an event that teaches Christy, Anna, and everyone around them that anything is possible for those who believe.

This movie is great for viewers who are struggling in their faith or waiting on God for answers to their prayers.

Photo Credit: GettyImages/nortonrsx

7. Heaven is for Real

Slide 6 of 9

Similar to Miracles from Heaven, this movie depicts a father in a small town (played by Greg Kinnear) who must grapple with the reality of heaven when his young son is stricken with a life -threatening illness.

When his son loses consciousness, doctors spring into action and perform an emergency surgery that saves the boy's life.

Todd celebrates with the rest of his small town, but when his son states that he went to heaven, met some of his dead relatives, and saw Jesus, Todd's faith is rocked.

Viewers can relate to the questions Todd struggles with such as, "Are the stories in the Bible real?" and "Can someone visit heaven and come back to earth to tell about it?" No matter what doubts viewers might have about faith, they will walk away at least considering that heaven is indeed real.

Photo Credit: GettyImages/monkeybusinessimages

8. Extraordinary

Slide 7 of 9

College professor David Horton has had a great career as an athlete, winning accolade after accolade as a marathon runner. But when illness and injury derail his plans to continue, his wife Nancy tries to convince him to end his running career and spend more time with his family. David, however, feels called by God to run 2,900 miles across America.

What will happen when the call of God causes conflict in his marraige?

This inspiring film teaches important lessons of perseverance and courage and what God can do in the midst of adversity.

This is a great movie for any couple, whether their relationship is thriving or needs some refreshment. 

Photo Credit: GettyImages/pic-studio

9. To Joey, With Love

Slide 8 of 9

Get out the tissues for this documentary about country music stars Joey and Rory Fleek. When they feel called to walk away from it all to start a family and draw closer to God, they face the most difficult trial of their lives.

What is so great about this documentary is that both Rory and Joey felt the need to chronicle their journey of having a family, which soon proved one of the most important things they would do for their children.

In the throes of Joey's battle with cancer, Joey and Rory must make tough choices as they face the reality that Joey may not be around to see their daughter grow up.

If you need a good cry, To Joey, With Love is an incredible tribute not only to a country music star, but to a loving mother.

Viewers who have lived with or cared for someone with cancer will be inspired to do what they can to keep the memory of their loved one alive after they're gone.

Photo Credit: GettyImages/Jovanmandic

10. War Room

Slide 9 of 9

Audiences raved about this gripping faith drama when it first debuted in 2015. Newcomer Karen Abercrombie delivers a fabulous performance as Clara, an elderly woman who enlists the help of a local real estate agent (Priscilla Shirer) who thinks she is helping Clara sell her house, but instead gets a lesson on faith and the power of prayer.

Great for family members of all ages, this movie is not only a wonderful conversation starter about what it means to "pray without ceasing," but also an important lesson in God's grace that he extends to those who deserve it the least.  

Photo Credit: GettyImages/Milkos
Contact Us
Get iBelieve.com