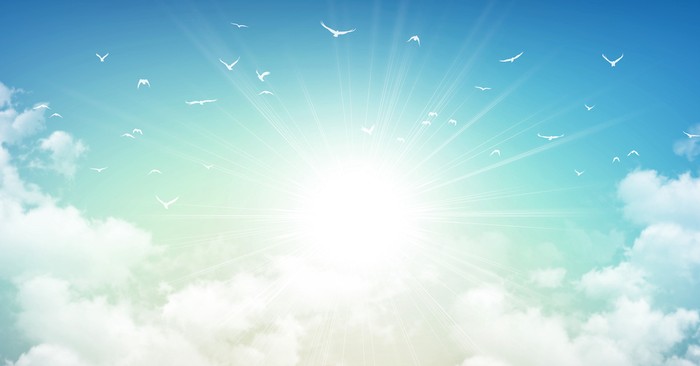 Our spirits are the essence of our real being. We were made in the image of our eternal God. When our bodies return to dust, our souls continue to live. But what will come next?
I clung to my mom as she took her final breath. Immediately, her arm became lifeless and heavy. I sensed the moment her spirit left her body, such a sacred and powerful experience.
Death is the one thing no one can avoid. No matter how much we want life on this earth to continue, we will all die. The great King Solomon of Old Testament times determined, "No one has power over the time of their death" (Ecclesiastes 8:8).
Even so, these outer shells we live in aren't our true selves. Our spirits are the essence of our real being. We were made in the image of our eternal God. When our bodies return to dust, our souls continue to live. But what will come next?
BIBLICAL TRUTH
Whatever our beliefs are, we need a source for truth; otherwise, we're holding on to a fantasy. Something we made up. I believe in the Holy Bible's authority. To learn more read this article: (Why Should You Believe the Bible?).
Why do we have to die?
Genesis, the first book of the Bible, records how God created a perfect world. The first man and woman were innocent and did not know evil. God wanted us to love Him by choice. He gave Adam and Eve complete freedom in the Garden of Eden except for the tree of the knowledge of good and evil. God's enemy, Satan, tempted Eve by suggesting God was withholding something good from her. Believing him, she disobeyed God, ate from the tree, and encouraged Adam to do the same. By taking the fruit, Adam and Eve demonstrated a lack of trust in God. This was the first sin.
Their rebellion opened the door to sin, which then corrupted all God created. From this time forward, every person born would choose disobedience. Evil leads to destruction and cannot be in God's presence. Therefore, the first humans were cast out of the garden and separated from God. Now all would inevitably die.
God's remedy for sin and death.
But from the beginning, God had a plan to redeem us. He promised a deliverer would come. Speaking to the devil, He said, "And I will put enmity between you and the woman, and between your offspring and hers; He will crush your head, and you will strike His heel" (Genesis 3:15). A prophecy of when Jesus Christ would come and Satan would incite men to kill Him. But by dying as a perfect sacrifice, Jesus would defeat our enemy and provide a way for salvation to all.
These Scriptures promise eternal life to all who believe in Jesus Christ and the sacrifice He made:
"For since death came through a man, the resurrection of the dead comes also through a man. For as in Adam all die, so in Christ all will be made alive" (1 Corinthians 15:21-22).
"For the wages of sin is death, but the gift of God is eternal life in Christ Jesus our Lord" (Romans 6:23).
"Jesus said to her, 'I am the resurrection and the life. The one who believes in Me will live, even though they die; and whoever lives by believing in Me will never die'" (John 11:25-26).
"Very truly I tell you, whoever hears My word and believes Him who sent Me has eternal life and will not be judged but has crossed over from death to life" (John 5:24).
"For God so loved the world that He have His one and only Son, that whoever believes in Him shall not perish but have eternal life" (John 3:16).
"For My Father's will is that everyone who looks to the Son and believes in Him shall have eternal life, and I will raise them up at the last day" (John 6:40).
"I give them eternal life, and they shall never perish; no one will snatch them out of My hand" (John 10:28).
"God has given us eternal life, and this life is in His Son. Whoever has the Son has life; whoever does not have the Son of God does not have life. I write these things to you who believe in the name of the Son of God so that you may know that you have eternal life" (1 John 5:11-13).
Five times Bible characters had glimpses into heaven:
1. The Old Testament prophet Ezekiel reported, "In my thirtieth year, in the fourth month on the fifth day, while I was among the exiles by the Kebar River, the heavens were opened and I saw visions of God" (Ezekiel 1:1).
Ezekiel observed God's glory, causing him to fall face-down in worship. He witnessed unimaginable angelic beings. He received visions and instructions from God.
2. Peter, John, and James, three of Jesus's closest disciples, watched Jesus transform into a glorious form while on a mountain top. Moses and Elijah appeared with Him, and they discussed Jesus' departure from earth.
After spending hundreds of years in eternity, Moses and Elijah were recognizable, actively serving God, visible on earth, and "appeared in glorious splendor" (Luke 9:28-32).
3. While being stoned for his faith in Jesus, "Stephen, full of the Holy Spirit, looked up and saw the glory of God, and Jesus standing at the right hand of God. 'Look,' he said, 'I see heaven open and the Son of Man standing at the right hand of God'" (Acts 7:55-56).
4. Paul, who wrote much of the New Testament, received a vision of heaven. He described how he "was caught up to paradise and heard inexpressible things, things that no one is permitted to tell" (2 Corinthians 12:4).
5. John, the beloved disciple, was given the ability to see God's kingdom, and as a result, he wrote the book of Revelation. He recorded, "After this I looked, and there before me was a door standing open in heaven. And the voice I had first heard speaking to me like a trumpet said, 'Come up here, and I will show you what must take place after this" (Revelation 4:1).
All these accounts teach us that heaven is a real place filled with God's glory.
What will our eternal home be like?
We'll find the peace our hearts long for in the presence of our Father. The perfect dwelling place where: "He will wipe every tear from their eyes. There will be no more death or mourning or crying or pain, for the old order of things has passed away" (Revelation 21:4).
Our final enemy will be defeated, "'Where, O death, is your victory? Where, O death, is your sting?'... But thanks to God! He gives us victory through our Lord Jesus Christ" (1 Corinthians 15:55-57).
Ultimately believers in Jesus will have new bodies:
"But someone will ask, 'How are the dead raised? With what kind of body will they come?' How foolish! What you sow does not come to life unless it dies. When you sow, you do not plant the body that will be, but just a seed... So will it be with the resurrection of the dead. The body that is sown is perishable, it is raised imperishable... It is sown a natural body, it is raised a spiritual body" (1 Corinthians 15:35-44).
"But our citizenship is in heaven. And we eagerly await a Savior from there, the Lord Jesus Christ, who, by the power that enables Him to bring everything under His control, will transform our lowly bodies so that they will be like His glorious body" (Philippians 3:20-21).
Judgment Will Come
I confess: I wish I could skip this part of the truth. I often push aside the teaching on judgment and hell because it's painful. But it's also reality.
Scripture teaches:
"Just as people are destined to die once, and after that to face judgment" (Hebrews 9:28).
"For we must all appear before the judgment seat of Christ..." (2 Corinthians 5:10).
"... For we will all stand before God's judgment seat" (Romans 14:10).
"Then I saw a great white throne and Him who was seated on it... And I saw the dead, great and small, standing before the throne, and books were opened. Another book was opened, which is the book of life. The dead were judged according to what they had done as recorded in the books... Anyone whose name was not found written in the book of life was thrown into the lake of fire" (Revelation 20:11-15).
The Book of Life will only contain those who have believed in Jesus Christ as the Son of God.
What about those who reject faith in Jesus Christ?
Jesus revealed, "I am the way and the truth and the life. No one comes to the Father except through me" (John 14:6).
"Whoever believes in the Son has eternal life, but whoever rejects the Son will not see life, for God's wrath remains on them" (John 3:36).
"Do not be afraid of those who kill the body but cannot kill the soul. Rather, be afraid of the One who can destroy both soul and body in hell" (Matthew 10:28).
"And besides all this, between us and you a great chasm has been set in place, so that those who want to go from here to you cannot, nor can anyone cross over from there to us" (Luke 16:26).
We have a choice. We can face judgment on our own and be condemned to eternal separation from God in hell or accept by faith that Jesus Christ took our verdict for us and live with Him forever.
INNER KNOWLEDGE
If we're honest with ourselves, we each know we're meant to live forever. Death never feels right and is our enemy. The wise King Solomon from the Old Testament wrote, "He has also set eternity in the human heart" (Ecclesiastes 3:11).
EXPERIENTIAL TRUTH
It can be tricky using someone's personal story to establish truth. Yet, we can't ignore these revelations. These accounts teach us that life doesn't end with physical death:
"Near-death experiences (NDEs) are reported by about 17 % of those who nearly die. NDEs have been reported by children, adults, scientists, physicians, priests, ministers, among the religious and atheists, and from countries around the world." (Jeffrey Long, MD, expert on NDEs)
It's probable that some of these incidents are fabricated or imagined. Others could be drug-induced. But some are real encounters with God or possibly deceptive spirits. Most likely, they are some of each and therefore can't be ignored. The individual accounts contain too many similarities and unexplained knowledge to be dismissed.
"...even...skeptics rarely accuse experiencers of inventing their stories from whole cloth. Though some of these stories may be fabrications, and more no doubt become embellished in the retelling, they're too numerous and well documented to be dismissed altogether." (Gideon Lichfield, The Atlantic)
Most report a positive encounter and often see an intense light and experience a sense of well-being. Others witness a terrifying view of hell and its demons. But we must remember if NDEs provide a glimpse into the spirit world, the Bible teaches us to test the spirits. Seeing a being of light doesn't automatically make it from God. The Apostle Paul warned us, "...Satan himself masquerades as an angel of light" (2 Corinthians 11:14).
Brandon Clay writes, "A near-death experience seems to bring people closer to the spiritual realm. So it is possible for people to be led astray in a near-death experience by malevolent spirits who appear benevolent but are actually bent on deceiving them."
New-Testament disciple John revealed how we test a spirit: "Dear friends, do not believe every spirit, but test the spirits to see whether they are from God, because many false prophets have gone out into the world. This is how you recognize the Spirit of God: Every spirit that acknowledges that Jesus Christ has come in the flesh is from God, but every spirit that does not acknowledge Jesus is not from God" (1 John 4:1-2).
If a person's NDE leads them to believe all will go to heaven, and one need not believe in Jesus, that's a lie from a deceptive spirit.
FINAL THOUGHTS
We can't know exactly what will happen the moment we take our last breath. Scripture does indicate we'll be with our Lord immediately when we die. Speaking to the thief on the cross, "Jesus answered him, 'Truly I tell you, today you will be with Me in paradise'" (Luke 23:43).
The Apostle Paul exclaimed, "I... would prefer to be away from the body and at home with the Lord" (2 Corinthians 5:8).
We know heaven will be a place beyond anything we can imagine. We will see the glory of God and experience freedom from all pain and sorrow.
However, those who reject Jesus and His sacrifice will face immediate, eternal separation from God. An isolation and place of pain beyond human comprehension.
"But if serving the Lord seems undesirable to you, then choose for yourselves this day whom you will serve, whether the gods your ancestors served beyond the Euphrates, or the gods of the Amorites, in whose land you are living. But as for me and my household, we will serve the Lord" (Joshua 24:15).
Photo Credit: ©GettyImages/titoOnz
Susan Aken writes devotions and articles for Wholly Loved Ministries, is an Oklahoma native who's lived in Nebraska since 1987 and has been in public education for over thirty years. She and her husband have one son and a wonderful daughter-in-law. Besides writing she has a passion for special needs and prayer ministries. She enjoys time with family, reading, photography, movies, walking in nature, and a nice cup of tea. She believes life is a journey and we're all in different places. Jesus is everything to her and it's all about grace. Visit her at susanaken53.wordpress.com or on Facebook.
---
---